AMSTERDAM

RHYL
| | |
| --- | --- |
| Steve Allan Jones - Vocals & Keyboards | Dave Parry - Guitar |
| Steve Oldfield - Bass | Gary Jones - Drums |
Formed in 1977 after the dissolution of Stripey, this Rhyl trio was active until 1979. As Allen Jones told me, it all began with the Sex Pistols. "Mike Peters (later Alarm singer), Steff Holt (brother of guitarist Andy) and I used to frequent a great club called Quaintways in Chester. They used to put bands on such as the Groundhogs, Pat Travers Band, rocky stuff. We noticed as we were leaving a poster advertising 'The notorious Sex Pistols' at Quaintways the next week. We had read of some of their early gigs (100 Club etc) and decided to see the show. The very next week, we found ourselves in a packed club surrounded by 250 long haired rockers. The Pistols were great, really meaty sound, great attitude. I remember all their amps had other bands names on them - we were told by someone close to he band that they were all nicked!"
"The three of us stood for the whole show open mouthed. Mike and I still talk of that night - we knew that whatever we had been doing wasn't right. We realised that you didn't need loads of gear and we also now knew that we could write our own songs not just cover others. Sadly Mike and I both knew that we couldn't be in the same band for a while. His ideas had guitars only in them, mine were more trad but with the attitude. Mike and I decided to go and speak to the band, we correctly guessed that they would be at the bar. For a few horrible moments we just stood in front of them. Finally, with a push in the back from Mike, I stepped forward. 'Hi lads. Really enjoyed the show' (uninterested looks from band) 'Errrr…' (another push from Mike) 'How do you write your songs? Do you just get in a rehearsal room or, erm, or....' Mr Lydon looked me up and down with the most disdainful sneer and said 'Get the beers in, Glen.' Mike and I walked away, very excited, it was a sort of conversation. Mike told me many years later that he always vowed that if he ever became famous, he would always take time to talk to the fans as a result of this encounter."
Amsterdam looked to take a more cerebral path than much of the class of 1977 and were occasionally compared to the Stranglers, predominantly because of the use of keyboards, and Elvis Costello. "About right," states Allan Jones. "I still loved Alex Harvey and some prog bands, Bowie and glam. I really like the idea of using echo effects on vocals and we used to carry our own light show, all home-made of course! I suppose looking back we had a strange space rock vibe as well, ala Hawkwind." Steve Oldfield (bass, later of Misery Brothers) and Eddie McDonald (guitar) bolstered the line-up shortly after their inception. McDonald would leave, however, after disagreements over songwriting. He teamed up with future Alarm singer Mike Peters (who was also a previous member of Stripey) in Seventeen. Dave Parry was replaced on guitar thereafter by Andy Holt.
In their various formations Amsterdam played dozens of shows throughout Wales and the north west, and a tape of their 'Nights On The Street' track got lots of airplay on the local Radio City, though it was never officially released. "Mike Peters sometimes plays the riff from the song when I am within earshot," Allan Jones recalls. "He said he loved it and remembers it better than me! Amsterdam did quite a lot of recording for the time and there are tapes out there. I have some of the masters and maybe one day, I will put them up on my website."
Their two biggest shows were at Liverpool University at the Radio City battle of the bands, and as support to Siouxsie and the Banshees at Colwyn Bay pier (Poster below). "The Liverpool gig was one of our biggest. I remember we didn't play so good and the crowd were still rockers at heart. I can remember that the winners of the comp were an Austrian band called Stonehenge! One of the judges was Mike Rutherford from Genesis. Really odd night, I think we realised that these comps were ultimately not for us." A better fit was the Banshees' support slot. "The Banshees gig was incredible. Those gigs were put on by Louis Parker - his family owned the Talardy in St Asaph (where Stripey used to rehearse) and the room at the pier. Louis later left North Wales to start an agency called Concorde. He worked with bands such as Steps, Liberty X etc. Sadly Louis died a few years ago but his son Solly has taken over the business. Anyhow, the Banshees (original line-up) turned up with a PA about an hour before the show was due to start. They had no bass or amp so they used ours. We went on, did OK. We were in our dressing room when we heard a yell from the only toilet backstage. We all rushed out. Siouxsie had managed to lock herself in. The doors were solid cast iron (it was a pier) and it took Steff and a screwdriver about ten minutes to release her. She emerged in full war paint, thanked us all and ran on to stage!"
Amsterdam broke up in 1979, Allan Jones going on to form the X-Men with Gary Jones, who also featured Glyn Crossley (bass; ex-Pax) and Dave Bradbury (guitar) and Pete Picton (keyboards) of the Units. They played just two shows, but did record two tracks, 'Drive' and 'Go Away', for the Systems Of Attraction compilation cassette. "The plan was for us all to move to London but only myself and Pete made it down. Almost immediately, Pete and I split the band and I joined the [Berlin] Blondes." Allan Jones moved on to progressively greater success with the Alarm and Spear Of Destiny. Gary Jones is still drumming with local bands and became manager of the Scala cinema in Prestatyn. He also does magic shows in his spare time. Dave Parry works as a telephone engineer. Steve Oldfield has an insurance business in Holywell. Andy Holt is a social worker in the Channel Islands and Eddie MacDonald is now a photographer.
Allan Jones is a successful theatre and TV composer (his credits including three series of Gamepad and the Crow Show). Does punk rock, at least as an ethos rather than musical form, continue to inspire him? "Always and still. The idea that it doesn't matter that you can't play so good, it's your ideas and the will to carry them out that is important."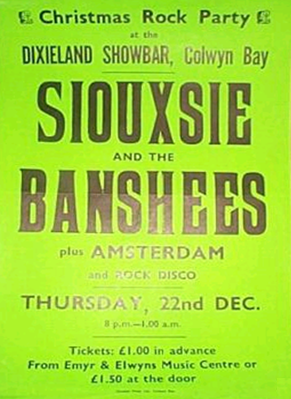 Above is an original gig poster from when "Amsterdam" supported "Siouxsie & The Banshees at the "Dixieland Showbar", Colwyn Bay on 22nd December 1977.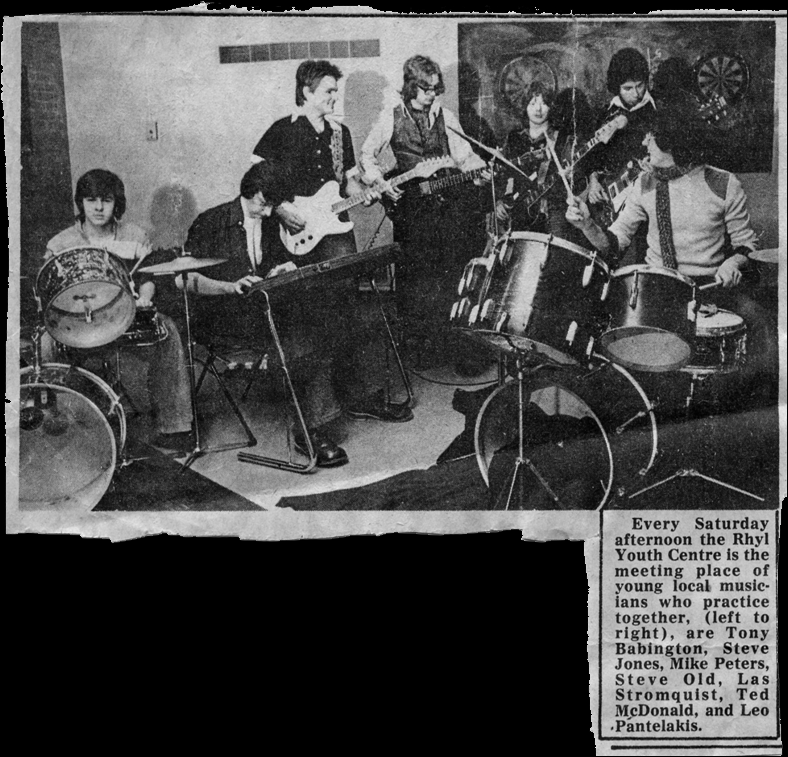 The above cutting appeared in the local Rhyl newspaper some when between late 1975 / early 1976. As you can see, it features (Left to Right) 'Tony Babington', 'Steve Jones' of Amsterdam, 'Mike Peters' of The Toilets, Seventeen & The Alarm, 'Steve Oldfield' of Amsterdam, 'Glyn Crossley' (aka Lars Stromquist) of The Toilets, 'Ted (Eddie) McDonald' of Amsterdam, The Toilets, Seventeen & The Alarm and finally 'Nigel "Twist" Buckle' (aka Leo Pantelakis) of The Toilets, Seventeen & The Alarm.
Steve Oldfield (Bass)

Gary Jones (Drums)

Steve Allan Jones (Keys/Vox)

Andy Holt (Guitar)

Circa 1979
Thanks to Steve Allan Jones for the above photo & newspaper cutting and a special thank you to Alex Ogg

for the above article which was taken from his book "No More Heroes".
©Detour Records