The First Single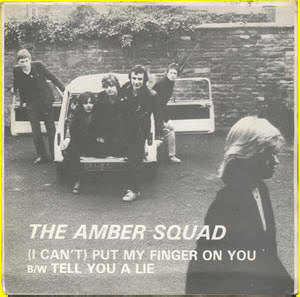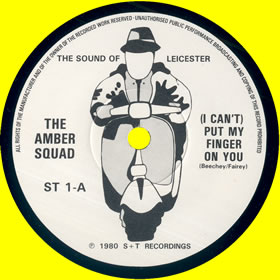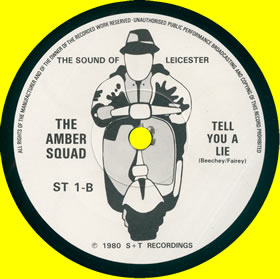 (I Can't) Put My Finger On You / Tell You A Lie
Catalogue Number - ST 1
Label - S+T Records
Year Of Release - 1980
The Second Single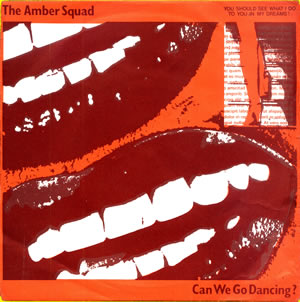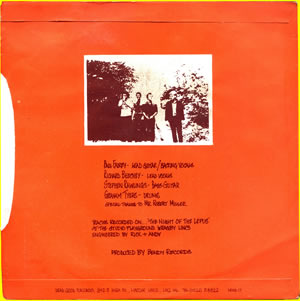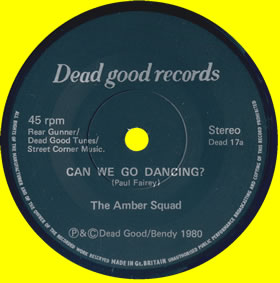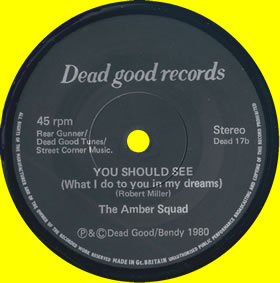 Can We Go Dancing / You Should See (What I Do To You In My Dreams)
Catalogue Number - Dead 17
Label - Dead Good Records
Year Of Release - 1980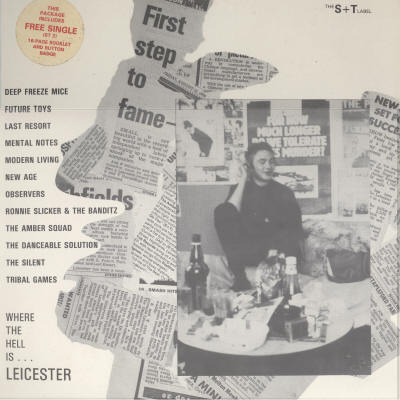 V/A - Where The Hell Is ... Leicester
Catalogue Number - STAB 1
Label - S & T Records
Year Of Release - 1981
The above release features 'The Amber Squad' with an unreleased track called 'Six Of Me'. Also features tracks by 'The Danceable Solution', 'Tribal Games', 'Deep Freeze Mice', 'Ronnie Slicker & The Banditz', 'Mental Notes', 'The Silent', 'Modern Living', 'Last Resort', 'Observers', 'New Age' & 'Future Toys'.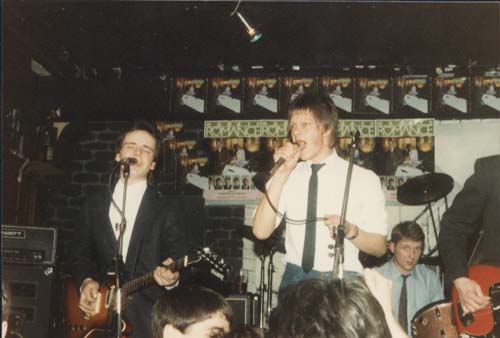 | | | |
| --- | --- | --- |
| Dick Beechey - Lead Vocals | | Paul Fairey - Guitar and Vocals |
| Dusty Miller - Guitar and Enigma | | Dubber Rawlings - Bass, Vocals |
Early 1980 and something is stirring in Rutland, England's smallest county. The amalgamation of two schoolboy rock bands named "Reflex" and "Blueprint" spawned the "Amber Squad", purveyors of a hybrid mix of Pub Rock, Power Pop, Ska and Punk Rock. After gaining a reputation on the East Midlands' music pub circuit for loud, energetic sets consisting of self-penned outpourings of teenage angst combined with R&B classics, the Amber Squad made a determined push for stardom with a number of independent recordings backed up with live performances in more recognised venues in London, Birmingham and other major UK cities. At the bands' heyday, they were on the Radio 1 play list, and featured on the John Peel show, as well as Mike Read's Round Table. They went on to release two singles (featured above), the first being "(I can't) put my finger on you" and backed with " Tell you a lie". This debut single was released on the "S & T" label (aka "Sound of Leicester") in 1980. Next up, they swapped labels to a Lincoln based label called 'Dead Good' Records. The new single was called "Can we go dancing?" backed with "You should see (What I do to you in my dreams). Then the following year they also appeared on the "S & T's" own compilation LP 'Where the Hell is Leicester?" with an unreleased track called 'Six of me'. However the world failed to recognise their latent talent, and reality hit home in the form of regular jobs, mortgages and steady relationships. For those who were around at the time, this web site may revive a memory or two of sweaty pubs, overpriced lager, and dodgy PA systems.
So, in musical terms, hardly an earthquake, but perhaps a few tremors were registered north of London and east of Leicester - The Amber Squad – they came, they saw, they nipped out for a pint……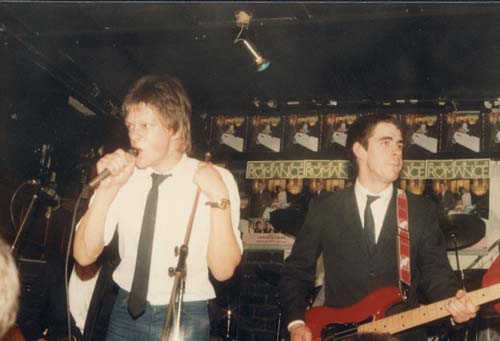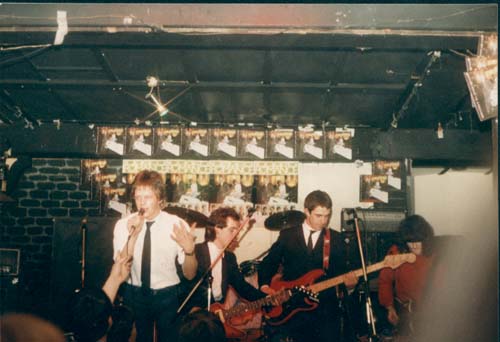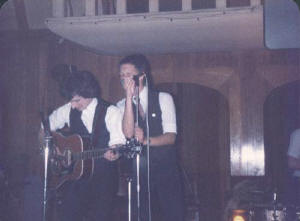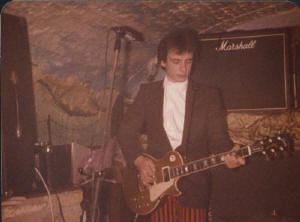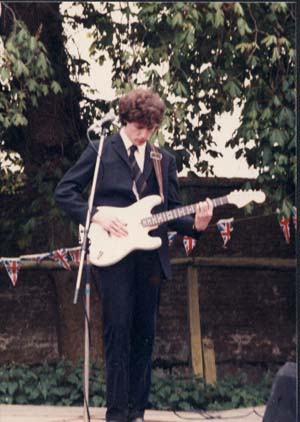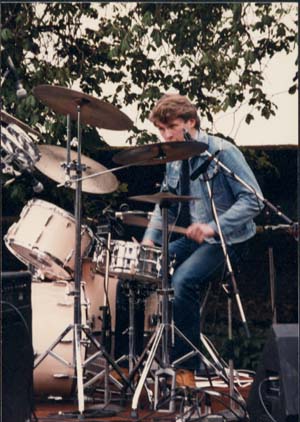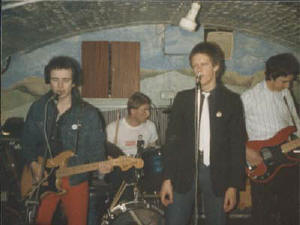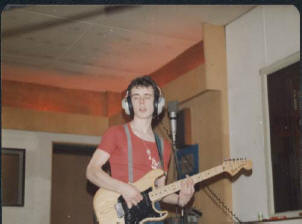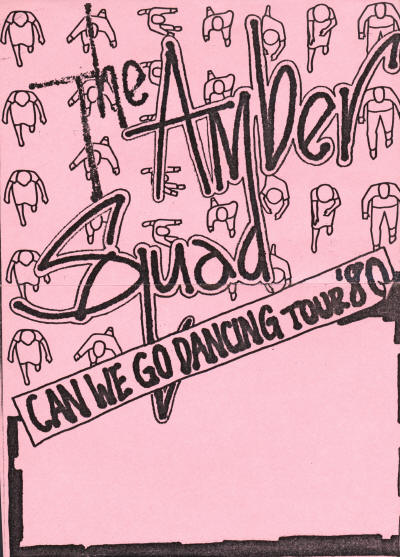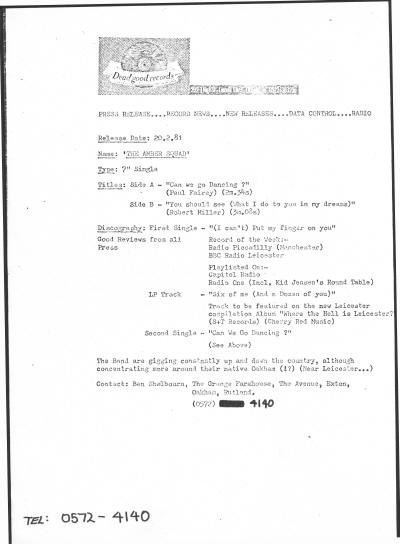 | | | |
| --- | --- | --- |
| The above gig took place at the "Victoria Hall", Oakham on Saturday 24th May 1980 and appeared "Record Mirror" on 24th May 1980 | | The above gig took place at the "Phoenix Theatre", Oakham on Wednesday 28th May 1980 and appeared "Record Mirror" on 24th May 1980 |

The above snippet appeared in "Sounds" on 14th March 1981.

The above review was featured in the magazine Record Collector.
Thanks to Paul Fairey & Ingo Eitelbach
©Detour Records