BLOODSPORT

London
ALEX PATERSON - VOCALS
GRAHAM WHEELAN - GUITAR
KENNETH TOPLEY - GUITAR
PAUL FERGUSON - DRUMS
WALLY WALDEN - BASS
Formed in South London in the summer of 1977, these teenage punks were originally known as "Kill Bloodsports" and when listed to play the Roxy Club on the 28th February, 1978 it had been cut down to just "Bloodsports". It appears that they then settled with just "Bloodsport".
Unfortunately no other activity of this band has been found, however, all members later went onto other musical adventures.
Graham and Kenneth joined up with Jock MacDonald in "The Bollock Brothers".
Paul became a founder member of "Killing Joke", naming one of the songs on their debut album "Bloodsport".
Alex became a roadie for "Killing Joke", even taking over on vocals for their early encore treatment of the Sex Pistols "Bodies", (check out "The Unperverted Pantomime" cassette for the evidence) before starting out in the late eighties with his own outfit, ambient-dub pioneers "The Orb".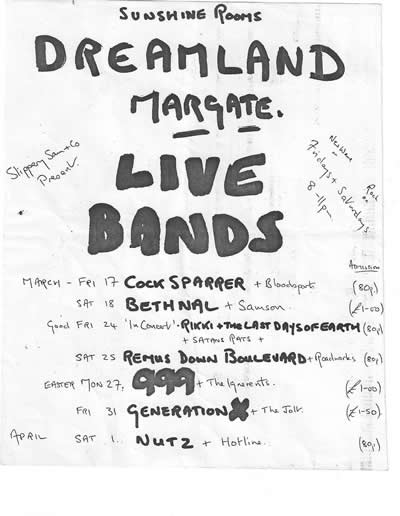 Above is an original A5 Gig Flyer from 'The Sunshine Rooms" "Dreamland" in Margate that features 'Cock Sparrer' & 'Bloodsport' on Friday 17th March 1978.
©Detour Records