BLUSH

Pontefract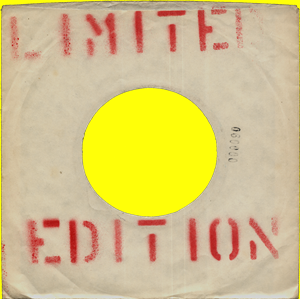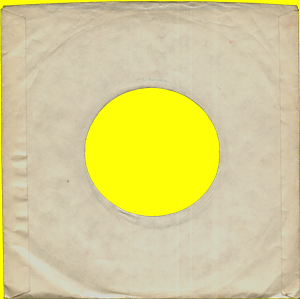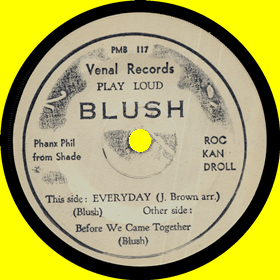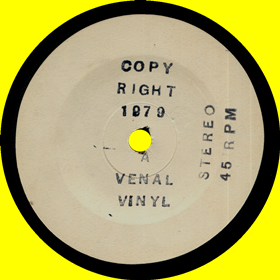 Everyday / Before We Came Together
Catalogue Number - PMB 117
Label - A Venal Vinyl
Year Of Release - 1979
Quantity Pressed - 500
KEVIN HICKLING - VOCALS
LEN BARKER - GUITAR / BACKING VOCALS
STEVE BROUGH - BASS / BACKING VOCALS
JOHNNY BROWN - GUITAR / BACKING VOCALS
NIGEL SYKES - DRUMS
A very rare obscure UK release from this 5-Piece hailing from West Yorkshire. This was the bands only vinyl release which was recorded in September 1979 and was pressed in a small run of only 500 copies. This was released on the 'Venal' label which was owned by 'Steve Musson' who was the bands manager. All had hand stamped labels and no picture sleeve was issued. The A-Side is a great Power-Pop track but the production of the record is terrible and spoils the overall sound. The B-Side track is quite a slow number.
-------------------------------------------
Blush emerged out of a Youth Club band based in the mining village of South Elmsall near Pontefract, in West Yorkshire.
In 1977 a new singer saw the start of a move into more aggressive type of rock and early signs of a great stage show and live performance. Music and attitudes were changing and so was the band. During this period 'Steve Musson' took an interest in and in particular to the Mansfield / Nottingham area where they built up a massive following.
By 1979 original material had started to creep into the set and in September the band ventured into their first recording studio (actually a 4 track recorder in a garage in Knottingley, West Yorkshire). "Everyday" was the A side of a 7" single on the bands own Venal label, a limited edition pressing of only 500 copies.
In 1980, gigging very regularly and now playing a set of original material with some reworked covers, Blush frequently sold out 1000 seated halls in and around Mansfield and Notts… and packed out sweaty Pubs in and around Yorkshire. That year saw the release of their next recorded material, a 6-track cassette of power pop songs "Totally Up". This was recorded at Ric Rac studios in Leeds on an 8 track machine which really captured the rawness of the band. Over the next year or so it sold thousands of copies, mainly through Gigs, word of mouth etc. This was the foundation of the set during this period and spawned the Blush anthem "Shadows" (which was covered by local bands when they played the Mansfield / Notts area.) Many of the fans attending gigs regularly in that period became friends of the band, and a fine time was had by all.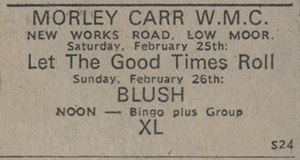 The above gig advert for "Blush" & "XL" for 'Morley Carr W.M.C." is from Sunday 26th February 1978.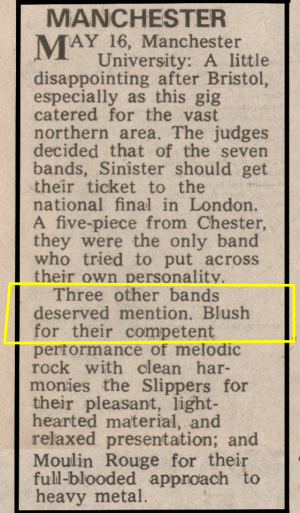 The above battle of the bands snippet appeared in 'Melody Maker' on 14th June 1980
By a quite astounding twist of fate, the band reformed (though with a new singer) for a one-off gig in 2005 and had so much fun that...
The band are still gigging today
///////////////////////////////////////////////////////////////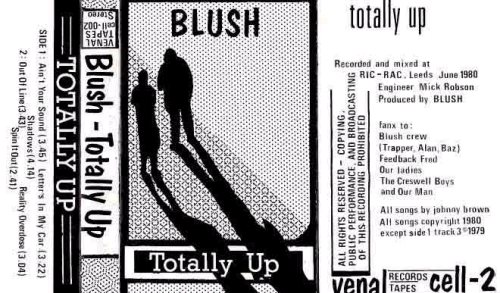 In July 1980 the band released a 6-Track cassette called "Totally Up".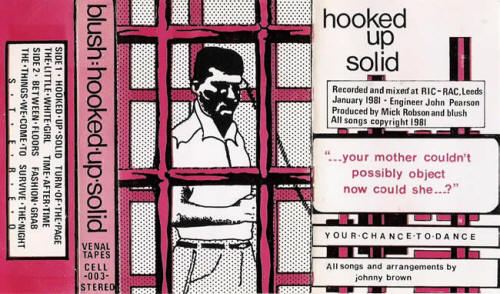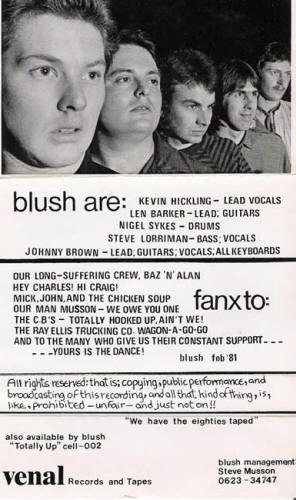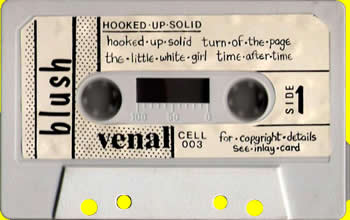 Above is an original demo tape from 1981.
The band are still gigging today
Thanks to 'Steve Musson', 'Bradders', 'Mario Panciera' & 'Andy Baker' for the above information.
©Detour Records