BRIX

Grimsby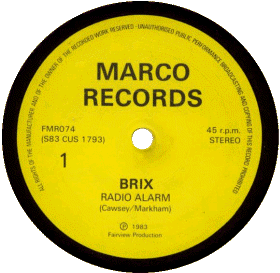 Brix were a Grimsby based band formed by myself and singer, Ian Carroll in 1981.
Our original line up was:
| | |
| --- | --- |
| Ian Carroll - Vocals | Ian Cawsey - Bass & Vocals |
| Pip Smith - Guitar & Vocals | Mike Winn - Drums & Vocals |
| Dave Jagger - Keyboards & Sax | Graham Fulton - Keyboards & Guitar |


We had an embarrassment of singers and hence a great interest in developing harmony style songs such as 'Radio Alarm' which had some very nice harmonies.

Dave only stayed with us for about 6 months and Fully (Graham) for about a year. We didn't replace Dave but when Fully left we recruited our old mate Dave Markham on guitar and occasionally on synth as well and this was when we developed most of our original material. Up to then we did a lot of covers of bands like Squeeze, the Skids, Bill Nelson's Red Noise etc.

In 1983 we entered the local "Battle of the Bands" and won! By this time we had recorded 'Radio Alarm' and 'Telly Addict' at the 'Fairview Recording Studio' at Willerby, near to Hull. This was a self-production for the purpose of sending out to record companies etc and for local sale as well. 'Marco' records was a name that Dave and I came up with - Mar for Markham and Co was my nickname and it reflected the fact that we were the main songwriters in the band. We also thought about Mortar Records to go with Brix but it could have been anything.

There was a picture cover - it was of a large brick wall with a zip down the middle which was partially undone and if I remember an attractive young woman appearing out of it!

We never produced another single though we did record 'Wallpaper Lives' with the studio time we won for the Battle of the Bands and I have a taped version of that. We also recorded a modern (as it was then!) version of 'Running Bear' for 'Keith Herd' who owns the studio. This was just a pet project of his - he always had an idea for a new version of this song but required a band with lots of singers. When we were in the studio he heard us and we did it for him. Sadly I no longer have a copy of this - which is a shame as it was a good version.

Despite a bit of interest from some smaller labels we never got an offer though we did sign a management deal with 'McLeod Holden'. We did well with them and eventually turned fully professional though this was more about working clubland rather than reaching the charts.

In 1985 two things happened. Firstly Pip left the band as he was wanted to start a band that was more in tune with his straightforward "rock" roots and he formed his own band "Last Orders". Sadly Pip had a brain haemorrhage and died a couple of years later.

Secondly the four of us, encouraged by our management, decided to change name so we had a fresh start in the clubland we were now working in. We decided on Chinese Whispers and we stayed together for 4 more happy years earning our living from travelling around the country and occasionally abroad. However, Ian began to develop throat problems from the constant pressure of life on the road. In Jan 1989 we took six months off to give him a break but on our return it was clear that the damage was not going to go away and we decided to go our own ways, playing for the final time in Sep 89.

In Feb 1990 I joined the local 60's band The Moggies and stayed as a member of a thoroughly enjoyable live act until my election to parliament in May 97.

I now play in MP4 a band of four MPs, billed as the World's only parliamentary rock band! As well as myself on bass and vocals there is Kev Brennan MP for Cardiff West on guitar and vocals, Greg Knight MP for East Yorkshire on drums and Pete Wishart MP for Perth on keyboards. Pete was a member of Runrig before entering parliament and has significant records sales to boast of!

We have recorded a mini-album (just 4 tracks) called House Music which was digitally released by EMI and can be downloaded from ITunes and most reputable download locations. Proceeds go to Save the Children!

And that's about all I can tell you.


Ian Cawsey

2007
Thanks to 'Tony Hannah' for the above article.
©Detour Records