Colin McFaull - Vocals

Garrie Lammin - Rhythm Guitar

Micky Beaufoy - Guitar

Steve Burgess - Bass

Steve Bruce - Drums
Formed as early as 1972 in East London. They Started playing live in 1973 doing cover versions by the likes of the Small Faces, David Bowie, T.Rex and Alice Cooper. They were originally known as known/advertised as Cock Sparrow
Cock Sparrer, oft-cited as progenitors of the Oi! movement, actually existed in a time-frame long distant from the skinhead scene of the early 80s. They formed as school friends in the East End of London in 1972, the original quartet having known each other from the age of 11. They took their inspiration from the Rolling Stones and, in particular, the Small Faces. Theirs was a naturally aggressive, hyperactive form of R&B, their resolve further hardened when bands such as Dr Feelgood and Eddie And The Hot Rods began to energise the pub rock scene. They quickly picked up support slots to the then rampant Slade, and were regulars at Terry Murphy's Bridgehouse venue in Canning Town. Beaufoy: "Terry was a great bloke who really like the band and was happy to give us gigs when others were reluctant - it was like a home match and some nights it was really packed, although some wet Tuesdays that we played there were relatively quiet."

With the advent of punk, Cock Sparrer were quick to sniff the winds of change, and two members of the band approached Malcolm McLaren in his Sex boutique at 430 King's Road after he'd placed an advert in Melody Maker. McLaren, after playing their demo tape, was intrigued enough to go and watch them upstairs at their local, the Roding in East Ham, in 1976. However, legend has it the band resisted his approaches when he blatantly refused to get a round in. History might, indeed, have been a little different had Talcy not been such a thoroughgoing tightwad. An alternative version suggests that McLaren was uncomfortable with their haircuts.
Despite being passed over by McLaren, the group was soon embroiled in the nascent punk scene, playing regular shows at the Roxy. However, their 'boisterous' following, the Poplar Boys, kind of like the Finchley Boys but with tattoos and West Ham scarves, would get them barred from the Nashville and Vortex. Decca gave them a chance, making them one third of a roster of punk bands, alongside Slaughter And The Dogs and Adam And The Ants, who were all heavily associated with violent followings. Two singles ensued. 'Runnin' Riot', produced in Hampstead by Thin Lizzy collaborator Nick Tauber, allowed them to half-inch a barrowload of studio gear, but was more enduringly a bootboy template for much of the Oi! movement that would follow in their wake. It was arguably the first time a link was cemented between aggressive R&B and the football terraces, violence at which was entering one of its cyclic peaks. A demo version came in a picture cover featuring a West Ham pitch invasion, our protagonists' club of choice, though standard copies had no sleeve. The b-side, 'Sister Suzie', was pure hand-me-down Slade, however.
If battle lines had been drawn between art-punk and prole-punk, though perhaps not as clinically as Jon Savage would later suggest, there was little doubt about which side of the fence Cock Sparrer sat on. More pertinently they'd have been quite happy to nick the fence and sell it as firewood at the first opportunity. Amusingly, and not for the first time, their name would be mis-spelt Cockney Sparrow in an otherwise ambivalent NME review.
The follow-up single was a thumping cover of the Rolling Stones' 'We Love You', which begs the question, why did so many hard-arse skinhead bands hold the Stones in such esteem (for example, Skrewdriver) when Jagger was surely the most fey vocalist on the planet? Even the band members, who now included Burgess's cousin Garrie Lammin on rhythm guitar (from late 1976 to mid-1978), are a little perplexed as to why they ever entertained the idea. Following the single's commercial disappearing act, they were left in no man's land by Decca's escalating financial difficulties. They were so aggrieved at various absurd marketing suggestions that 'We Love You' was released in a blank sleeve at their insistence. They also managed to fall out with manager Cliff Cooper and ended up booking their own shows. Which wasn't easy, given the reputation of their fans, who liked to emulate their heroes by nicking anything that wasn't physically nailed down. In truth, neither single had sold at all well, and the band, with e-bay still just a twinkle in Pierre Omidyar's eye, were reduced to shooting unused crates of both in the garden of their communal house in Dagenham to appease their boredom.
A 1978 review in Sounds confirmed that the media, when it paid any attention whatsoever, maintained a patronising view of Cock Sparrer. "Musically and visually, the Cock Sparrer crew are just about as motley and uncouth as it's possible for a band to project," he wrote. "Imagine five collectively imageless Cockneys with hair length varying from skinhead to Woody Roller, wearing clothes that look like they pool from jumble sales, and singing about how East End life is tough but fun." This is the only occasion I can ever remember when a rock magazine criticised a band for being uncouth. In an interview in the NME published that same February, they made no pretence about their preference for football over fashion, reasoning that there was nothing in the King's Road they could afford to buy, even if they wanted to. But they talked with optimism about their debut album, on which Steve Marriott was slotted to guest after they managed to secure a support slot to the Small Faces.
The album would, ultimately, remain in the can, as Decca collapsed. The band didn't so much break up – after all, they remained the best of friends - as stop playing. Lammin departed to become an actor while his former colleagues financed a trip to the US by selling their PA. It wasn't theirs anyway. Eventually Cock Sparrer transmuted into the Little Roosters, wearing their Stones influences on their sleeves again, whose 'I Need A Witness' single was produced by Joe Strummer, and were better able to secure gigs.
With the advent of Oi! in the early 80s, Cock Sparrer's legacy was unearthed and celebrated by almost all of the principal participants, partly due to the fact that Garry Bushell included 'Sunday Stripper' on the first Oi! compilation, and both 'Runnin' Riot' and a new song, 'Taken Out', on 1981's Strength Thru Oi! As a result they reformed the band and released a series of albums throughout the decade, but only the one single, 'England Belongs To Me', later covered by Roger Miret's Agnostic Front.
We needn't concern ourselves unduly with this second incarnation, apart from noting, firstly, that comeback album Shock Troops, which distilled all their frustration with being messed about by Decca, is actually pretty engrossing, if a little short on subtlety. Sadly, 'England Belongs To Me' was mindlessly co-opted by a host of right wing skinhead groups as some kind of anthem. Which didn't appeal to Cock Sparrer at all, especially given that the original title was 'London Belongs To Me', which was ultimately rejected because it didn't scan. It is not, as has been reported, based on Elgar's 'Land Of Hope And Glory', it merely includes an excerpt as the guitar solo. Beaufoy: "But then we were refused the right to use it by his family. So I had to write a replacement guitar solo on the night before it was pressed, still using Elgar's chords, and that solved the problem." 'Watch Your Back', a succinct statement about their distrust of politicos, more adequately stated their distrust of factions.
Thereafter Beaufoy decided he needed a rest for a while, "to try to earn some real money," though he would guest at several future dates, including the Gibus Club in Paris, the legendary Bushell's Birthday Bash at the Bridgehouse and the show that produced the Live And Loud album. Brazilian Chris Skepis was recruited as rhythm guitarist while Shug O'Neil temporarily took over on lead guitar. Both of them are pictured on the sleeve to Shock Troops when it was finally released, even though Shug never played a note on it. However, Skepis did provide rhythm guitar on a few of the tracks.
The two new recruits were both present for the Runnin' Riot In 1984 LP, notable for the inclusion of 'The Sun Says' and a more sophisticated approach to songwriting - 'Think Again' sounds like the Skids composing a theme for a 50s TV show. Indeed, several of the tracks are far more 'poppy' than the band's reputation might suggest. Afterwards they slunk back to their day jobs, until Bruce, landlord of the Stick Of Rock in Bethnal Green, was approached with a view to putting the band back together. The original quartet, plus rhythm guitarist Daryl Smith, reconvened for a sold-out show at the Astoria. And they have been playing together on and off ever since, cutting two new studio albums in the form of Guilty As Charged and Two Monkeys. By a bizarre quirk of fate, Daryl Smith, who has also played with the Crack, Argy Bargy and the Mistakes, is the son of Mike Smith, who first signed Cock Sparrer to Decca in 1977. Since he bowed out of live performance in 2004, Beaufoy has also covered for the Crack ("just to stay in touch with the scene and keep my fingers working").
Alex Ogg / Joe Public

The above "Running Riot" single review appeared in the fanzine "Ripped & Torn" #8 from September 1977.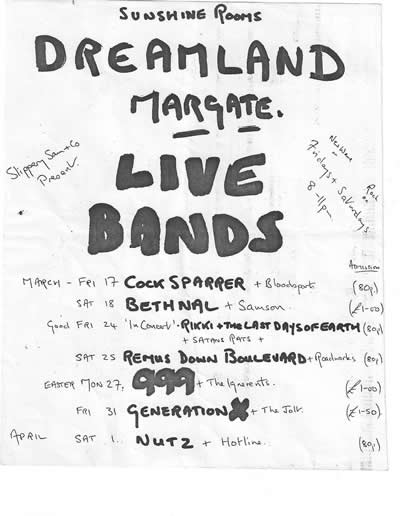 Above is an original A5 Gig Flyer from 'The Sunshine Rooms" "Dreamland" in Margate that features 'Cock Sparrer' & 'Bloodsport' on Friday 17th March 1978.
The above article appeared in "Melody Maker" on 20th August 1983.

The above snippet appeared in the "Melody Maker" on 3rd September 1983.
©Detour Records