Cracked Actors
David Wright - Vocals

Richard Smith - Guitar

Pat Kelly - Guitar
Tony Mills - Bass**
Adrian ? - Drums*
* Replaced by Simon ?
** Tony Mills later signed to "RCA" and released four albums as singer with the Rock band 'SHY'.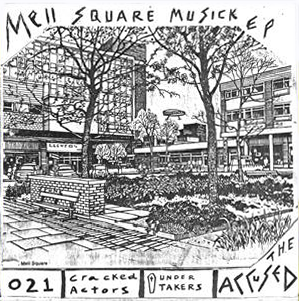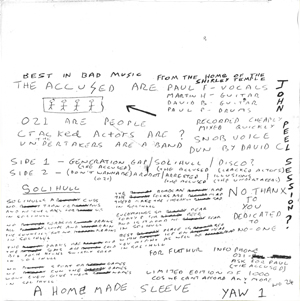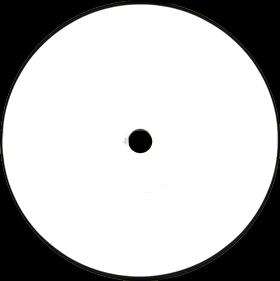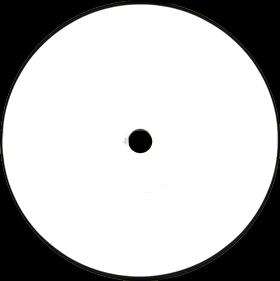 Solihull / Arrested / Generation Gap

"The Accused"

Don't Wanna Be A Robbot

"021"

Illusions

"The Undertakers"

Disco, Oh No

"Cracked Actors"
Catalogue Number - YAW 1
Label - No Rip Off
Year Of Release - 1979
Quantity Pressed - 1000
Richard and I got introduced to each other at college via a mutual contact (who was to become our first bass player) who was aware that we were both talking about forming a band. I was very much into Bowie and the Glam scene and Richard was very much into Iggy Pop and the Punk scene, so we thought it would be interesting to form a group that combined elements of both genres musically, lyrically and visually, as this would create something different to everything else that was happening at the time. The name of the band came from the Bowie song and we thought it had visual connotations to it, which suited our aims for the band.
We recruited a lead guitarist and a keyboard player as well as the bass player who connected us in the first place and initially started to rehearse through playing cover versions of Glam / Punk songs. At this stage we still didn't have a drummer!!!
Then, after just a few weeks, quite unexpectedly, Paul Panic approached us about taking part on the Mell Square Music EP, as one of the original line up of bands had pulled out at the last minute "Okay Paul" I said, "when do we go into the studio?".........."Saturday" came his reply.........."Whaaaaat (bearing in mind this was only 3 days away!) you've got to be joking!"........... But, no, he wasn't. It was fair to say the midnight oil started to burn viciously as we decided that as it would be too risky to do a cover version because of copyright, and because we knew the other groups were all doing original songs, we had to come up with one of our own to record, so 'Disco' was written and rehearsed within 72 hours.
I suppose not many groups actually record and release on vinyl the very first song they write, so under the circumstances I thought we did a decent job. The lyrics were about a night out on the town (Solihull in our case!) and the disco scene that was going on at the time there. For the recording we had to borrow a drummer that we knew who learned the song on the way to the studio by tapping his drumsticks on the back of the driver's seat while I sang the song to him!!!
We then found out we had to record the song 'live' as a band, due to very limited studio time, onto 4 track tape which, again, was another shock. (I bet Pink Floyd didn't record Dark Side of the Moon like that!). Paul P then proceeded to promote the EP and one of the destinations for it was the John Peel Radio Show, which went out between 10pm and midnight Monday through Friday, on Radio One and was seen as 'the' happening radio show to get your records played on.
They say everybody knows where they were when they heard Elvis had died (in my case a camping site in France !), well I remember where I was when I heard 'Disco' played on the John Peel Radio Show. It was a Thursday evening at about 11-30pm and I was washing up in an Italian restaurant (in order to bolster my Rock Star income whilst at college!!!) with the radio on, and I remember running into the restaurant and shouting "Hey, that's me singing on the radio!" Despite the startled looks of the diners they all stopped eating and listened intently along with the staff and the rather bemused owner for 3.19 secs whilst 'Disco' wafted over the airwaves. Amazingly, I didn't get the sack and it certainly became a future conversation piece for those in attendance!
Paul then asked us if we wanted to help promote the EP by playing a concert at Solihull Civic Hall which we agreed to do before starting to panic as we still didn't have a drummer. Thankfully, we were able to borrow another drummer from another local band, who weren't involved in the Mell Square Music EP, for a few rehearsals and to play the gig for us as a one off.
The set consisted of Disco plus a few covers like I Wanna Be Your Dog, Hang Onto Yourself and Funtime and we played for about 30 mins. Prior to the concert it had already become apparent that our lead guitarist had limitations, but decided not to replace him before his moment of glory. Instead we placed him to the back of the stage and turn his amp down to zero before going on stage!
At one point I remember him saying to me "David, I can't hear myself playing" to which I replied "No, you're fine, I can hear you a treat through the monitors at the front of the stage!" Even though it was our first concert and we had only rehearsed for a few weeks we still put on a visual stage presentation, using props like a table to act as a platform to give the stage two levels for me to sing from, and elements of mime including Richard and myself having a "fight" on stage whilst a strobe light flashed.
It was fair to say our performance made quite an impact on the 1,000 plus fans who attended the concert, even though it may not have been the most polished performance of the night.
Things got a bit tasty at the end of the evening as the running order of the bands had caused a problem. The Undertakers (who, having been together for a year unlike the rest of us, were the most musically accomplished with the biggest following at the gig) felt they should go on last and, as they knew we had a trick or two up our sleeves to entertain the crowd, that we should go on third after 021 and the Accused to build the evening up as it went along. For some reason it ended up with us going on first, the Accused second, the Undertakers third and 021 playing last, which left some of the audience suitably unimpressed and lead to some of them invading the stage and a few fights breaking out!
After the concert Richard and I had time to reflect on where we were heading with the band and decided changes needed to be made. We needed musicians around us who shared the same vision of combining the energy and attitude of Punk with the imagery and theatrics of Glam, so radical changes were needed. As stated earlier, we had already decided to replace the lead guitarist, but we went even further and got a new bass player, got rid of the keyboard player, (proceeding forward without one), and got a permanent drummer for the first time, as we decided to toughen up our sound.
We also decided to write all our own songs, and only do cover versions as encores. Rehearsals began in earnest with the new line up and several gigs followed a few months later at several of the well known music venues at the time in and around the Birmingham area as we steadily built up a solid local fan base, including headlining our own show at the Solihull Civic Hall where 500 plus fans turned up just to see us! (At this point we were still playing 'Disco' as part of the set, but we had musically re-worked it and it was now called 'Subway' with new lyrics with more of an American slant to them, as we used Central Park in NY as the setting for the story as it unfolded).
It was during this period (1980) that we released a further two singles. The first was Statues / On The Line, followed by Rock 'n' Roll Fantasy / Calling For Time, both released independently by ourselves with limited pressings due to cost, and again recorded on 4-track tape live at the same studio as Disco.
Richard and I then realised we could be self sufficient. Richard was already an accomplished rhythm guitarist, but could now play lead and bass to a reasonable standard and I had started playing rhythm guitar and keyboards for the purpose of song writing so, along with Richard having a drum machine to also help with recording ideas for songs (by now all our songs were joint compositions), we realised we could move forward by ourselves and didn't need to put up with the negative aspects that other musicians can bring to the party when you try and create a democratic environment for making artistic decisions, as at this point we were starting to have a few problems with the other band members. So we decided to call a halt to the Cracked Actors and make a fresh start under a new name.
This meant two things. Firstly, we had to put playing live on hold, we said we wouldn't play live with backing tapes, we'd always want real musicians and, secondly, that our sound was to change as it started to move away from the Punk/New Wave sound of our early recordings to a more Glam influenced kind of sound. Our song writing changed as well, the lyrics becoming more reflective and the music more complex, and this culminated in our next release on cassette in 1981. Both 'Caged' and the B side 'In Two Minds' ran at just under 6 minutes each, quite a bold move at the time, but as a result contain far more intensity and atmosphere, both lyrically and musically, and also reflected our state of mind following our dismantling of the band.
We then felt we were ready to play live again, but this time around it was Richard and I calling the shots, with hired musicians coming and going as and when we needed them. This remained the case for the remainder of the 80's as we performed under the following names (Theatre 21, Theatron and Panic Stations). We experimented with a number of musical styles during this period and most were unsatisfactory in their results when we suddenly realised we had moved away from what we loved most, our Glam rock roots. So we decided to do something about it!
It was the early 90's at this point and we again decided we wanted to be totally self sufficient in order to do this. So having acquired a 4 track analogue home studio and a new name to operate under, 'Mighty Fly' ( which we still do to this day), we decided to focus on writing and recording a complete Glam influenced album in demo format which we proceeded to do. Due to cost the plans to release it officially had to be shelved, so we then proceeded to write and record another album on a by now acquired 8 track digital home studio. This one we are hoping to officially release in 2010 on CD/download once we have applied the finishing touches to it, as financially it is more viable for us to now do that.
We are still undecided as to what to do with the first album we recorded, which is gathering dust at the moment, as we are pleased with the majority of it but, as you well know, like most home made analogue recordings of the time, is let down by the production.
David Wright

November 2009
©Detour Records