Crippled Electric Hippo

London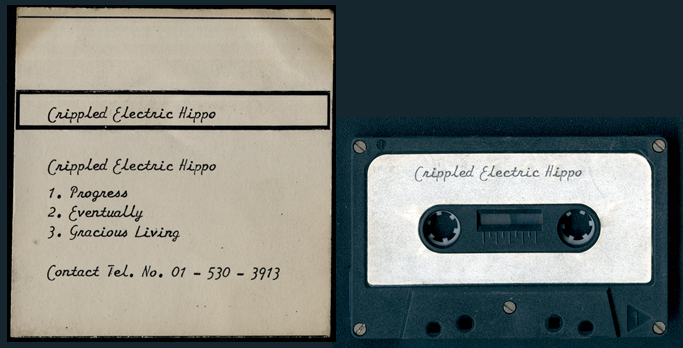 The above three track demo tape was sent into the "Bridge House", Canning Town, London in the late 70s / early 80s to see if they could secure a few gigs there.
This brilliant unknown Minimal Synth band hailed from London and play a very unique atmospheric sound. Their lyrics are very catchy but are dark.
For example, the first track is AMAZING.
Here are some of the lyrics:
GOOD MANNERED AND WELL SPOKEN WITH SUITS AND TIES
I'LL TALK TO THE RECESS COUNCIL, HE IS HIS MOTHERS PRIDE
YOU'RE A SECRET STANDARD FOR THE WORK THAT YOU DO TRY
ON WITH MY WHITE LAB COAT, OH WHAT WENT WRONG?
BLOW TORCH AND SCALPEL AND AESTHETIC I GUESS HIS LUCK HAS JUST RAN OUT
I CAN'T HELP MYSELF...
CUT OUT THE BRAIN, TAPE UP THE MOUTH
THERE IS NOTHING TO FEAR AS YOU KNOW THEY CAN NOT SHOUT
THEY HAVE NO WORDS FOR MY DEMENTED PASSION
AGONY AND TORTURE IS ALL IN FASHION
MAKE UP A PARADE OF MUTANTS THAT I HAVE MADE
BURNS AND SCARS, ALL OF WHICH I HAVE MADE
SEVER THE EYELIDS WITH RAZOR PRECISION
GAUGE OUT THE EYES THAT IS MY DECISION....
Can anyone help with further info on this band?
©Detour Records