Cyanide

York
UK Acetate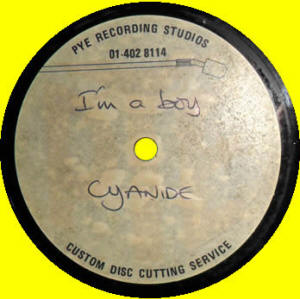 Above is the original UK One Sided 7" Acetate for the single "I'm A Boy" on the 'Pye Studio' label from 1978.
Australian Release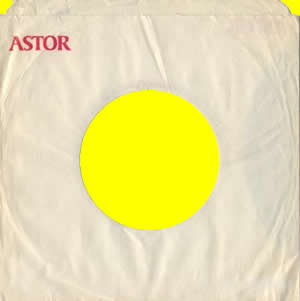 I'm A Boy / Do It
Catalogue Number - AP-1965
Label - Astor Records
Year Of Release - 1978
Australian Release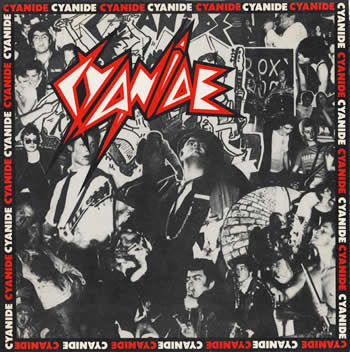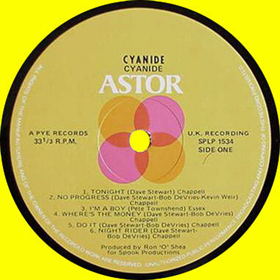 Cyanide - Cyanide LP
Side One
Tonight 2.No Progress 3.I'm A Boy 4.Where's The Money 5.Do It 6.Night Rider
Side Two
7.Hate The State 8.Mac The Flash 9.The Job 10.All Over The Top 11.Tourist 12.Charlie
Catalogue Number - SPLP1534
Label - Astor Records
Year Of Release - 1978
The above Australian release appeared on eBay a few years ago and the seller wrote...
Original issue of Cyanide's self-titled LP. Cat No: Astor SPLP 1534 (1978). Most amazing thing is that this got issued at all in Australia of all places. Years ago I had a conversation with someone who worked at the particular record company involved and he told me that it sold less than 100 copies in stores around Australia!! This would make it one of the rarest commercially released punk records in any territory.
Paul Carroll Remembers....
Cyanide toured with the UK Subs in 1979. It wasn't long after that tour that Cyanide split. Essentially because the drummer Steve Roberts was offered the job in the UK Subs and as Cyanide had been going a while and sadly, decided to call it a day rather than find another drummer.

The bands last deal with pinnacle records hadn't led to any great success. At an important meeting in their London offices, the band nicked off with a load of records and potted plants!! That was after they'd treated us all to a very liquid lunch - so maybe we pi**ed on our chips.
(Cyanide were great live - but could never transfer their great sound onto record).
If memory serves me correct, the bands last gig was headlining at the 'Music Machine' in Camden Town, London, so it was a good exit.
About that time, Hazel O'Conner was making the "Breaking Glass" film with a scene at the Music Machine - in the film you can see a Cyanide & UK Subs tour poster in the background (if your quick)!! immortality of a kind for the band.
©Detour Records