DAS SCHNITZ

Torquay, Devon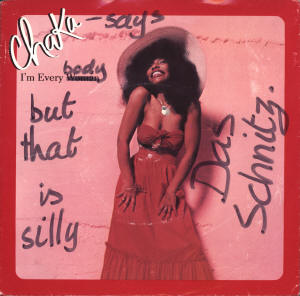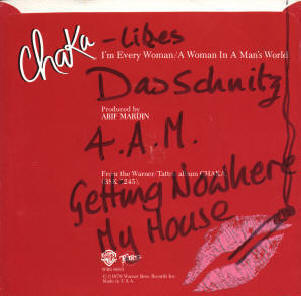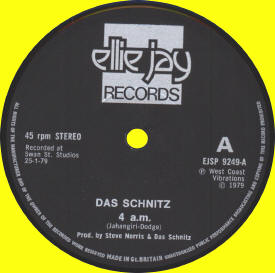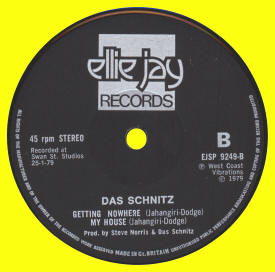 4 a.m. / Getting Nowhere / My House
Catalogue Number - EJSP 9249
Label - Ellie Jay
Year Of Release - 1979
Quantity Pressed - 533

Please note that only approximately 100 copies had this unique sleeve and out of these every picture sleeve was different. In true Punk Rock fashion, the band had no money to afford a sleeve of their own so they stole everyone else's and defaced them.
Is this Punk Rock or what?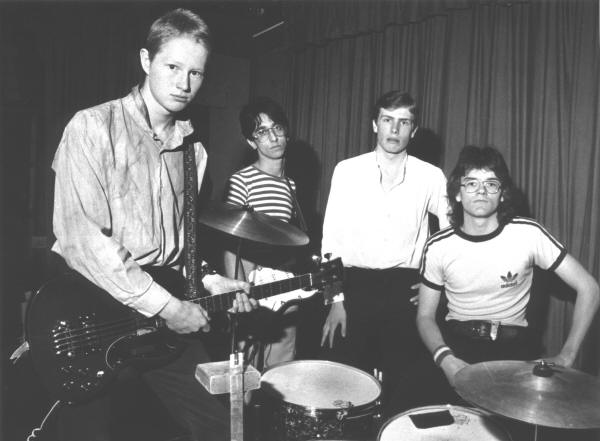 | | |
| --- | --- |
| TIM DODGE - VOCALS | NADI JAHANGIRI - GUTAR |
| STUART GORDON - BASS | KEVIN PERRY - DRUMS |
The above photo was taken after the bands first gig, 1978
"Das Schnitz" hailed from Torquay of all places and all the members attended 'Torquay Boys' Grammar School. The line up was 'Tim Dodge' on vocals, 'Nadi Jahangiri' on guitar, 'Stuart Gordon' on bass and 'Kevin Perry' on drums. The whole band were all influenced by the sweeping music phenomenon known as Punk Rock. They were all big fans of the 'The Damned', 'The Undertones' but 'The Clash' stood out in front as one on the main influences!. Other acts that they admired were 'Wire' and 'The Gang of Four' even though they were a bit more obscure at the time. Being right down in the West Country and being relatively young, it was difficult to get access to the sorts of bands we liked unless they came here on tour. This might have played in the bands favour in the sense that 'Das Schnitz' had quite a local following as they were the only punk band in the area. For the whole of 1978 and most of 79. We used to organise trips up to Plymouth or Exeter by coach. whenever there was a decent band on and we could persuade enough people to go we would book out our very own coach trip!!!.
The single that we released was recorded in late 1978 but because we knew it wouldn't be released for a few months we had jan 79 put on the label so it would appear more up to date. It was recorded at the only studio in Torquay at the time, Swan Street studios on an 8-track machine. Rates were £8 per hour but we only had £12 so we were in and out within one and a half hours!! The single was pressed on the 'Ellie Jay' label which was a London based company that offered small bands the complete package. (This company is actually still going but have switched to making videos). When the single had been pressed and were ready to be collected we drove up to London and picked up our copies of the single from a pub called the White Horse (if my memory serves me correct after all these years) in Barnet some time in April. We drove back to Torquay the same night and it got it's first spin at the 400 Club that night (The same venue in which the 'Sex Pistols' were booked in 1976 on their ill fated 'Anarchy Tour'). The single went straight in at no 2 on the local chart on April 21 1979 (see flyer below) where it stayed for a number of weeks. Sadly it never got any major distribution so most copies were sold locally.
The picture sleeve for the single was a brilliant move! Pure Punk Rock ethics! All the empty sleeves were bought in bulk from a stall at a local market that just sold picture sleeves in bulk from singles of the day. I can't think if he sold anything else but that's where we got the sleeves from. It was purely a financial decision as there was not enough money to get our own sleeves printed. We then de-faced them one Saturday afternoon at the drummers house.
As to the sleeves, every copy was different and the fans and record buyers loved the idea. It meant that the band had personally been involved in a record that they had bought. Chaka Khan's record label wrote to us threatening to sue us if we carried on selling the single in her sleeve but nothing came of it.
Sadly the band never really took off and I was desperate to leave Torquay either with the band or without. If we had had more success with 'Das Schnitz' then we might have taken a gap year or something. But the plan, for me at least, was to get out of Torquay and if I couldn't do it with the band then I was off to college. Kevin and Stuart formed 'Rhythm on Two' and they played locally for a year or two longer.
I guess the end result was a little local notoriety for a short time and a lot of great memories and long term friendships on a personal level. It did give access for people of our age to music that they would otherwise have been unable to 'enjoy' and to mimic what was going on in London and other big cities. It also showed you that a bunch of local kids could get up there and do it too. If we were from London, things could of turned out differently..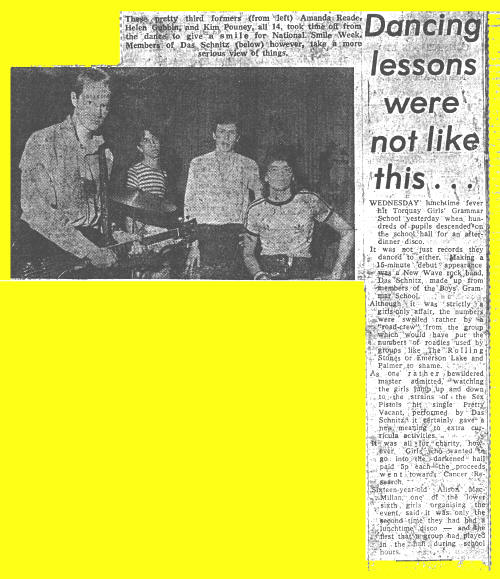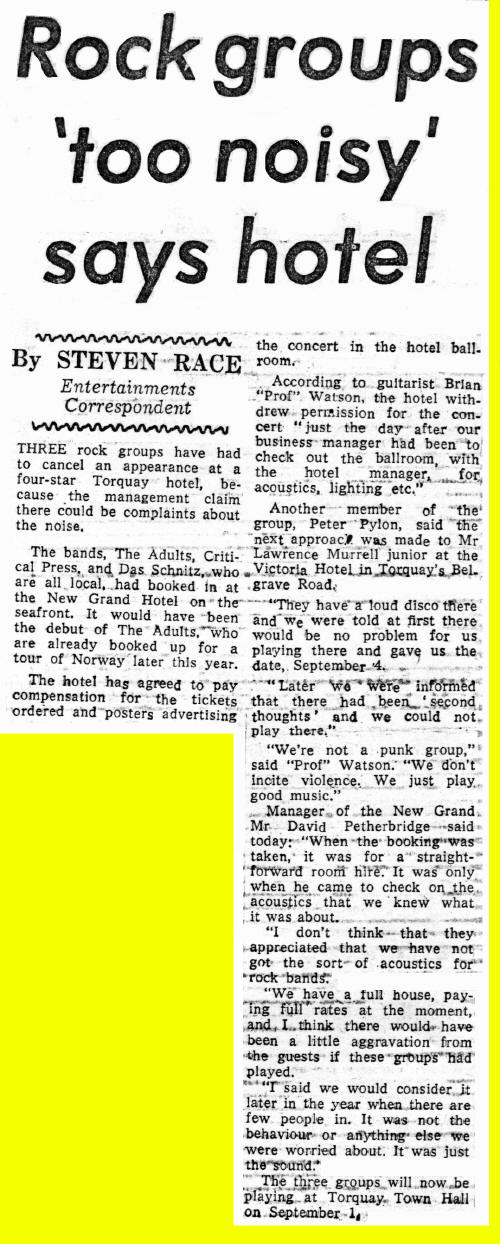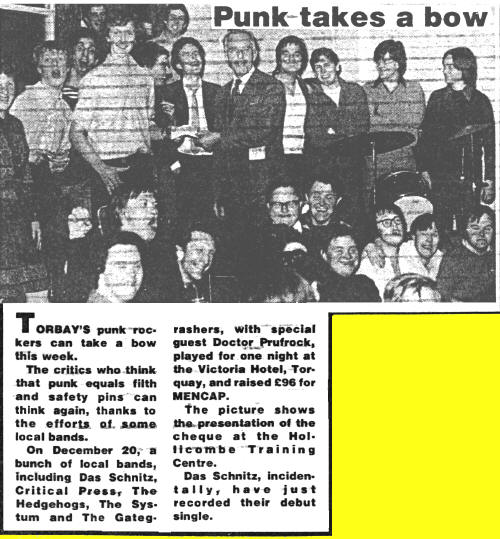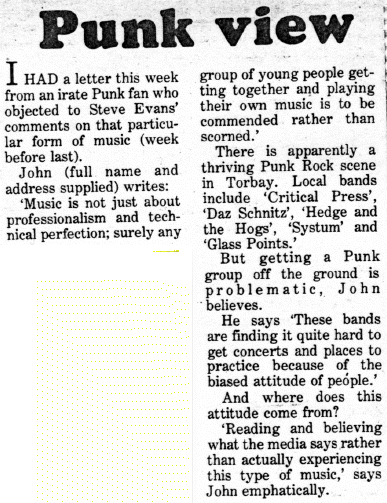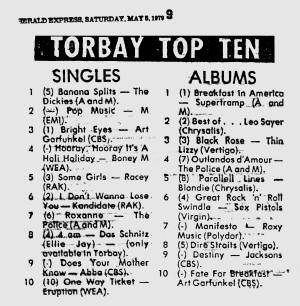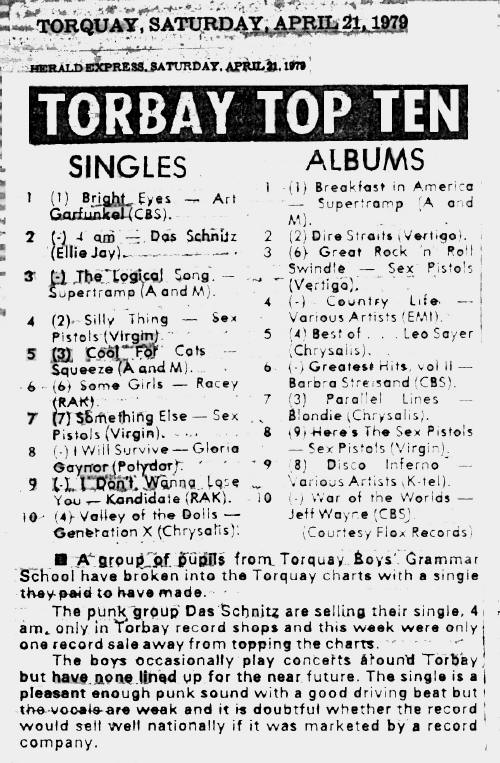 THANKS GOES TO NADI JAHANGIRI FOR SENDING ALL THIS INFO, PICTURES AND NEWSPAPER CLIPPINGS
©Detour Records