| | |
| --- | --- |
| Terry 'Mallender' Gamwells - Vocals | John O'Rourke - Guitar* |
| Craig Waite - Bass | Graham Hoggard - Drums** |
*Replaced by Mark Hornby

** Replaced by Wayne Cleeland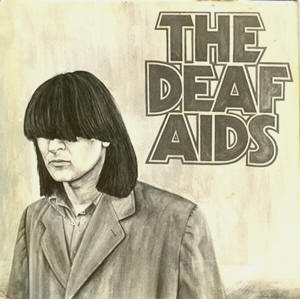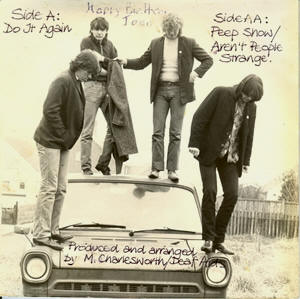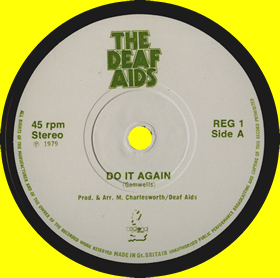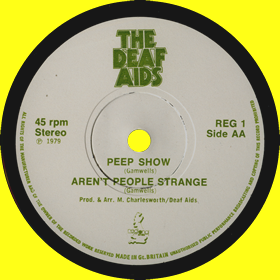 DO IT AGAIN EP
DO IT AGAIN / PEEP SHOW / AREN'T PEOPLE STRANGE
Catalogue Number - REG 1
Label - Regional Records
Year Of Release - 1979
Quantity Pressed - 250
Please note: No Picture Sleeve was ever issued officially with this release but a few copies were made up from the proposed artwork for friends and family of the band.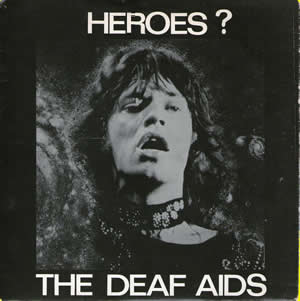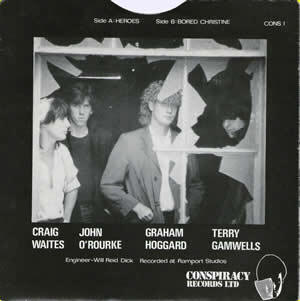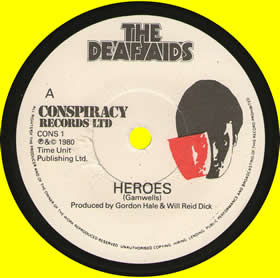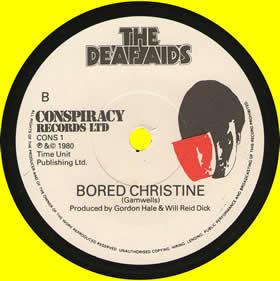 Heroes / Bored Christine
Catalogue Number - CONS 1
Label - Conspiracy Records
Year Of Release - 1980
Quantity Pressed - ???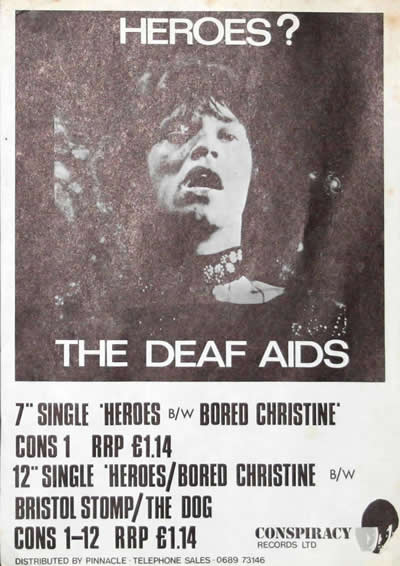 Above is an original Promotional A4 flyer for the bands second release from 1980.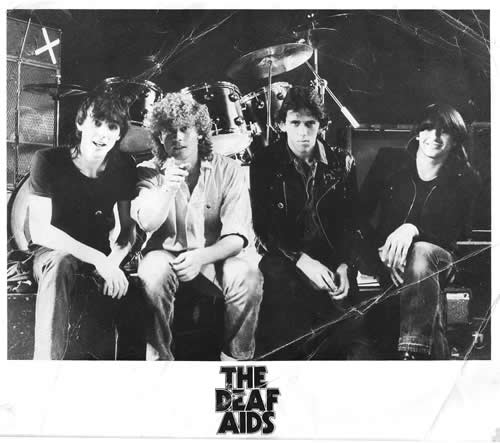 Above is an original 8"x10" Black & White Promotional Photograph from 1980.
DEAF AIDS
Terry Gamwells musical career started, like many who were aspiring musicians in the late 1970's, because of the punk era. This was an important era in music because it made careers in music more accessible and saw the emergence of some incredible talent. The band was called the Deaf Aids (previously known as Charles Hawtrey and the Deaf Aids). They started out doing covers but soon Terry started writing his own material. The first single released was brought about by a local businessman Michael Charlesworth who put them in his own recording studio and the result was their first single Do it Again which only had a limited pressing of 250 copies and were only sold at local gigs. The Deaf Aids were then sought out by a London management company called Conspiracy who managed them for 3 years. They toured quite extensively throughout the UK with the Jags, The Inmates, The Ruts, Fixx, Joe Jackson and The Undertones and released another single on the Conspiracy label called Heroes with Bored Christine and Bristol Stomp on the B side. They did some of their best gigs during this time the most memorable being at Dingwalls in Camden and The Marquee in London. The original band members were Graham Hoggard on drums, John O'Roake on lead guitar and Craig Waites on Bass and Terry on rhythm guitar, lead vocals and songwriter. John and Graham left the band in 1979 to pursue their academic careers and were replaced by Wayne Cleeland on drums and Mark Hornby on lead guitar and they changed management to Summer Songs run by Jazz Summers who later became Big Life and changed their name to Bambi Kino and although had a few near misses with record companies and had a tremendous local fan base they finally split in late 1981. Trying to hold a band together for 5 years of touring without record company commitment was extremely difficult and ultimately became the final nail in the coffin for the band.
Terry Gamwells

December 2009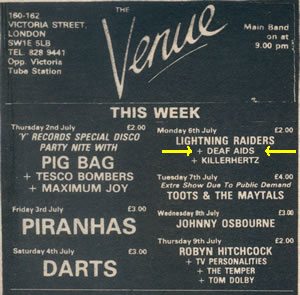 The above Gig Advert for 'The Lightning Raiders', 'The Deaf Aids' & 'The Killerhertz' at 'The Venue' from Monday 6th July 1981 appeared in the 'NME' on the 4th July 1981.
The below text came from the excellent "45 Revolutions" book by Mario Panciera.
A Sheffield-based band formed in September 1978 as Charles Hawtrey & The Deaf Aids. Early in 1979 the group – Terry 'Mallender' Gamwells (aka Terry Gamble, v, ex-Third Reich and 2.3), Mark Hornby (gtr, ex-Amoebas, who replaced the original guitarist John O'Rourke), Craig Waite (b) and Graham Hoggard (d, later replaced by Wayne Cleeland) [sax player Willis was dropped after a few weeks] – reduced the name to Deaf Aids and gained a certain local following which increased thanks to a national tour with The Jags. An EP, co-produced by their promoter/ financier Mike Charlesworth, was issued in October 1979 in a pressing limited to 250 copies (the tracks were originally recorded as a demo and only released on vinyl as an afterthought). The 7'', one of the rarest singles of the era, includes three Gamwells-penned songs of a certain quality, with a particular mention to DO IT AGAIN, a strong Powerpopper which could have been an indie hit with appropriate promotion. In mid-1980 Gamwells, Hoggard and newcomer John O'Rourke (who had been reinstated in the line-up replacing Mark Hornby) were arrested after smashing up the stage with microphone stands during a Sheffield gig. A second single, HEROES b/w BORED CHRISTINE, emerged on the Conspiracy imprint in November 1980 in both 7'' and 12'' formats (the latter including two bonus tracks: BRISTOL STOMP and THE DOG); two exclusive live versions of HEROES and BRISTOL STOMP appeared in 1981 on the WART'N'ALL compilation. In 1982 Deaf Aids metamorphosed into Bambi-Kino (named after a Hamburg cinema where The Beatles slept) who one year later became Urban Pears.
Thanks to Jeremy Thompson and a special thanks to 'Jon Downing'

for the scans of the only known copy of the proposed picture sleeve.
©Detour Records