THE DEEP THROATS

Chelmsford, Essex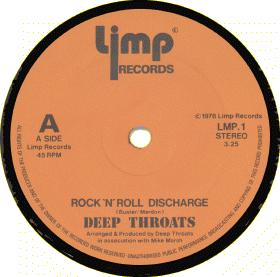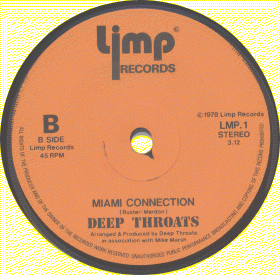 Rock 'N' Roll Discharge / Miami Connection
Catalogue Number - LMP 1
Label - Limp Records
Year Of Release - 1978
Quantity Pressed - ????
| | |
| --- | --- |
| Ken "Buster" Wigley - Vocals | Paul Mardon - Guitar |
| Dave Lloyd - Bass | Vernon Fuller - Drums* |
*After Vernon Fuller left, he was replaced by 'Solid Waste's' drummer 'Peter Leek'.
A rare UK Punk Rock release on the 'Limp' label from 1978. No sleeve was ever issued.
This was the first release on the short lived "Limp" label. The second and last release was by ex Chelmsford Punks The Lepers after a name change to "Modern English" who went onto have several other releases on the "4AD" label in the early 80s. The actually label was owned 'Mike Marsh'.
Not much is known about this band apart from they were apparently from the Chelmsford, Essex area.

The above snippet appeared in the "Strange Stories" #20 fanzine from 1979.
©Detour Records