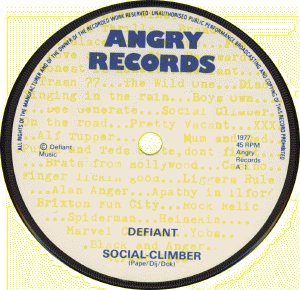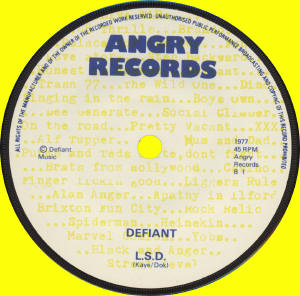 Social-Climber / L.S.D.
Catalogue Number - A 1 / A 2
Label - Angry Records
Year Of Release - 1977
Quantity Pressed - Approximately 20 Copies
| | |
| --- | --- |
| KAYE - VOCALS / GUITAR | DIJ - BASS |
| DOK - GUITAR | DAVE - GUITAR* |
*Dave never actually played live with Defiant but was present at a lot of the rehearsals and went onto be in 'Car Crash' along with 'Dok'.
'Defiant' were a London 5-piece Punk band that were managed by 'Alan Anger' (who went on to release singles under 'The Rowdies' & 'The Cockney & Westerns'. He was also in the news a few years back for several clashes with 'Chris Evans' as he was a Traffic Warden' at the time and 'Chris' thought he had the right to park anywhere!!!). 'Defiant was one of the earliest Punk bands to form in London along with 'The Sex Pistols', 'The Damned', 'Chelsea', 'Generation X' etc. The thing that got this band noticed was that there were three girls in the band. Pape & Dij were sisters and Dij was at school with Kaye. Dok, the guitarist was the only non-Londoner. He was actually from Manchester and was already playing in a band called 'The Surge' before moving to London. Their first gig was up in Liverpool of all places.
In 1977 the band went into the studio and recorded 'Social-Climber' & 'L.S.D'. Their manager 'Alan Anger' then got fed up trying to get the band signed to a major so he decided to release the single himself and formed a label "Angry Records". He had all the labels printed up ready but the band decided to split-up before the single was pressed!!!. So for a laugh and undeterred he bought up approximately 20 copies of an old 'Frank Ifield' single and stuck the 'Defiant' labels on them. He then mailed them all out to the the music papers and reviewers he could think of. This actually paid off had secured a fairly good review in "Sounds". Obviously the reviewer had balls-up big time as it wasn't 'Defiant' on the record and would of realised this if he actually played it so he must of just invented and made up the review.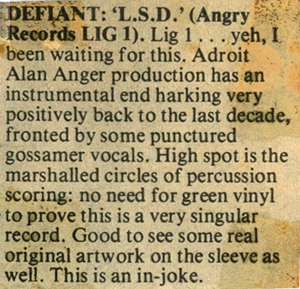 The above single review appeared in "Sounds" on 19th November 1977 and was reviewed by 'Linnet Evans'.
Was this a great scam or what?
As approximately only 20 copies of this single exist, this has got to be one of the rarest UK Punk Rock singles EVER...but does it count as it plays 'Frank Ifield'???
Before 'Defiant' called it a day, Defiant and Car Crash did one tour together, 2 bands in one van up north in the winter with no money, that was fun!!
After 'Defiant' split up, 'Dok' was the only member that carried on and put all his time and effort into 'Car Crash' & then 'Self Control'.
Dok from the band is searching high and low for the long lost recordings so that they can appear on our 'Bored Teenagers' compilation series....So watch this space!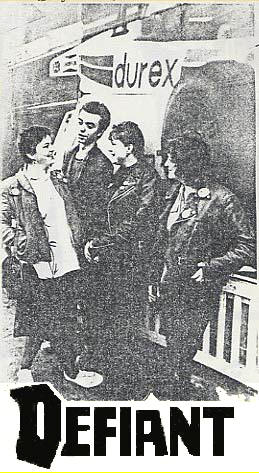 Thanks goes to 'Dok' & 'Alan Anger' for the above information

1999
*Sharon Spike (Wrote the fanzine "Apathy In Ilford")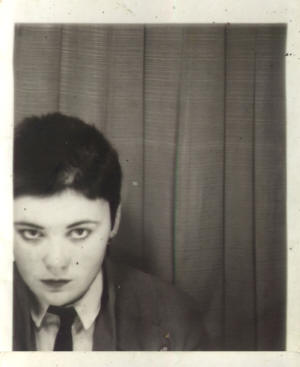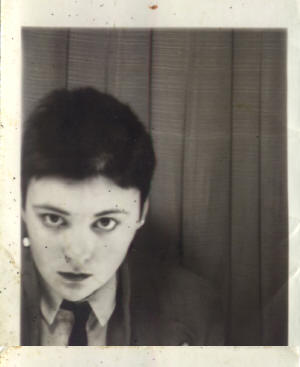 "Pape"

in a photo booth in Tottenham Court Road Station'

early 1977
Above is an original Punk fanzine from 1977 showing 'Defiant'.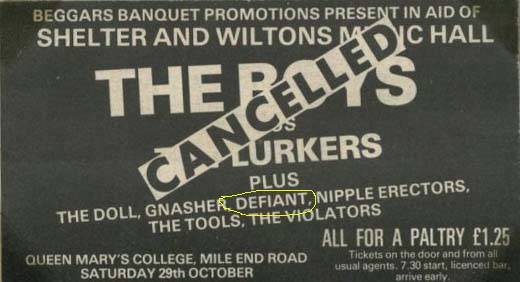 | | |
| --- | --- |
| | |
| DIJ | PAPE |
| | |
| --- | --- |
| | |
| KAYE | DOK |
The above four photos were taken when the band played at 'Sheffield' in 1977.

All four photos taken by 'Eddie Duggan'.

The above snippet appeared in "Live Wire" #9 fanzine from 1977.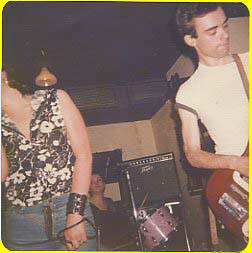 Kaye, Pape & Dok
August 1977
Dok

Dij
Pape
Live at "

The Man In The Moon", Kings Road, Chelsea, London in September 1977.
©Detour Records