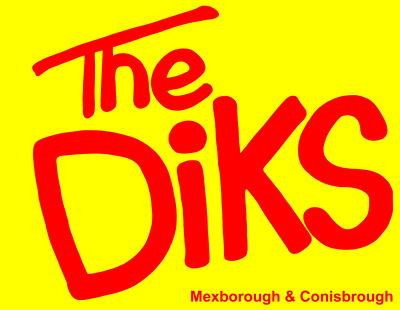 Paul Hutley - Lead Vocals
John Clements - Lead Guitarist
Alan Wasley - Guitar
Alan Brown - Bass
Roger Clark - Drums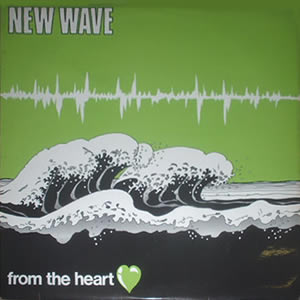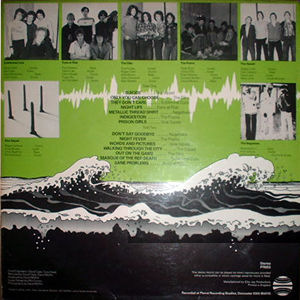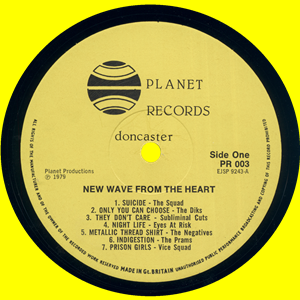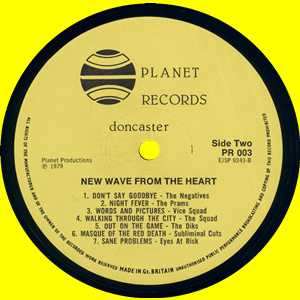 Various Artists

"New Wave From The Heart" LP
Side One
"Suicide" The Squad / "Only You Can Choose" The Diks / "They Don't Care" Subliminal Cuts / "Night Life" Eyes At Risk / "Metallic Thread Shirt" The Negatives / "Indigestion" The Prams / "Prison Girls" Vice Squad
Side Two
"Don't Say Goodbye" The Negatives / "Night Fever" The Prams / "Words and Pictures" Vice Squad / "Walking Through The City" The Squad / "Out On The Game" The Diks / "Masque Of The Red Death" Subliminal Cuts / "Sane Problems" Eyes At Risk
Catalogue Number - PR003 (EJSP 9243)
Label - Planet Records
Year Of Release - 1979
Quantity Pressed - 1000
Even though 1000 copies were pressed, due to poor distribution only approximately 200 copies were sold. The remaining 800 copies were stored in a wardrobe of 'David Moffitt', the label's owner until about 1990 when they were all taken to the tip!
The Diks story

We were a bit late getting onto the punk scene. Our first proper public appearance was at the 'Eagle & Child' pub in my hometown of Conisbrough that was on Fri 4th Aug, 1978.

We had a half page feature in the South Yorkshire Times headed up DIK ROCK - Power Pop or Punk to launch the first gig.

We had to hire a PA system from 'Ben Page Music Shop' in Doncaster but it was only about 100 watts and totally useless. Another band called 'WEAZEL' were in the pub whilst we were doing a 'sound check' and it was so bad they let us borrow their PA which they had out in the van.

It was difficult to get gigs in those days. South Yorkshire was mainly the Working Men's Club circuit so a band like us that didn't do chart stuff wasn't really welcome. Saying that, we got so desperate for money we used to also play under an assumed name 'DICKYBOW' and I used to get dressed up as Marc Bolan, David Bowie, Gary Glitter and do some of the glam stuff,

Most of the time our only chance to get gigs was to hire a hall and sell tickets on the door. Some of the best we did was at the 'Montgomery Hall' and 'Rotherham Arts Centre' and at Doncaster's 'Romeo & Juliet's'.

We did a night at Romeo's in Doncaster where we hired the night club on a Monday night. The bouncers still refused to let anyone in who were not smartly dressed! As you can imagine it was a disaster!

Most of the gigs tended to be in nightclubs so they were always late starts getting on stage for about 11 or midnight. Unfortunately we would go to the pub before we played and so most of the time we were very very drunk.

We were featured in an article in the "Sunday Mirror" about trying to make profit by cashing in on the Yorkshire Ripper's crimes. They claimed we were dedicating songs to the Ripper. We did have a song about a pervert called Ernie Cringeworthy - but our message was to the girls - 'if you're going out alone take extra care in case you bump into a similar character'. I might have dedicated it to the Yorkshire Ripper but in a way to warn / deter and not to glorify as they claimed

We used to support main line gigs at the 'Retford Porterhouse', e.g. The Starjets (from Belfast), Slaughter & The Dogs, Heavy Metal Kids. We'd only get £20 for those nights. The audience at the Porterhouse were almost on the same level as the stage so they were right in your face. They used to give you swigs of their drinks or snacks etc. I'm sure that once I was given a bite of a burger which actually didn't contain burger but pure shit. I had to eat it though.

In the early days we didn't have a van. We used to transport our gear on the back of a Scottish Land pick up truck. The back of the truck was caked in diesel / engine oil. All our gear used to smell of it. After each gig we would have to return to my mum's house and off load the stuff into the front room. We used to have a bright orange carpet in there that became heavily stained with all the diesel. Another disaster.

One of our best gigs was the charity concert at Sheffield Top Rank on Sunday 19th August 1979. It was in aid of 'Year Of The Child'. We had to fund this concert ourselves by getting a bank loan and lost £167 on the night. We hired the Top Rank for £250 and booked 'THE ADVERTS' as the main attraction - at £500. It was a great gig.
The main thing I remember about it though was the amount of spit. We looked at photos of us on stage and was horrified to see a kind of white blanket coming up from the crowd onto the stage. It was spit! We were slipping over, it was in our eyes, it was in our hair. It was disgusting. My, did we stink after the gig - there were no showers there at that time!
We were eventually evicted from backstage by the Adverts minders. I was being a nuisance and trying to cop off with the girl they had in their band (Gayle Advert?) . I was drunk by then but was tormenting her - apparently I kept saying to her ' I want to kiss your lips a thousand times'

We were always dreaming of a record contract. It never came. Instead we again had to finance our own production. We featured on two compilation albums 'NEW WAVE FROM THE HEART' & 'LOGICAL STEPS'. These are now very much sought after albums. I sold 2 of the New Wave albums for £160 each to some guy in America via Ebay. Always getting lots of interest from Japan as well. We used to have to pay to record the songs and then sell the albums ourselves. We did that by going door to door on the streets.

It was all a great hobby and we did feel like rock stars! In February 1979, my dad died and left me £2000 in his will. I was 19 at the time so we hired a van and went to an auction of band equipment in London. We bought a 2000 watt PA system for £500 and it turns out the equipment belonged to SAXON who had driven down from Barnsley and we cat and moused them all way back up the M1 as we were drunk again.

Last gig was at the 'Thurnscoe Hotel', the landlord there was always good to us. I think they called him 'Fred Powney'. It was probably July 1980. We were called 'The Villains' now after numerous line up changes. Our sound man had walked out on us, our van had broken down and I had to have a day off work to go and set up in the afternoon. With no sound man the gig was a disaster. We got paid up which was a very hard thing to achieve at Thurnscoe Hotel. It was embarrassing. I decided there and then it was THE END. In fact I started selling stuff off on that same night. Most of our gear went to a band called 'SMOOTHO DE CREW' who were being managed by an antiques dealer called 'Adrian Elderkin'. He was the guy behind a top club act at the time 'LIMELIGHT'.

We didn't really mix with any of the other bands. We were too far up our own arses. We also had a reputation of not paying our support acts. We once asked local band 'EYES AT RISK' to support us and we would pay them £5. For months after every time we saw them out and about they'd say 'have you got that fiver' - we never did cough up
Paul Hutley

May 2008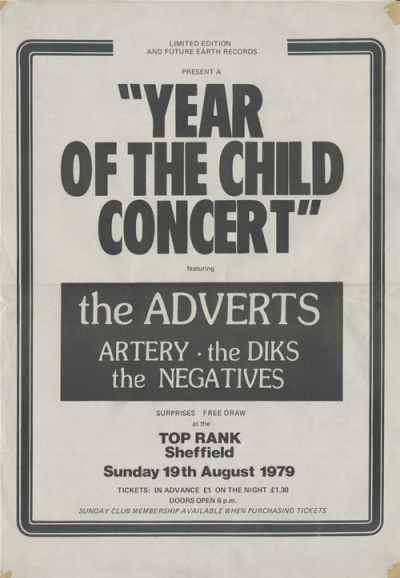 Above is an original A3 Gig Poster from Sunday 19th August 1977 that featured "The Adverts", "Artery", "The Diks" & "The Negatives" at the "Top Rank", Sheffield.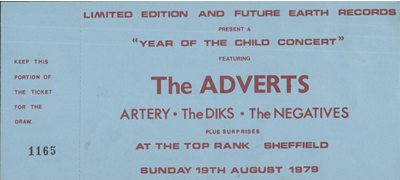 Above is an original unused gig ticket from Sunday 19th August 1977 that featured "The Adverts", "Artery", "The Diks" & "The Negatives" at the "Top Rank", Sheffield.
Thanks to Paul Hutley for supplying all the above.
©Detour Records