First single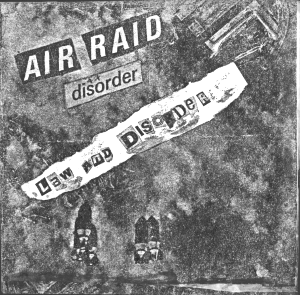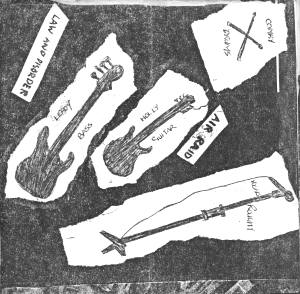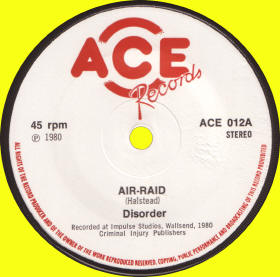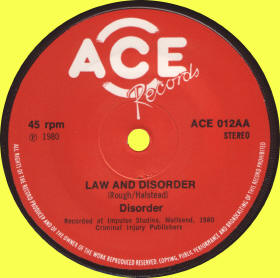 Catalogue Number - ACE 012
Label - Ace Records
Year Of Release - 1980
Quantity Pressed - 750
Only the first 100 copies had a picture sleeve
Below is the one sided insert that some copies came with.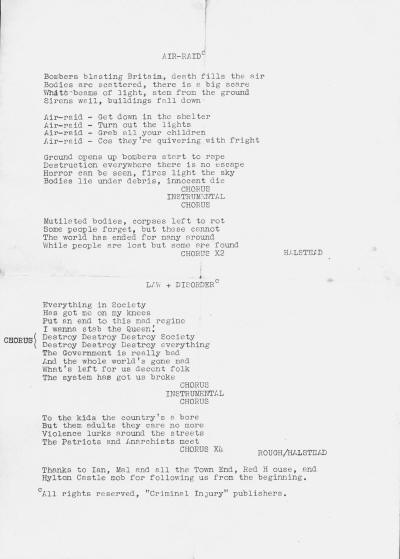 Second single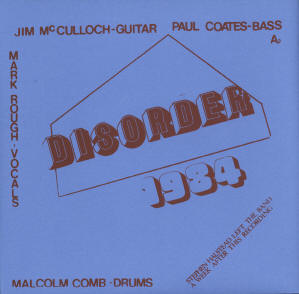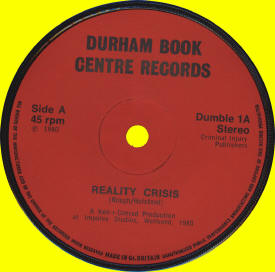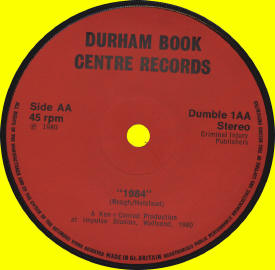 Catalogue Number - Dumble 1
Label - Durham Book Centre Records
Year Of Release - 1980
Quantity Pressed - 1000
Below is the double sided insert that most copies came with.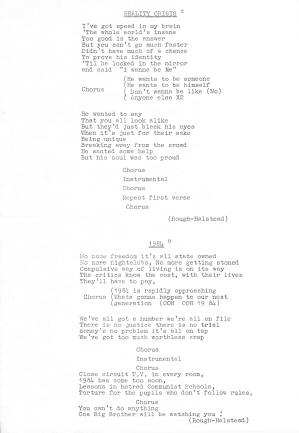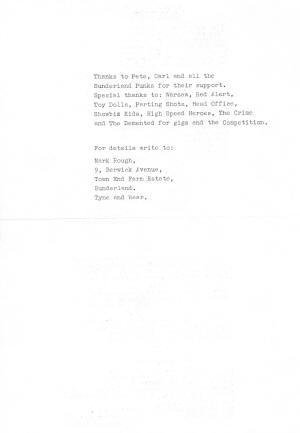 Formed in Sunderland late 1978 as "Cranium Disorder" – the band soon developed a following at the school hall in which they used to practice – and it wasn't long before they had built up a repertoire of cover versions to enable them to arrange some gigs:
Classic line-up performed their first gig together on 31 October 1979

(now with shortened name of "Disorder"):

Mark "Roughy" Rough – Lead Vocals

Steve "Holly" Halstead – Lead Guitars

David "Leroy" O'Leary – Bass

Malcolm "Coomby" Comb – Drums
Gigs came in thick and fast – and some of them proved to be very eventful. At a pub in Hendon a load of Mods turned up and tried to spoil the evening, but Leroy had other ideas and used his bass to fend off attackers!!
At a gig in Sunderland – Holly fell off the stage and had to have his guitar re-tuned by an ex-member of the band who happened to be in the crowd as Holly was so drunk!!
Leroy was to provide the finance for the band to record their first single. During a game of "Cowboys and Indians" he was playing with some locals with air rifles he managed to catch a pellet behind his right eye. The subsequent compensation from the criminal injuries board allowed the band to cut their first single. See "Criminal Injuries" mentioned above on both labels:
"Air Raid" (Halstead) C/w "Law and Disorder" (Rough / Halstead) recorded February 1980 Impulse Studios, Newcastle. Released 5 April 1980 – produced by Michael Sweeny.
The original batch of 750 sold out within days … only 100 picture covers were issued – this is a story in itself – but a shortened version follows …
On the day the single was pressed the band realised that they could not afford a proper picture sleeve so Malcolm from the band had the bright idea of paying a visit to his grandad and ripped a page out of one of his prized World War II books. Photocopied it and turned it into a sleeve with Mark Rough supplying the back cover. When Malcolm's grandad found out that his prized book had been torn apart he hit the roof!!!!
It wasn't long before demand for a second single was strong enough to send the band back into the studio:
"Reality Crisis" (Halstead/Rough) c/w "1984" (Halstead / Rough) recorded 31 August 1980 for fledgling Durham Book Centre Records and released 15 October 1980. Recorded at Impulse Studios Newcastle – produced by Michael Sweeney and engineered by Conrad, later to find fame as 'Cronos', singer in death metal band "Venom"!
Also recorded that day was "Identity Parade" (Halstead/Rough) which stayed unreleased until it appeared on the compilation album 'Bored Teenagers volume 2'. This song was a tale of Mod/Punk battles of the day (Mark Rough was the one in the band with mod leanings).
Line up was:
Mark Rough – Vocals

Steve Halstead – Guitars

Malcolm Comb – Drums

And newcomer Paul Coates – Bass
Band imploded and Steve Halstead left the band in September 1980
Disorder struggled on with a more new wave sound, due to the increasing influence of Mark Rough and new guitarist Jim McCulloch. However Disorder was essentially Halstead and Comb's band and the heart had been ripped out of it. They finally ground to a half in December 1980 with a final gig in Newcastle of all places.
Stephen Halstead

2001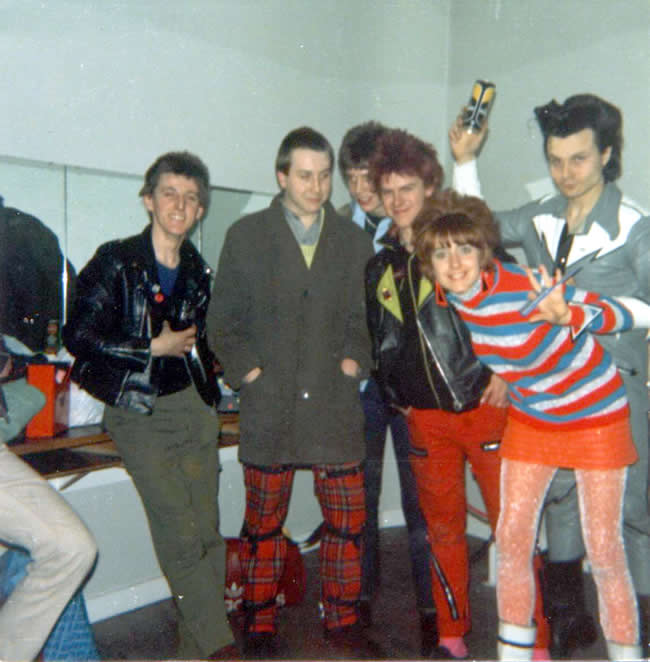 The band sharing a laugh with 'The Revillos'.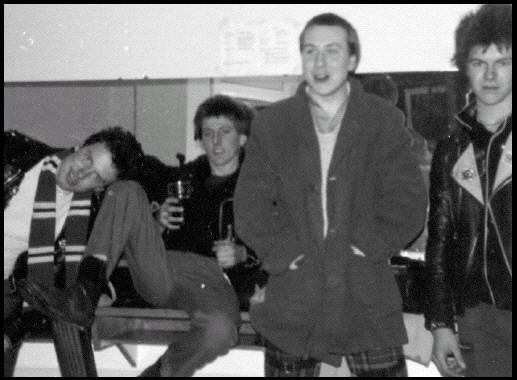 Back stage at the Revillos gig in Sunderland.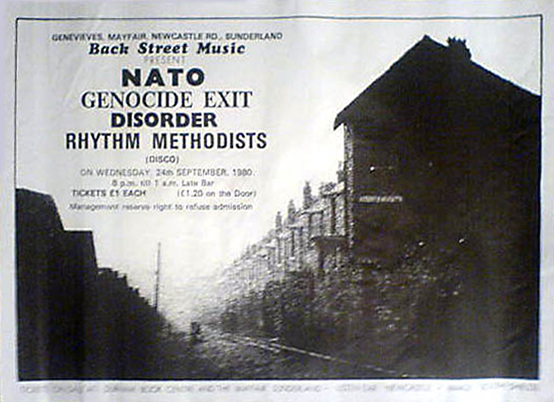 Above is an original gig poster from 'Genevieves Mayfair', Sunderland from Wednesday 24th September 1980 that was staged by "Back Street Music" promotions.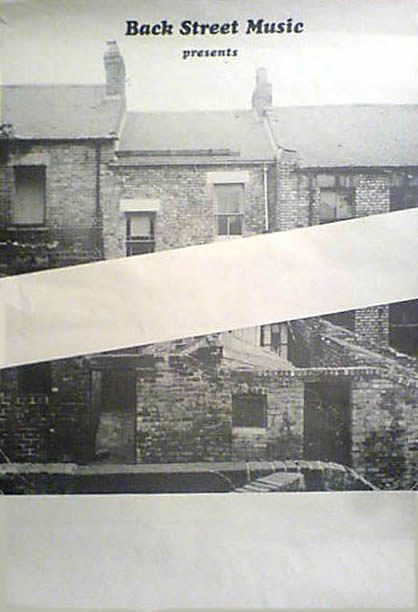 Above is an original un-used Gig poster for "Back Street Music" promotions.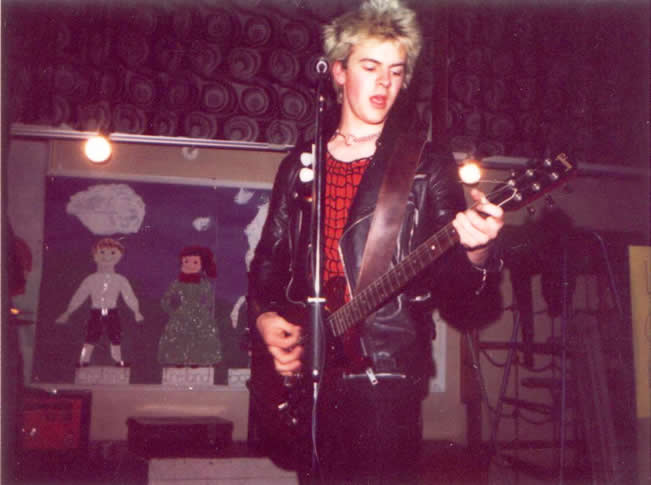 "Stephen Halstead" circa 1980
Thanks to Steve Halstead and Mark Rough
©Detour Records