DISTRAINERS

Leicester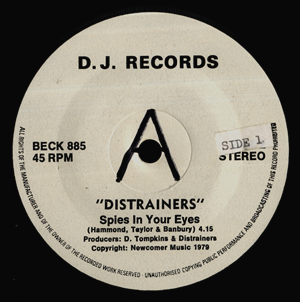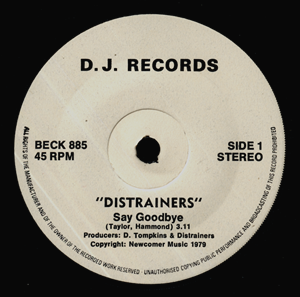 Spies In Your Eyes / Say Goodbye
Catalogue Number - BECK 885
Label - D.J. Records
Year Of Release - 1979
Quantity Pressed - 500
Pete Banbury - Guitar & Vocals
Phil Hammond - Bass & Vocals
Steve Taylor - Drums
Distrainers formed in Leicester in 1977 as a three piece. The original line up was 'Dave Roe' (Guitar, Vocals), 'Phil Hammond' (Bass & Vocals) and 'Steve Taylor' (Drums, Vocals). The band at this time were very influenced by the Punk movement that was going on around them and advertised themselves as being where the 'old wave meets the new'.
Dave left the band in 1978 and a replacement Guitarist in the shape of 'Pete Bambury' was brought in. The band had now started to move away from the Punkier side of things and by the time they released the single "Say Goodbye"/"Spies in your eyes" they were being touted as a NWOBHM band.
The band gigged extensively during 1978/79 and built up a reasonable following throughout the UK. In addition to their headline gigs, there were a number of support appearances including Witchfynde, Wayne County and the Electric Chairs, Lightning Raiders, Samson and even Secret Affair! Around this time as well, there were regular appearances at The USAF base at Upper Heyford in Oxfordshire where they appeared along with the likes of Urchin, Chevy, and Sledgehammer. As the bands sound developed a heavier feel they felt that the name they had chosen was a hindrance (sounding too new wave), so the decision was taken to change the name to Alien and expand to a four piece at the same time. Alien continued for a number of years although Steve Taylor left in 1981 to join Northampton NWOBHMers Soldier.
After a break of 25 years Phil Hammond and Steve Taylor have decided to resurrect the Distrainers, based on the fact (to the best of our knowledge) that no one else has used the name in the intervening period. Such originality deserves reward! Phil has now joined up with Leicester band Burn, so we are now based exclusively in Plymouth!
This actual copy came from the ex manager of "Urchin" who the band had supported in 1979.
The above text was taken from the bands myspace page.
©Detour Records