East Coast Angels

Ireland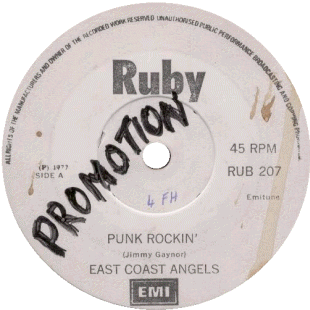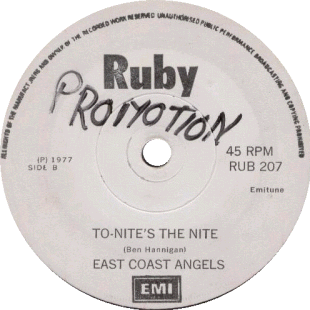 Punk Rockin' / To-Nite's The Nite
Catalogue Number - RUB 207
Label - Ruby Records
Year Of Release - 1977
Quantity Pressed - ????
(Only a handful of copies have surfaced over the years)
| | |
| --- | --- |
| Jimmy Gaynor - Vocals & Lead Guitar | Ben Hannigan - Rhythm Guitar |
| Dave Flanagan - Bass | Henry Tolan Drums |
We formed about late 75/early 76 and played all the shit holes around Ireland and some good venues too. The only places that any band could play Rock 'n' Roll or anything other than Showband / Danceband music, was in bars, around Dublin mainly. The punk scene was coming to good old catholic Ireland from UK and although welcomed, the scene never flourished to the same extent as in the UK. Really the band was always a Rock band and we lived a far more decadent life than any of the others around.
In the North of Ireland it seems to have been a bit more like the UK and indeed the only bands to have made it around that period were the likes of the Undertones from Belfast.
The single "Punk Rockin" was more a song about a guitar player in a rock band changing his allegiance to punk music, cos he wanted to be part of that new generation.
Anyway that's some of the story!!!!!!!
Dave Flanagan

27th January 2008
Thanks to Mike Teo for the above scans.
©Detour Records