END RESULT

Airdrie, Glasgow
Joe Whyte - Guitar and Vocals
David Russell- Bass and lead Vocals
Stewart Reid - Drums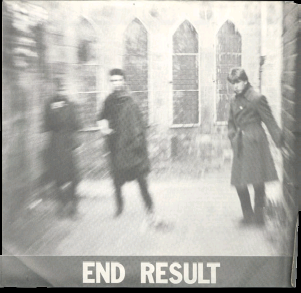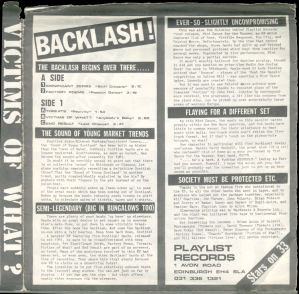 A wee bit about End Result.
We started probably mid 78 as a school band in Airdrie, about 12 miles east of Glasgow, called "The Condemned", doing Slaughter and The Dogs, Damned, Wire covers etc. Basically the stuff that was easy to play.
We evolved into "End Result" (after the Crass song) a wee while after this, playing mostly original material and the odd cover. Myself and david wrote the songs although Stewart the drummer was kinda the oberfeurer of style and substance. The band played locally in the YMCA/ Community centre scene before graduating to pubs. there was a fairly good little scene in Airdrie/Coatbridge comprising ourselves as elder statesmen (!) at age 15-16, 2The L-Plates" (who later became "External Menace" with some success), "The Snap-Ons" (whom I'd been in an earlier line-up of), "Mock The Afflicted", "Spinal Chords" and a few others whose names now escape me. There also was a local fanzine called "No More Of That" written by a guy called Bob Gray.
We recorded a demo which came to the attention of Playlist Records from Edinburgh who'd released an EP called Mint Sauce For The Masses which featured four Edinburgh bands including "The Threats". We appeared on the next EP (Backlash) with our song "Last Chance", a two-chorder with 6 words in it. When we recorded it, at a jingles studio in Strathaven, we did so in six hours as that's all the record company could afford. I remember struggling when the producer John McLarty asked me to overdub guitar parts, as I'd never even considered this. I ended up playing a "solo" and dubbing about 4 lots of power chords a la Steve Jones as I had no idea what else to do! We had moved on from the Punky/Killing joke aspect of this song by then, and as is evident from the pics on sleeve, we'd adopted a kinda proto Goth/Joy Division look by this point.
We did a load more gigs further a field on the strength of the single and opened for "The Freeze" and an early incarnation of "The Cocteau Twins" in Glasgow/Edinburgh etc. We also did a showcase with all the bands on the EP in Edinburgh YMCA. By this time, we were all but finished, but carried on with David as lead singer and another guy briefly on bass.
The band dissolved in fairly stupid circumstances, with David leaving the band due to girlfriend pressure. Me and Stewart carried on playing with loads of folk in Glasgow scene, but to little interest.
David played bass with me in the "Cactus Devils" in the early 90's but sadly died following a short illness leaving a wife and daughter. Stewart oddly then joined me in another band for a couple years. I believe he's now a DJ in various Glasgow hostelries and I haven't seen him in years.
End Result's finest moment was being played by John Peel (twice)......adopt Peel-type-voice "....and that was End Result from Airdrie, who may own a Killing Joke record or two....."
The single Last Chance was released last year on a compilation called Kilt By Death, The Sound Of Old Scotland.
And no, I didn't get any royalties!
Joe Whyte

July 2007
©Detour Records