Fast Breeder
Manchester
Mancunian also-rans, though theirs is a tale worth recounting due to the number of important reference points they threw up. Fast Breeder started out under the name "Flashback", which seemed a little outmoded for an aspirant punk rock band. Later Factory head honcho Tony Wilson saw them play at a pub in Failsworth on his stag night, along with both C.P. Lee (of the Albertos) and Alan Erasmus, the former actor who would join Wilson at the helm of Factory.
Soon he'd take the reins as Flashback's manager, and saw them play a show at Rafters alongside the pre-Joy Division Warsaw, with whom they argued over headlining status. As the band became Fast Breeder the original personnel drifted apart, with a wide range of local 'musos', including 'Spider' Mike King and a drummer known simply as Drummie flitting through the ranks. By the time Wilson asked for a progress report, Erasmus had just two musicians in his charge, drummer Chris Joyce and guitarist David Rowbotham. Wilson decided, in tandem with Erasmus, to preserve the rump of the band, and rang Vini Reilly and Alberto's bass player Tony Bowers, and thus was born Durutti Column, after the situationist comic strip. Vocalist Phil Rainford was one of several singers the group toyed with, though he was kicked out by July 1978, at Reilly's insistence, with Wilson getting to do the dirty work. Bowers soon left to form the Mothmen, where he would soon be joined by both Joyce and Rowbotham (though they appeared on DC's A Factory Sampler debut), leaving Reilly alone to helm the Durutti Column project. Joyce and Bowers went on to join Mick Hucknall's Simply Red, after Joyce had spent time with Pink Military and Wah!. After leaving Simply Red he set up Planet 4 Records. Dave Rowbotham, who inspired the Peter Saville-designed 'Prefects badge', FAC 21, was killed by an axe murderer in Burnage in 1991 – the inspiration behind the Happy Monday's 'Cowboy Dave'.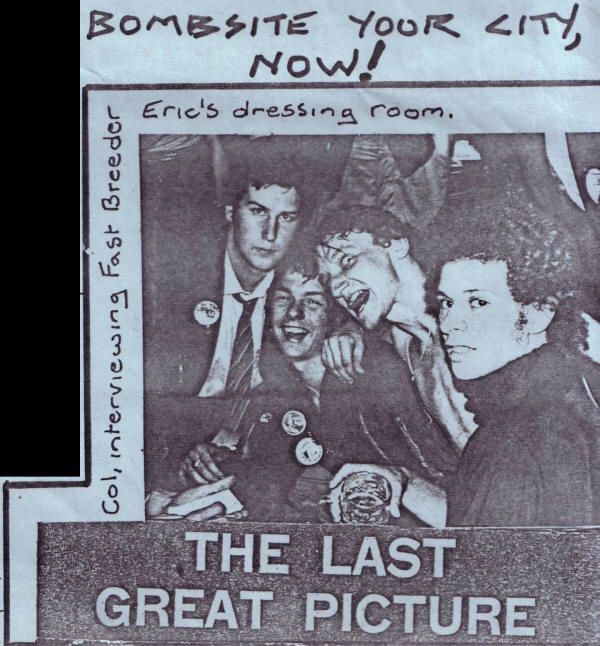 The above picture appeared in the "Bombsite" fanzine from 1977 and includes 'Colin Grombach' from the band 'Why Control?'
Thanks to "Alex Ogg" for the above article

which was taken from his "No More Heroes" book.
| | | |
| --- | --- | --- |
| | Also thanks to Martin Cass & Mark Hodgkinson from the 'Bombsite' fanzine. | |
©Detour Records