Gary Mole (aka Daktari Swets) - Vocals

Pete Watt - Vocals & Guitar

Nick Calloway - Guitar

Andy Hill - Bass

Graham Smith (aka Big G) - Drums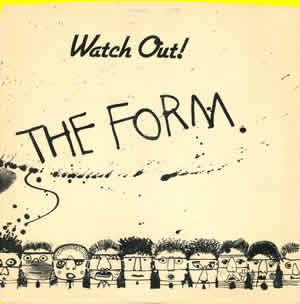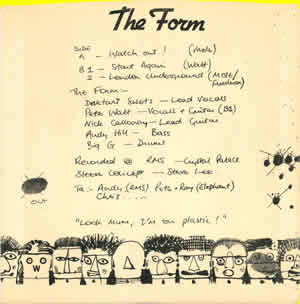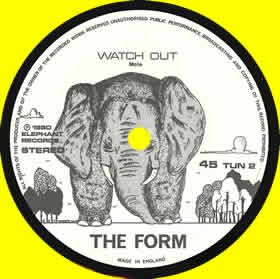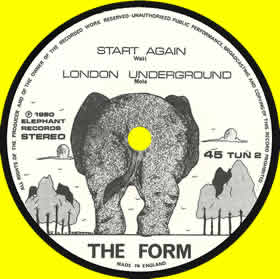 Watch Out / Start Again / London Underground
Catalogue Number - TUN2
Label - Elephant Records
Year Of Release - 1980
Quantity Pressed - 547 (Confirmed)
Recorded at RMS Studios in Selhurst on Monday 8th October 1979, and engineered by a long-haired, Lennon-bespectacled guy called Andy, who played clarinet in Basil's Ballsup Band, and who I believe was responsible for ejecting The Damned from the premises after they'd been setting off fire extinguishers and such when they were supposed to have been rehearsing.
We sorted out a sleeve design from Gary Mole (lead vocalist aka Daktari Swets) who had a mate from Mortlake Brewery (the same one as Paul Cook worked at: Gary was mates with Cook) called Steve Lee who could put some art work together, which was in November 1979.
However, despite extensive rehearsing ourselves, we didn't play a live gig until 30 April 1980, and it wasn't until July that I'd got the requisite £280 together to pay for the demo to be pressed as a single. We ordered 500 copies, but the run overshot, so we ended up with 547. That meant that there was a shortfall in the number of sleeves we'd ordered!
I took delivery of the singles in September 1980, from which point we started to sell them to friends and acolytes at gigs. There never was a distribution deal. Trading on a long acquaintanceship with John Peel, Gary and I ventured up to Broadcasting House to waylay my favourite DJ, reasoning that presentation of our work as a vinyl 45 rather than a cassette could be more fruitful. That was November 1980, and eventually he played it on his Radio 1 show 8 January 1981. I was lucky, I heard it. Ten days later, and we started disintegrating, and were finished by the end of February: timing is everything!

Pete Watt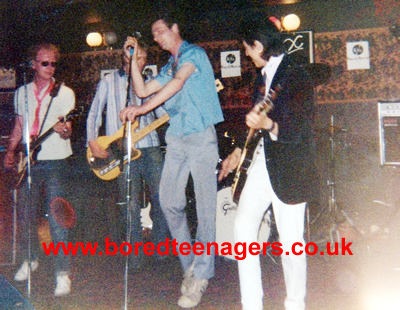 Live at Trafalgar, Shepherds Bush, London on Saturday 14th June 1980
Live at The Brecknock, Camden, London on Thursday 14th August 1980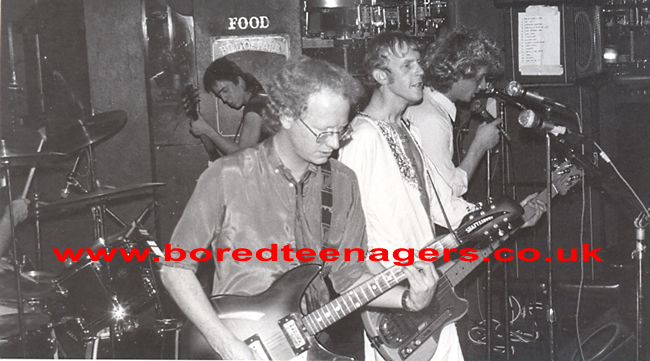 Live at The Trafalgar, Shepherds Bush, London on Saturday 27th September 1980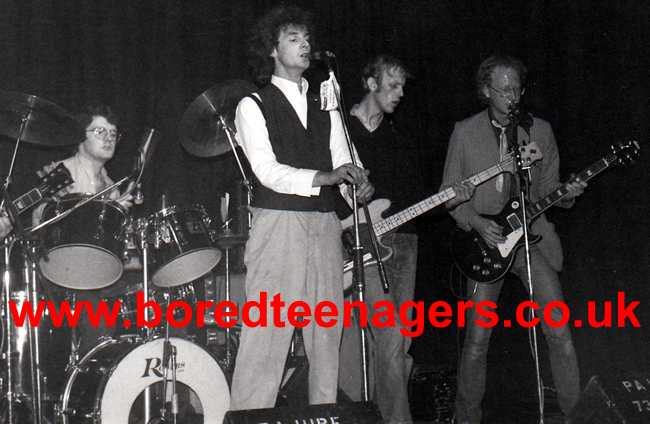 Live at Fleet Centre, Hampstead Heath on Friday 17th October 1980

The above snippet appeared in "Sounds" in September 1980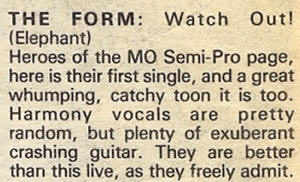 The above snippet appeared in "Musicians Only".
Thanks to Pete Watt and Steve Mitchell