1979

IN THE GYM

Kidderminster / Stourport-On-Severn

1982
| | |
| --- | --- |
| Bob Willimot - Lead Vocals | Jon Bridger - Guitar |
| Malcolm Green - Bass | Lynton Carrier - Drums |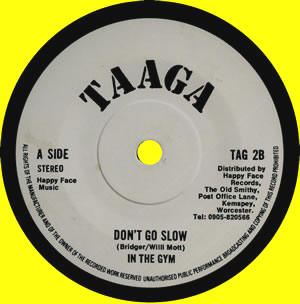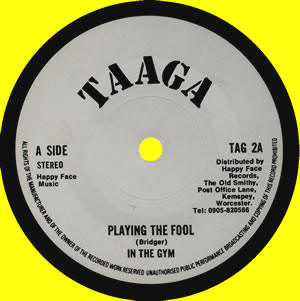 Don't Go Slow / Playing The Fool
Catalogue Number - TAG 2
Label - TAAGA (Tight As A Gnats Arse)
Year Of Release - 1981
Quantity Pressed - 1200
Obscure UK Powerpop band from Kidderminster & Stourport-on-Severn that formed in 1979 out of the ashes of the High Schoolboy band "Bloody Well Right" then switching to "Streets Ahead" before settling on 'In The Gym'.
The bands unusual name actually came from the 1971 folk classic "American Pie" track by 'Don McLean.

("I know that you're in love with him, cos i saw you dancin' in the gym....")


The bands high light was to support the Brighton Based band 'The Piranhas' at the 'Kidderminster Town Hall' in 1980 just before the Piranhas had their big hit 'Tom Hark'
In 1981 "In The Gym" recorded four tracks at the 'Old Smithy Recording Studio' in Kempsey, Worcestershire with main man 'Muff' at the controls.
Several months later, the band released a single "Don't Go Slow" and "Playing The Fool" on the Taaga (Tight As A Gnats Arse) label. After speaking to one of the band members, he confirmed that 1200 copies were pressed which we find hard to believe as this classic powerpop 45 just never turns up for sale!
Both of these tracks also appeared on the 1981 compilation album "Lime Wave - The Best Of British Wave Vol. 1" on the Woolfe Records Label (Cat WR9006).
The other two tracks that were recorded on the same day have stayed unreleased to this present day!

In 1982 the band called it a day.....
For a full history of all the band members, please visit the excellent 'http://www.ballroomglitz.co.uk' web site which a lot of this information has been lifted from.
Jon Bridger
Malcolm Green
Bob Willimot
Lynton
Carrier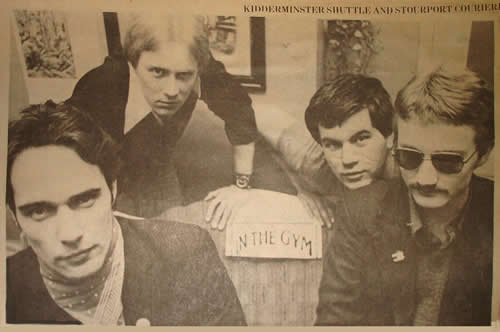 The above photograph appeared in the 'Kidderminster Shuttle & Stourport Courier' circa 1980
Thanks to 'Malcolm Green' for the photos.
©Detour Records