THE

JELLY BABIES

Rainham, Essex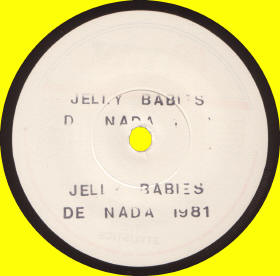 "De Nada" EP
Roller Skate / The Rascal / The Pleasure Of Her Company / Niki Laudas Car /

Into The Valley Of Death Rode The Five Brave Jelly Babies
Catalogue Number - None
Label - Stroke Your Pets Often
Year Of Release - 1981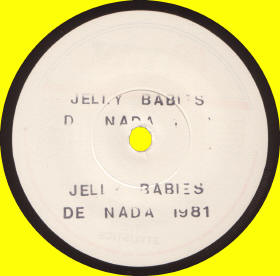 "De Nada" EP

Roller Skate / The Rascal / The Pleasure Of Her Company / Niki Laudas Car /

Into The Valley Of Death Rode The Five Brave Jelly Babies
Catalogue Number - None
Label - Stroke Your Pets Often
Year Of Release - 1981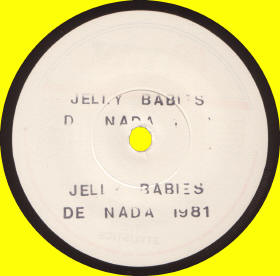 "De Nada" EP

Roller Skate / The Rascal / The Pleasure Of Her Company / Niki Laudas Car /

Into The Valley Of Death Rode The Five Brave Jelly Babies
Catalogue Number - None
Label - Stroke Your Pets Often
Year Of Release - 1981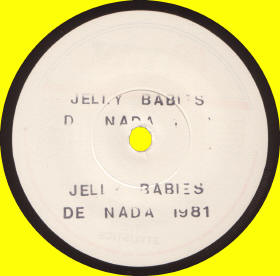 "De Nada" EP

Roller Skate / The Rascal / The Pleasure Of Her Company / Niki Laudas Car /

Into The Valley Of Death Rode The Five Brave Jelly Babies
Catalogue Number - None
Label - Stroke Your Pets Often
Year Of Release - 1981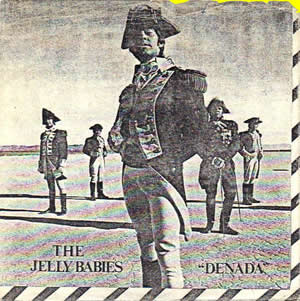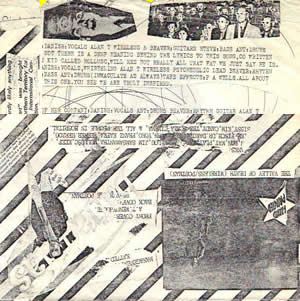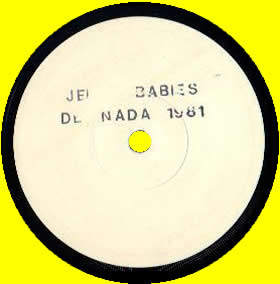 "De Nada" EP

Roller Skate / The Rascal / The Pleasure Of Her Company / Niki Laudas Car /

Into The Valley Of Death Rode The Five Brave Jelly Babies
Catalogue Number - None
Label - Stroke Your Pets Often
Year Of Release - 1981
DANISH - VOCALS
ANT - DRUMS
PAUL BEVERIDGE (aka "BEAVER") - RHYTHM GUITAR
STEVE - BASS
ALAN T. WIRELESS - LEAD GUITAR
A very obscure Post Punk / D.I.Y quintet from outta Rainham, Essex. Sadly they only released this great 5-Track EP on their own label. Only about 500 copies were pressed and comes in a variety of different hand made photocopied sleeves. Above are three examples of these sleeves. The opening track is a great Pop-Punk tune that is very catchy...the other ones take on a more quirky experimental feel to them. In some ways they remind us of the The Shapes debut release by!
The Jelly Babies formed around 1980.
I'd been doing some tape stuff with various people and decided to put together a "Proper Group" after all, I had a guitar that I could almost play. I had a fanzine called 'Crash Smash Crack Ring' through which I came across Alan T Wireless. I'd never met him and he lived on the other side of London but he said he'd play guitar and he'd just met this chap called Ant who was a drummer. Great!
Through tape swapping I met Bass player Steve. He came round to my house and he had a beard, and a car ! The car was the important bit and I told him he could take me to buy a tape recorder. The line-up was completed by an old school friend Danish, who didn't mind standing up and singing and did it to help us out really as he had very little interest in music !. The Jelly Babies was strictly for fun.
I had loads of tunes but couldn't write lyrics so anyone was welcome to contribute those. We recorded the EP at 'Dirt Cheap Studios' in the time it takes to listen to it. The EP shows the signs of my lack of lyric writing ability. The Rascal- lyrics lifted from a children's book. Roller Skate- lyrics from a friend who wasn't even in the group. The Pleasure of her Company- lyrics by my dad, one time sixties pop star who had unused lyrics lying about. Niki Lauda's crash- making use of what Danish thought was his gift for sounding like a car. Into The Valley of Death Rode the Five Brave Jelly Babies- instrumental.
The EP was pressed up in a batch of 500 but I reckon less than that were sold. Each member of the group made their own sleeve so there are 5 different sleeves. Shortly after the EP I changed our name to 'Sputniks a Go Go' and we continued releasing tapes, but no more records. I would turn up to each rehearsal with 20 more tunes and we would record all the rehearsals. It was great fun.
We did a few gigs but mostly I liked playing together just for fun. Two people took us into the studio to record the classic "Digging Graves In Budapest " for which I'd even written the lyrics but I'm afraid that on both occasions I wilfully chose not to record it and did some new stuff instead -so they didn't release those. But it was just about fun for me. At the same time I was in Alan T Wireless' group, formed after the Jelly babies called 'The Fire Engines' (this was before the well known Scottish Group) Alan sang and played Guitar, I played bass, Paul Platypus was the other guitarist, and Ant on drums. Alan had some great songs but we only ever recorded on cassette.
These days Steve appears as 'Stetson Stan', Texan country singer. Alan went on to form 'The Rockingbirds', and is currently with Alan Tyler and the Lost Sons of Littlefield. I have a myspace project called Birdlife UK. Ant and Danish are no longer in groups.
If there was ever a scene in Rainham The Jelly Babies was it, I'm not aware there were any other groups around and that's why I had to recruit people from the other side of London. I should say that like most people who did it themselves the impetus behind all this was 'The Desperate Bicycles' who convinced me that even I could start a group and release a record. I can't remember how much the record cost to make because I didn't have any money. The record was financed by Steve who also went on to appear on The Bastoids "Rock n Roll Cake Hole " LP. Mark Valentine may have put money in too. We saved on labels by not havin' them printed and just used a rubber stamp. We were lucky to have Grant Showbiz at the controls. He'd just been producing The Fall, who were my favourite group- Crash Smash Crack Ring was once described as "A fanzine mostly dedicated to telling you how great The Fall are"
Paul Beveridge

February 2008
Thanks to "Paul Beveridge" & Regis Reulet.
©Detour Records