KATZ

Swindon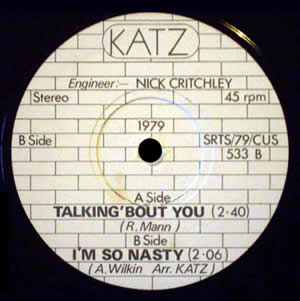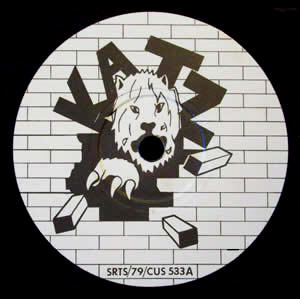 Talking 'Bout You / I'm So Nasty
Catalogue Number - SRTS/79/CUS 533
Label - SRTS
Year Of Release - 1979
Quantity Pressed - 1000*
*Even though 1000 were pressed, only 500 copies were sold at the time and the remaining 500 copies were dumped at the Swindon Tip back in 1983!
Tim Maundrell (aka 'Kit E Litter') - Lead Vocals

Martin Drury ('Jean Le Cliche') - Guitar / Vocals

Malcolm Porter (aka '

Junk Bamberger')

- Guitar / Vocals
Roger Mann ('

Lom de Terre')

- Bass / Vocals
Chris McPherson (aka 'Stix') - Drums
Katz was formed in 1978 and rode the new wave of post punk optimism. Live shows featured explosions (often deliberate), audience abuse and faintly ridiculous cat themed garb.
Unlike many of their contemporaries in their native Swindon, Katz actually practised and it showed. Strong melodies, high energy chugging power pop, sumptuous dual lead guitar licks and an imposing frontman belting out the rock with a voice that matched his 6"4 stature. All ably backed by a solid rhythm section.
Sadly much of the recorded output didn't survive the members' middle age (and the death of the lead singer), but these few tracks capture some of the raw energy that was just waiting to be harnessed and refined by a sympathetic label. Interest was shown by XTC's management which led to regular gigs at their nightclub, The Affair, but ultimately this led to nothing (Lucky escape maybe, if XTC's later experience was anything to go by). Swindon was at the forefront of cable TV and Katz were regularly featured on their pop and rock shows. Several bits of footage still remain which give the merest hint of the energy of a live show.
Early Katz comprised of Martin from Tooting Castle favourites 'Jean Le Cliche', Roger from power pop trio 'Citizen', and vocalist Tim. Drummer Chris joined from 'Squares' and a few gigs followed. The music was melodic and even a bit folky.
"Martin recruited Malcolm from his London band and suddenly our sound changed. Where many bands struggle to find one decent guitarist, we suddenly had two excellent ones, who could chop and change between rhythm and lead, or fire out great riffs and fill in harmony."
Katz became a new wave band and, with a burgeoning catalogue of catchy riff-driven songs, they got serious. The single 'Talking bout you' b/w 'I'm so nasty' was released, an expensive PA and lightshow bought or borrowed, merchandise assembled, and begging letters fired off to every label in the country.
"We had a great sound, our live shows were exciting and captured the spirit of the age, and we looked cool (in a feline kind of way). All we wanted was a deal."
Why the name?
"Like many groups we just couldn't agree on the important stuff. While deliberating the virtue of such names as Chunky Monkey and Celophane, Martin's cat trundled in. 'Cats!' yelled someone. 'But with a K!', shouted another. 'And a Z!', bellowed yet a third. 'And an X', hooted the drummer. 'Sssh.'"
The gigs
Having a couple of explosion experts on board is always a good idea. Steve 'Woody' Woodruffe and Geoff 'Mad Dog' Blocksidge (RIP) were often found huddled in the back of the van discussing ever more inventive ways to scare the audience out of its wits. Lights and loud noises, acrid billowing smoke. It was all part of the Katz experience.
Gigs came reasonably easily - several clubs around Swindon had sprung up eager to cash in on the New Wave. "We had access through Malcolm to a whole load of colleges in London - these were where we improved the most, competition in the city was fierce."
Tales of landladies chasing the band out brandishing a carving knife, after they helped themselves to some barfood may be exaggerated a little. But not the carpet catching fire. Nor the freezing cold nights huddled together in a van waiting for the petrol station to open. Assuming the van hadn't been stolen, as happened on more than one occasion.
"Songs were played at roughly twice the intended speed giving the impression that we were eager to get it over with."
"We were always into harmony - all of us were Beatles fans - and we tried to make our songs melodic as well as high octane." Though Roger wrote most of the songs, there were several contributions from the others.
Audience banter was encouraged, but insolence was not. Burly Tim occasionally waded into the crowd to make an example of an unruly drunk by hoisting him up on stage and tying him to a speaker with guitar cables. Or sitting on him.
The image
"We gave each other stage names, sometimes several in the space of a few weeks. Kit T Litter, Phil Rouge, Lom, Junk Bamberger, Sven Jacobssen, Nigel Evans... "
"We traipsed around Camden Market to buy clothes. Anything remotely cat-like went into the basket - leopard skin jackets, furry black waistcoats, tight black satin trousers (actually they were more because they felt nice and gave us a certain manliness)"
What happened?
Roger left first, then Katz II continued for a while. "This was the time of Joy Division and I wanted to be more introspective and moody", says Roger. "They didn't want that really."
They all went their separate ways eventually. Roger had a short career in comedy, Malcolm continued teaching physics. Chris and Martin have pursued various careers.
"But what's great is that we all kept on playing in various bands right through. So when we came to jam the old songs it was like we'd never been away."
Sadly lead singer and bouncer Tim died in 1984. He was an imposing and captivating front man and we dedicate this latest (final?) chapter in the Katz story to him. RIP Tim.
Roger Mann
August 2013
| | | |
| --- | --- | --- |
| | The above four photos have been taken from the bands excellent footage of them when they appeared on the local Swindon 'Beat Town Program' in 1980 | |
Tim Maundrell

Setting the PA up

The above gig advert for Monday 20th April 1981 appeared in 'Sounds' on the 18th April 1981.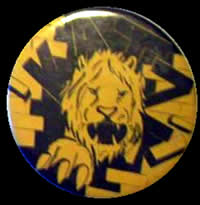 Thanks goes to Roger Mann
©Detour Records