Leeds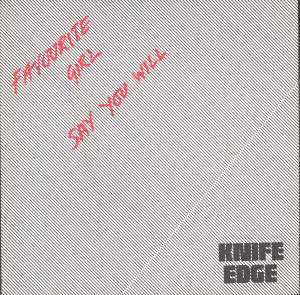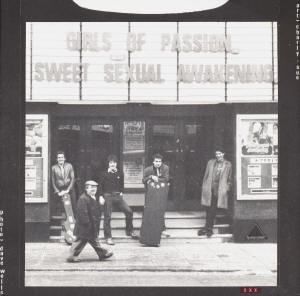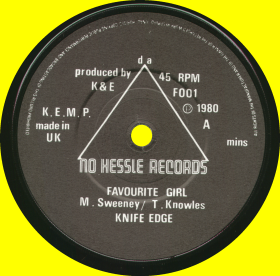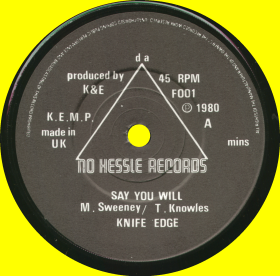 Favourite Girl / Say You Will
Catalogue Number - F001
Label - No Hessle Records
Year Of Release - 1980
Quantity Pressed - 2000
| | |
| --- | --- |
| Mark Sweeney - Vocals | Tim Knowles - Guitar |
| Charly Peace - Bass | Martin Edgerton - Drums |
"Knife Edge" formed in Leeds in 1976 and released one classic single in 1980. The band were not happy with the weak sound of the single as it did not represent their live power but the single sold well locally and got some radio airplay on local stations - as well as getting a few plays by 'John Peel'. The single was released as a double A-Side - with the up-tempo "Say you will" being backed with the more commercial "Favourite girl". The single was released on the bands own 'No Hessle' label which was a play on words as the band's manager used to live in 'Hessle Terrace'.
The strength of the band was it's live performances. "Knife Edge" started during the dawn of Punk in the UK and played a huge amount of gigs. As well as headlining their own gigs they also gained support slots with the likes of 'Wreckless Eric', '999', 'The Only Ones', 'Penetration' etc etc. The style of the band was to always play loud and to be exciting. The singer, 'Mark Sweeney', always stripped to the waist (Iggy Pop being his idol) and he used his 100 foot microphone lead to sing everywhere within the venue (and sometimes outside!!).
The only other recorded output of the band appears on the various artist LP called "Rock On" which was released on the 'EMI' label. This was an album that featured 'Battle of the Band' winner "Knife Edge' which featured 'Street Credibility' on it. Another unreleased track 'Fighting in the Chapel' which appears on the "Bored Teenagers Volume 2" compilation LP/CD is taken from a 6-track tape that the band used to sell at gigs that had a sound quality that the whole band preferred!
The band played their final gig on the 1st of August 1981 with 'Mark Sweeney' going onto form 'Red Lorry Yellow Lorry' (who within a year of their formation supported 'The Jam' at the 'Queens Hall', in Leeds). Ten years after their final gig, 'Knife Edge' got back together to do an anniversary performance for charity - and it was just like old times!
Mark Sweeney

2001
Above is an original 7"cm X 10cm gummed sticker to promote the debut single.

These were stuck up all around Leeds at the time!!
| | |
| --- | --- |
| | |
| Above is an original 7.5cm round vinyl sticker | Above is a 7.5cm X 7.5cm vinyl sticker |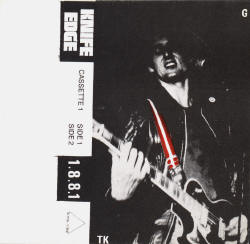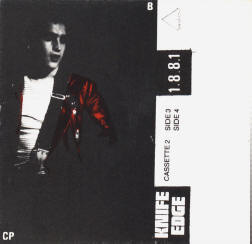 Above is two Tape Inserts that the band used to sell at their gigs in 1981.
| | |
| --- | --- |
| | |
| Above is an original 26cm x 37cm Promo poster from 1980 for the debut single | Above is an original un-used 26cm x 37cm Gig poster from 1980 |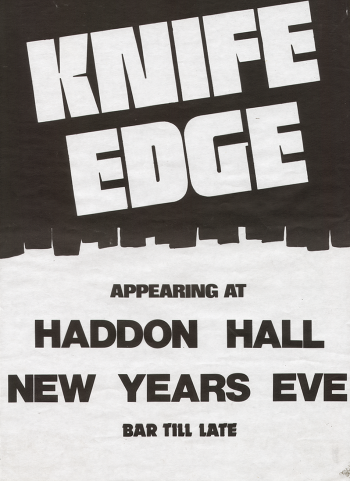 Above is an original 26cm x 37cm poster for the New Year's Eve Gig at the "Haddon Hall", Burley, Leeds from 1979
©Detour Records