THE LAST RESORT

Oxford
Graham Ogle - Vocals & Guitar
Peter Adams - Bass
Charlie North-Lewis - Drums
A bit of a mystery band that formed mid 1975 in the Oxford area and were quite active on the London Punk circuit playing all the regular haunts including the Roxy Club. The band started off life called "Next" but were banned from playing a lot of the venues around their area so a new name for the band was needed. Several names were suggested but after watching the news one night, a political news story came on the television saying .... and that would be "THE LAST RESORT".
Then went onto release on lone single "Having Fun" / "F.U.2" on their own label "Red Meat" label with a catalogue number of RMRS01. The single was reviewed in Melody Maker by Ian Birch on February 1977 and in the NME on 15th April 1977 by Angus MacKinnon.
Sadly the band were involved in a bad car accident and the drummers kit was smashed to pieces!
Please note that this is a different band that formed in the early 80s from Herne Bay.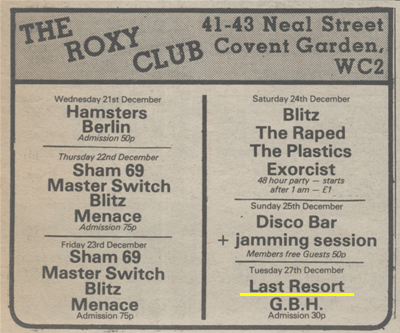 The above Gig dates for the "Roxy Club" appeared in "Sounds" on 24th December 1977.
Can anyone help anymore?
Thanks to Richard Hodgson & Moya Janko for all the above photographs
©Detour Records