LONDON PX
First Line Up
MITCHELL WELLS - GUITAR
CLIFF HANGER - VOCALS
IAN BURGE - BASS
PAUL O'BRIEN -DRUMS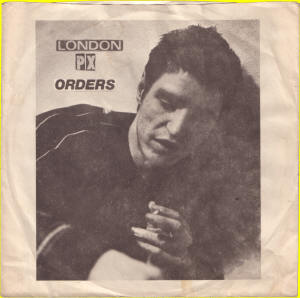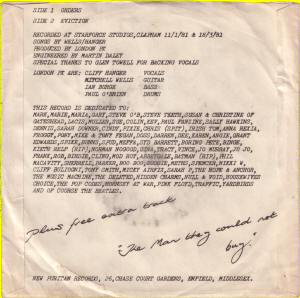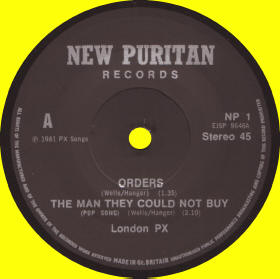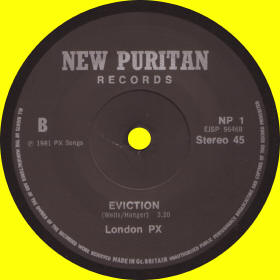 Orders / The Man They Could Not Buy / Eviction
Catalogue Number - EJSP 9646
Label - New Puritan Records
Year Of Release - 1981
Quantity Pressed - 1000 (confirmed)
900 copies in the standard above sleeve and 100 in a special "Beatles" sleeve.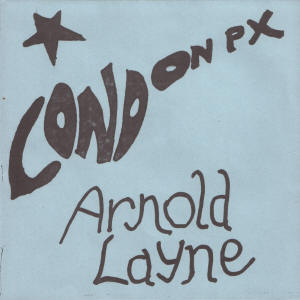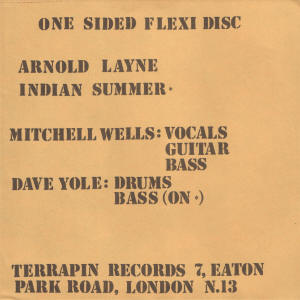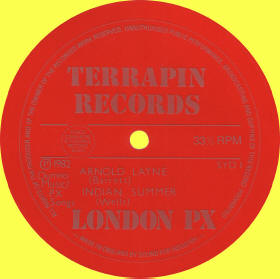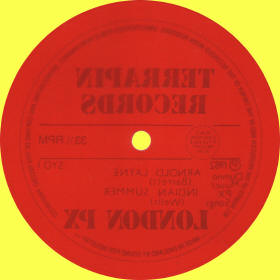 One Sided Flexi
Arnold Layne / Indian Summer
Catalogue Number - SYD 1
Label - Terrapin Records
Year Of Release - 1982
Quantity Pressed - 1000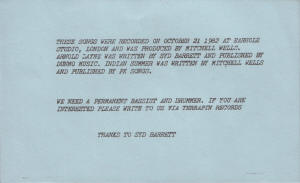 All copies came with the above insert.
In the summer of 1979, like many other punks in London at the time, a crowd of us (from Enfield, North London) were regularly going to see mod bands such as The Chords, Purple Hearts, Teenbeats etc (as well as punk bands). To me these mod bands sounded like punk bands but with catchy tunes (a bit like Generation X or the Buzzcocks).
A few of us decided we should have a go at this and it was time to form a band like them. There were four of us (Ian Burge, Paul O'Brien, Mark Vaughan and me) who in the 2nd week of September 1979 went out and bought our chosen instruments; me and Mark on guitars, Ian on bass and Paul on drums. On the 12th September we set the gear up in my house and started to play, or rather make a noise. We weren't sure who'd be the singer. A few days later we met Vince Rutterford at a Boys gig and he liked the idea of what we doing and offered to be our manager, and until we found a singer, he would sing. He had been in a punk band called The Lasers and had played The Roxy . He brought a few of his songs to the band.
Our first gig happened just 17 days after we formed and Vince Rutterford did the the vocals. It was a private party in Bermondsey (along with early mod band The Scooters) and we managed 3 songs before the plugs were pulled on us - it was that bad. A fight broke out and Mark Vaughan had a tooth knocked out by someone who took offence. He decided to leave after that and went to university.
In October we got a frontman - Cliff Hanger, who we'd seen in the George Robey pub in Finsbury Park (where we used to drink). He looked like Russ Abbott but to us he sounded like Mensi (of the Upstarts) - he used to stand on the pool table and do Mensi impersonations. He had great stage presence. We realised we were never going to play as good as the Chords so we remained a punk band throughout our existence. This now was the 'classic' line up.
We spent the next few months getting a set together and learning our instruments - in Cliff Hanger's squat.
Our first public gig was in Bishops Stortford, Essex in February 1980, supporting a group called Graff X. More gigs followed, some better than others. We'd been friendly with one of Johnny Rotten's brothers, Bobby (he was one of our drinking buddies at The George Robey) and he got us a gig supporting another Lydon brother - Jimmy and his band 4be2s at a big venue in Victoria, called the Venue. Youth (of Killing Joke) was the bassist in 4be2s and he said to me after our performance "I loved the anarchy of it". I was well chuffed.
Another great gig was supporting UK Subs at a matinee gig at the Fulham Greyhound in April 1980. They let us use their amps and we sounded so much better than when we used our own rather lame equipment. We did other gigs throughout 1980 , mainly as support to bands such as Manufactured Romance, Infa Riot and others. In December of that year we went into a recording studio - Starforce - for the first time and recorded 3 songs, "London PX", "Berlin Bombs" and "Eviction" these recordings have remained unreleased. In 1981 a friend of ours , Paul Morea, started his own label - New Puritan Records (named after a Fall song). He had our first single as the first release. Recorded at Starforce studio, Clapham in March 1981, there were three songs on the single "Orders", "Eviction"' and "The Man They Could Not Buy". It was released in June 1981. There were 1000 pressed up and it made No 10 in Melody Maker's Independent Chart. Gary Bushell gave it a terrible review in Sounds and John Peel played it on his show at least 3 times. It did sell out though.
We continued to build up a following but there was a line up change when Ian Burge left in May 1981. I moved to bass and we got Gary Sinclair (another drinking buddy from the pub) in on guitar.
In July 1982 we released a cassette (by mail order) of 8 songs that we'd recorded at a rehearsal in December 1979. This was called "Not Music" (only about 30 were made, so it's quite a rarity today)
Then another line up change occurred when Gary Sinclair left after just a few months. I moved back to guitar and we got Dave Yole in on bass. Then a major line up change occurred in September 1982 when half the band (Cliff Hanger and Paul O'Brien ) left, leaving just me and Dave Yole. At this point we recorded and released the second single in the flexi disc format, a cover version of that Syd Barrett classic "Arnold Layne". It was just me and Dave Yole on this record - I sang. It was released in November 1982 and 1000 copies were pressed up but this didn't do as well as Orders. I did send a copy to Syd Barrett (I had his home address) to get his comments but he never replied (not surprising really).
The last gig we ever played - our 19th - was where it had all started over 3 years earlier , at The George Robey pub in November 1982. We supported Chaos, and Paul Morea (of New Puritan) played drums for us. Shortly afterwards we got a drummer called Bernard Drummond and with a line up of me, Dave Yole and Bernard we had one last rehearsal in Bernard's garage on December 30th 1982. After that we did nothing more!
Since 1982;
Of the 'classic' line up, Cliff Hanger, Ian Burge and Paul O'Brien had no more musical involvement after they left the band. Ian Burge now works in the construction industry, Paul O'Brien is now a professor and works in business development & Cliff Hanger is now an electrician!
I formed a 'blues punk' band (a kind of White Stripes, 10 years before they existed) in 1988 called The Bloozers, with Paul Morea and Kevin Mann (now in Alternative TV & the sixties Mod legends 'The Creation'). We played some gigs in the London area but never recorded anything. This lasted about a year. Then in 1993 I joined new wave band Daddy Those Men Scare Me and rehearsed with them for several months but never played live (they are still going to this day). However, nothing musically up until 2007 when I joined "The Red Eyes"
By day I'm a taxi driver in Glasgow.
Other items of interest;
Paul O'Brien played drums for The Longshots (featuring Brendan Smythe, brother of Madness's Chas Smash), from October 1980 to December 1980 and was also singer of The Hidden Charms (a renamed Scooters) from March 1981 to May 1981.
I worked as a film extra (on and off) from 1978 to 1995 after seeing an advert in the local paper - "Mods wanted for new film" . They were filming Quadrophenia at the local dancehall, it was the scene where Jimmy jumps off the balcony onto the dancefloor. All we had to do was dance on the dancefloor. It was here that I bumped into Darren O'Grady of The Scooters for the first time, who'd also turned up after seeing the ad.
Another local musician , Nick Welsh , played lead guitar with us as a guest for 2 gigs (he went on to be in Bad Manners and is currently in The Selector)
The complete list of gigs played
29/09/79

Private party, Elephant & Castle

With The Scooters

24/02/80

Triad Leisure Center, Bishops Stortford, Hertfordshire

Supporting Graff X

26/02/80

The Pegasus, Stoke Newington

S

upporting The Standards

05/03/80

The Pied Bull, Islington

H

eadlining

08/03/80

The Trafalgar, Shepherds Bush

Headlining

23/03/80

Triad Leisure Center, Bishops Stortford, Hertfordshire

S

upporting Graff X

13/04/80

The Venue, Victoria

S

upporting 4 be 2s

26/04/80

The Greyhound, Fulham

S

upporting UK Subs

20/06/80

The Grange, Southgate

S

upporting Infa Riot

29/07/80

The Pied Bull, Islington

S

upporting Manufactured Romance

09/08/80

Durning Hall, Forest Gate

H

eadlining

10/09/80

The Pied Bull, Islington

H

eadlining

19/04/81

Hargrave Park, Archway (open air)

S

upporting The Eggheads

01/05/81

Dublin Castle, Camden

H

eadlining

07/07/81

Windmill Hall, Upminster

S

upporting Vertical Hold

05/08/82

The George Robey, Finsbury Park

S

upporting Kwest

06/08/82

Skunx, Islington

S

upporting Charlie Harper's Urban Dogs

26/09/82

Skunx, Islington

S

upporting Verbal Abuse

01/11/82

The George Robey, Finsbury Park

S

upporting Chaos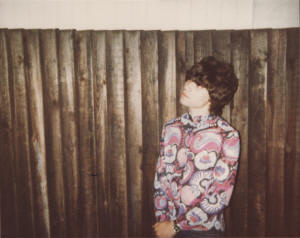 'Mitchell Wells' in his back garden in December 1980
'Paul O'Brien' Outside the bands Finsbury Park, London Squat in October 1979.

Above is an original

Button Badge from 1980
©Detour Records