THE LOSERS
| | | |
| --- | --- | --- |
| Phil Simmons - Vocals | | Graham Sudders - Drums* |
| Mick Jones Guitar & Bass | | Mark Sherlock - Bass & Guitar |
* Replaced by Vincent Landy
"The Losers were formed in late '76,early '77. Comprised of Mick Jones (guitar), Phil Simmons (vocals), Graham Sudders (drums) and Mark Sherlock (bass). Rehearsing in Bow, in a studio near 'The Earl Of Devon' pub in Devons Road, we managed to rustle up a short set of original songs. We used to do battle with another local band, Headache, at 'The Greyhound' in Chadwell Heath's weekly talent competition. Suppose the biggest gig we played was bottom of the bill at The Vortex in Wardour Street, London W1. Also playing that night were X Ray Spex, The Models, The Tools, and The Crabs (featuring Jimmy Nail on drums). By then Graham Sudders had left the band quoting musical differences, to be replaced by Vin Landy. Band split in very early '78.
Phil Simmons....breeding dogs in NW London
Mick Jones.....slaving away for the NHS in a hospital in East London
Graham Sudders....living in Sweden since the late seventies
Mark Sherlock....Driving a taxi in London
Vin Landy...running his own business in Atlanta,GA."
Mark Sherlock

22nd June 2006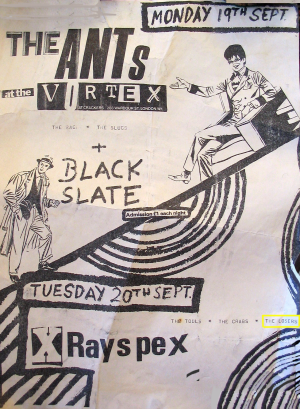 Above is an original A4 Gig flyer for the "VORTEX" that is advertising 'Adam & The Ants', 'Black Slate', 'The Rage' & 'The Slugs' for Monday 19th September 1977. PLUS, it also advertises 'X-Ray Spex', 'The Tools', 'The Crabs' & 'The Losers' for Tuesday 20th September 1977.
Above is an original advert for the 'Vortex' for

Tuesday 20th September 1977.

The above gig date appeared in "Sounds" on 17th September 1977.
©Detour Records