| | | |
| --- | --- | --- |
| | | |
Colin McMahon
Joan Bimson
Pete Boyse
Joanne Melvin
Pete Drew
| | |
| --- | --- |
| Joanne Melvin - Lead Vocals | Pete Boyse - Guitar / Vocals |
| Anne Paley* - Bass / Vocals | Colin McMahon - Bass / Vocals |
| Dee Berwick - Percussion / Vocals | Pete Drew - Drums / Vocals |
*Anne Paley on bass and vocals was from Sunderland and was the singer with The Period before she moved to London and joined The Lucys. She then went by the name of Anna Dinn.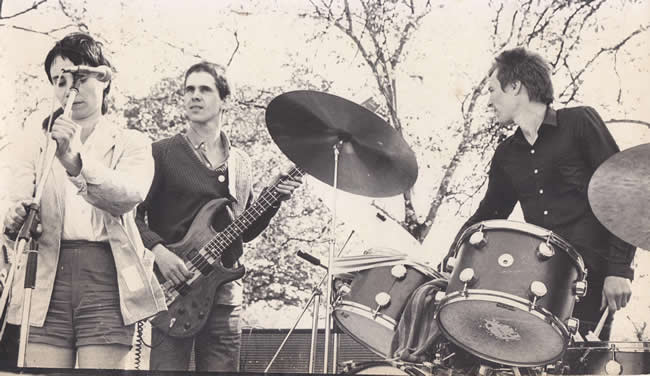 The above and below photos were taken at a gig on Clapham Common.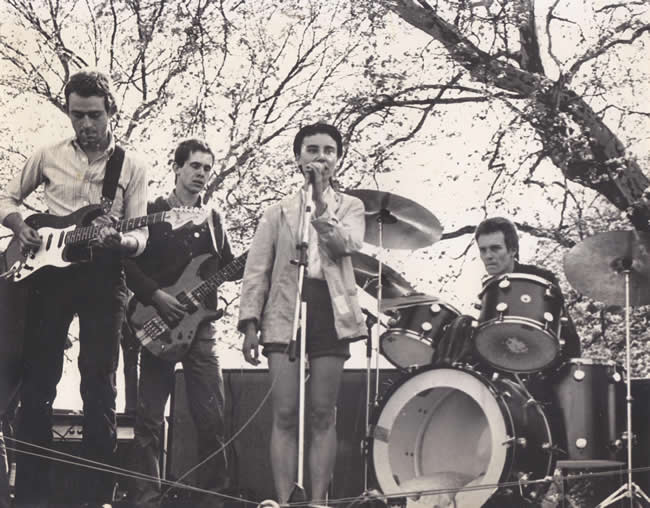 Sleeve notes from the forth coming release
LONDON 1978, a city of many things including corrugated iron and squatting. Out of the squat's came some of the new bands: Scritti Politti, The Clash, The Thompson Twins, The Raincoats and The Lucys to name but a few. We were south of the river in Brixton with a room for rehearsal in our basement.
We were a bit too old to be Punks but too young to be hippies, part of that in between generation. Before punk we had been listening to Can, Captain Beefheart, Brian Eno, Dub reggae and the more interesting of the late 60's/early 70's bands. Then came punk which for me was important not so much for the music but for the way it blew apart a somewhat tired, complacent and indulgent music scene. As a guitarist I no longer had to spend years in my room trying to sound like another virtuoso blues/rock player, instead I bought an echo and chorus foot pedal and began to experiment. As the new bands emerged we found ourselves listening to Talking Heads, The Slits, Gang of Four, Patti Smith and Joy Division to mention a few.
The first version of the Lucys was a four piece, vocals, guitar, bass and drums. We soon thought that the sound needed another instrument so we added a second guitarist. The last four tracks on the CD represent this line up. However this tended to sound somewhat samey and a little top heavy, we craved more space. We decided to go for a second bass player and just keep one guitar but also to add a percussionist. We wanted a more intense rhythmical base with space for a single guitar line on top. This is the line up which recorded our unreleased album which are the first thirteen tracks on the CD.
We spent a lot of time rehearsing and developing a sound which I think shows if you look at the difference between 'Always waiting' and 'Sense of Loss' for instance. There is a development away from slightly quirky pop/rock to a more atmospheric, less hectic measured sound. We got out and did a few gigs supporting The Au Pairs, The Thompson Twins and Ski Patrol on occasions.
In 1981 we managed to get our demo tape into the hands of John Peel of Radio 1. Luckily for us he and John Walters the shows producer listened to it and sure enough on the 3rd of March we were in the basement of Bush House recording four tracks, Perfect Marriage, No Door, Right Man and Lost Animal. These were arguably the best produced recordings we ever did. When it went out on air Peel was highly complimentary and pleaded that someone sign us. In fact the session was broadcast again at a later date.
Hindsight is a wonderful thing but looking back we probably needed an experienced manager, our own version of Malcolm McLaren or Bernie Rhodes perhaps. In the end we didn't do that many gigs but recorded the album of which all of us are very proud. Cherry Red records showed some interest but let us down at the last moment. Soon after we self destructed amidst the usual musical and personal differences.
Most people tend to look back on the time when they were young with some nostalgia and affection. It was an interesting time to live in London with new bands springing up every week and the idea in our heads that anything was possible. Occasionally I do wonder whatever happened to all that corrugated iron!
Pete Boyse, Bermondsey , London January 2012.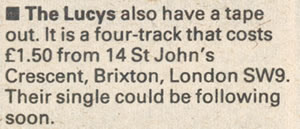 The above snippet appeared in the 'NME' on the 25th April 1981.
Thanks to Peter Boyse, Chuck Warner and not forgetting LUCY the dog!
©Detour Records