Eddy - Vocals
Tony Medlicott (aka M) - Guitar
Huw Evans (aka Busby) - Guitar
George - Bass
John Roberts (aka Viv) - Drums
The band came from the Rhondda Valley, in South Wales. They formed in 1977, heavily influenced by the Ramones / Ted Nugent / Sabbath / Stranglers and Punk / Metal in general. Their first gig was actually under the name of the Screaming Abduls, this was at the school they attended in Tonypandy, it consisted of 1, maybe 2 songs at an end of term concert, they definitely covered 'paranoid', and teachers were suitably appalled. A short lived spell as Equus followed, until they settled on the punkier Mad Dog.
They went through a slew of drummers, before eventually settling on the regular line up of--Vocals--Eddy, Bass--George, Guitar--M, 2nd Guitar--Busby, Drums--Viv. Unlike other bands at the time, they didn't feel the need to cut their hair off to show their love of the New Wave. They certainly had some stick off local Punks about their flowing locks, but they didn't care, their influences were very wide ranging, and if it was good enough for the likes of the Ramones and others, did it really matter ?
Their set was half covers, half originals. Their own compositions included the anti-racist 'Frying Tonite', with the lyrics 'we're gonna bake a few Nazis tonite, shove them in the oven and close it tight'. Other songs were 'free Spirit', 'The Shadow Knows' and the two that they're best known for 'Killer' and 'someone here must like me' which appeared on the excellent South Wales comp 'Is The War Over' released on Z Block Rcds in 1979, gaining a 3 and a half out of 5 review in Sounds. Other bands included on the record included Addiction, New Form, Riotous Brothers and the legendary Young Marble Giants. Their set covers included songs by the Pistols, Stranglers, Saints, Ramones and their pre punk loves of Nugent and Sabbath.
They gigged all over South Wales in 1978/79, including playing with the aforementioned 'Is The War...' bands. Other gigs included supporting Adam+ Ants at Newport Stowaway in July 79, and in 78 with The Victims, later to become Victimize at the Great Western In Cardiff. They were regulars at Grassroots Coffee Bar in Cardiff, where the comp was also recorded. They had a very loyal following, and mini buses/car loads regularly turned up, and even a coach to one memorable night in Pontradawe, near Swansea, where the locals were bemused by the mass pogoing that took place!
Busby left the band in late 79 / early 1980, and the band seemed to concentrate on their more hard rock / metal material, with very little of their punkier numbers remaining in their live set. They continued for several years, regularly playing Biker Festivals, they released a self titled LP in 1985, and a single 'Sheriff' around the same time. Both are very collectible within the NWOBHM scene. They eventually split up around the late 80's, though as of 2014 have reformed as The Dog with 3 original members, and a new vocalist.
Busby--formed his own PA company in South Wales, AB Acoustics. Does the sound for all sorts of gigs, plus television programmes, festivals etc...
George--Quite a well known cartoonist, used to supply strips for Daily newspapers. Currently plays in The Dog.
M--got into the computer revolution back in the day, did very well out of it. Currently plays for The Dog.
Viv--Teaches Drums for a living, plays in a Covers band, also still drumming for The Dog.
Eddy--Haven't seen him since about 1980 ???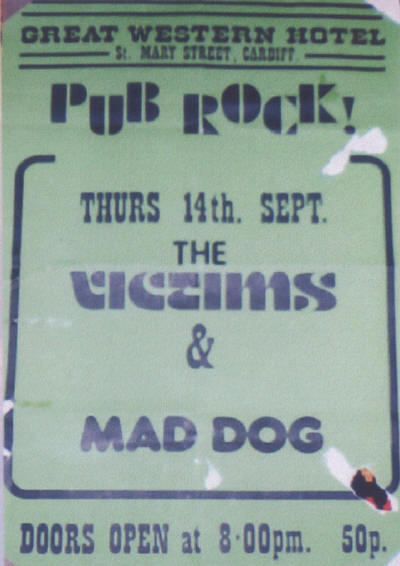 Above is an original gig poster for 'The Victims (aka Victimize)' & 'Mad Dog' from the "Great Western Hotel", Cardiff from Thursday 14th September 1978
Thanks to Phil Evans for the above info.
©Detour Records