MODEL MANIA

Birmingham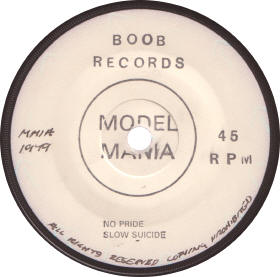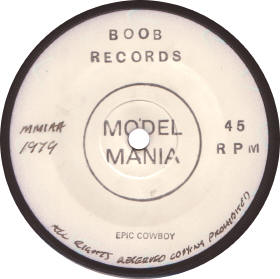 No Pride Slow Suicide / Epic Cowboy
Catalogue Number - MM1A / MM1AA
Label - Boob Records
Year Of Release - 1979
Quantity Pressed - 250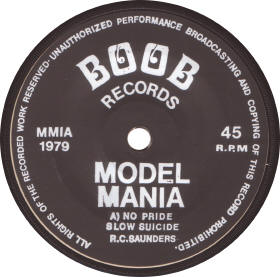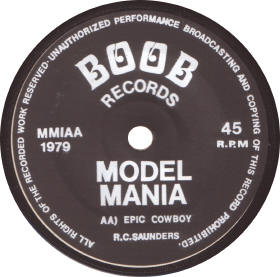 No Pride Slow Suicide / Epic Cowboy
Catalogue Number - MM1A / MM1AA
Label - Boob Records
Year Of Release - 1979
Quantity Pressed - 750
BOCO
ANDY
JIM
ROB
REBECCA'S CHANGING ROOM, BIRMINGHAM 1976
Model Mania' were formed in late 1975 – three brothers, Jim (vocals), Rob (guitar) and Andy (drums).
They were later joined by Martin Beech (Boco) on bass. Within a month they did their first gig at Solihull College. Weeks later they played 'Rebecca's' night club in Birmingham, also playing the same night were the 'Prefects', who became friends. The clubs main DJ Wayne Myers, became their manager the same evening, which meant a virtual residency at 'Barbarellas' in Birmingham, also DJ'd by Wayne.
In the next six months they played all over, the 'Roxy', 'The Vortex', 'Music Machine', 'Roundhouse' and 'Tiffany's' (Coventry), playing with bands such as the 'Vibrators', 'Johnny Thunders', 'The Clash', The Slits', 'The Adverts', 'The Stranglers', 'Subway Sect' etc. Bernie Rhodes showed interest so they got on tour with the Clash.
In 1977 they made their first demo "No Pride" and 2 others "Shit" and "Glass".
In 1979 they made a record and released it on their own 'Boob' label. When the records arrived back from the pressing plant the labels weren't quite ready so the band designed and made up a ink stamp and then stamped up 250 copies so that they could start selling them. Then one week later the labels arrived and the remaining 750 copies had proper labels stuck on. Then Boco decided to leave. They carried on but it was all over really. They came very close but not close enough, that's the story, not the facts.
In 1982 they changed their name to 'Powerfarm' and were joined by Sean Walters, they made another single "Which Way USA" which was also released on 'Boob' Records through 'Red Rhino' distribution.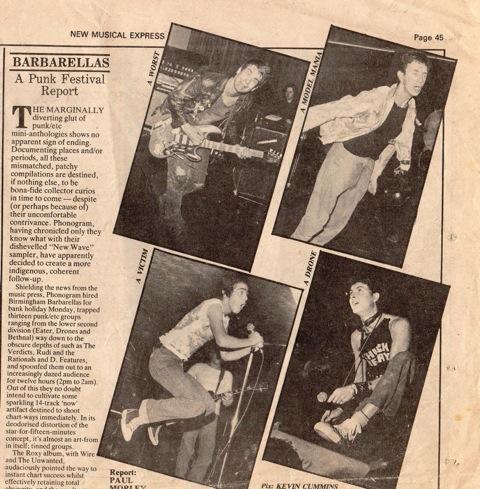 The above article on the 'Birmingham Punk Festival' that took place at "Barbarellas", Birmingham on the 29th August 1977 appeared in the 'NME'.
Rob Saunders 2003
©Detour Records