THE MUTANTS

Birkenhead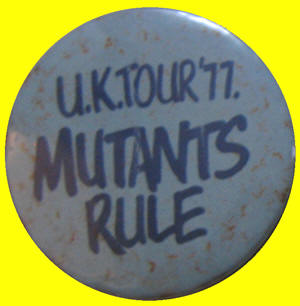 William Wednesday (aka Sweet William) - Vocals

Rod Gilliard (aka Roddie Rodent) - Guitar

Keith Wilson (aka Keith 'Kid' Steele) - Guitar

Allan Waters (aka Al Sation) - Bass

Paul Codman (aka Paul Pleasant) - Drums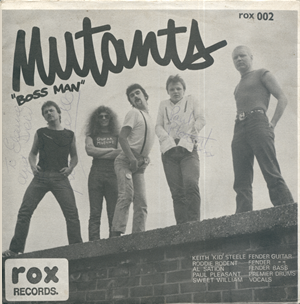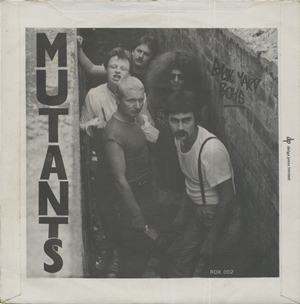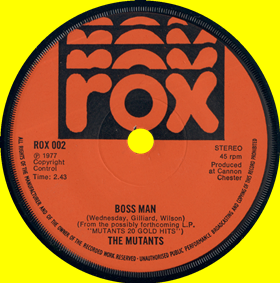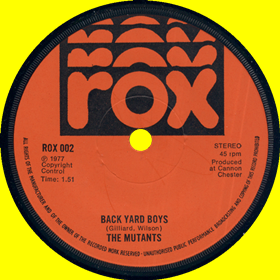 Boss Man / Back Yard Boys
Catalogue Number - ROX 002
Label - Rox Records
Year Of Release - 1977
Quantity Pressed - ???
One of the few punk bands to emerge from Merseyside in the 70s, alongside the Spitfire Boys and the more arty Big In Japan. The Mutants, from Birkenhead, actually played a more MC5/Dead Boys-derived version of punk. I remember picking up their second single (I'm a sucker for red vinyl) in the early 80s, by which time Keith 'Kid' Steele had left, and being convinced it was an American band I was listening to. Which could have been confusing, being that at least two American bands entitled the Mutants were extant at the time. Codman: "You're right, we were a bit of a hybrid of MC5/Pink Faires type rock with a dash of Bowie/Lou Reed thrown in, rather than the Pistols or Clash. In fact, when we supported The Police at the Roxy in Covent Garden, Miles Copeland said: 'Get those two to cut their hair or get the other three to grow it and smell and then we'll talk....' Who said punk was anti-image? I think we were the first Liverpool 'punk' band to play The Roxy. When we came off stage, Sting said, 'You can't go in the dressing room just yet.' A short time later a sexy girl in a pencil skirt emerged followed by a sweaty Stewart Copeland. Well, he was already a pop star with 'Curved Air'! I remember The Police brought their gear in a small Bedford van and a taxi and Sting asking if he could share our bottle of cider."
They were also the first punk band to play the Isle Of Man, in this case the Lido. "We got ourselves on the front page of the 'Echo' because Sweet William took his own birch, which was confiscated when we disembarked in Douglas. We were supported by two out-and-out rock bands, whose fans didn't take kindly to us. Me and Roddie were at the bar as two groovy young chicks approached us: 'Are you the Mutants?' I replied yes in my best rock star pose. (It was the first time we'd had carpet and a phone in the dressing room so I can be forgiven) 'Well, why don't you fuck off back to Liverpool and leave the real music to 'Debris' and 'Exile!''"
One of the Mutants' other claims to fame was that they never played Eric's. "Roger Eagle wouldn't have us after we fly posted his club. We thought, 'All his bands do it everywhere else, why don't we do it to him?' He wasn't too pleased. Anyway, Joe Strummer got wind of the story and announced in NME that, 'Liverpool's Mutants may well be the next new wave band to enjoy mass market breakthrough...' Lovely!! I actually got to thank him personally in Eric's dressing room. That is a great memory, along with meeting Jane County in the same tiny, squalid room."
Prior to the Mutants Gilliard had been a member of the Bugs and Mother's Ruin. After the Mutants dissolved, Codman, Wilson and Gilliard would then regroup as the Geisha Girls. Gilliard also played in the Gypsy Blues, the Press, Afraid Of Mice, Da Biffs, Attempted Moustache and any number of other Liverpool groups. Codman works part time at the Liverpool Institute of Arts and has been a professional actor since 1983. "I still drum occasionally on stage and screen. My last band, while still at college, was on keyboards for Egypt For Now, alongside Mick Head (Pale Fountains, Shack) on vocals and Yorkie (Space) on bass."
Thanks to Alex Ogg for the above text which was taken from his book 'No more Heroes'.
©Detour Records