| | |
| --- | --- |
| Howard Williams - Vocals | Conrad Blakemore - Guitar |
| Jason Dick - Drums | Phil Hope - Bass |
| Bob Metribian - Keyboards | Simon Tyrell - Keyboards |
Paisley punks Mxyztplk (a.k.a. Groop IV) were the culmination of three previous bands dating back to the end of the punk era in 1978.
Nice Evening Music a band with spiky tunes and a punk ethos, were formed by Conrad Blakemore and Howard Williams in late 1977 whilst studying for O levels. The line up was Howard - vocals; Conrad - guitar; Adam Wilcox - drums and Katie Willett - bass. The band never quite got off the ground. Their first gig, the annual school dance, was cancelled due to an arson attack.
As the spirit of '77 faded the band sought a new direction and image. Searching through bargain bins in record shops and frequent visits to Rock On Records in Camden Town led to the discovery of old sounds which at that point in time had been pushed aside by the prog and stadium rock excesses of the 1970s. Listening to bands like The Small Faces, The Yardbirds, Brian Auger & the Trinity, The Who, Spencer Davis Group and Traffic provided the inspiration for Conrad and Howard's new band Groop IV. This band began in 1979 as a four piece with a Regency Mod image, replete with frilly or swirly round collared shirts, bell-bottom slacks and Chelsea boots.
By 1980 Groop IV (Conrad and Howard, now with Jason Dick on drums and Adam Wilcox, bass) was joined by two keyboardists - Bob Metrebian (clavinet) and Simon Tyrell (organ). The sound of the band was now veering towards the 1967 psychedelia and the experimentation of bands such as Syd Barrett's Pink Floyd and Soft Machine. College gigs followed, plus experimental film evenings at The London Film-makers' Co-op, all-night film and music shows and occasional spots supporting fellow neo – psych band Treatment. The first studio recordings were made around this time, by chance under the auspices of 60s engineer/producer George Chkiantz, whose diverse career has led him to work with artists such as Family, Jimi Hendrix and the Dudley Moore Trio.
At the end of summer 1981, a new, fresh-faced bassist Phil Hope joined Groop IV and the format reverted back to the vocal, guitar, bass & drums line-up. In Autumn '81 the band started doing numerous gigs, headlining The Rock Garden on a regular basis and building up a small following. By the end of the year the band had adopted a new name for 1982 – Mxyztplk derived from DC comics' Superman. This unpronounceable moniker lead to a mention by John Peel and letters appearing in the music press. Further gigs followed, including Dingwalls, Jackson's Lane, Upstairs at Ronnie Scott's, The Clarendon Hammersmith and the new psychedelic club, Alice in Wonderland. During this period, Celia Psychedelia and Rush Hour were recorded at Alaska Studios, Waterloo. The band were about to be signed by post punk label Human Records, when the company went bust and the newly recorded tapes almost lost. Instead, the band, under advice that the cassingle was the way to go, released the two songs on tape. These were distributed in part by Caroline International, where Howard worked, and by hand to Fuck Off Records, Rough Trade and the like.
Summer 1982 saw Rush Hour released on the short-lived Just When You Thought It Was Quiet label, on the eponymous compilation album alongside the Sex Gang Children and Knox from the Vibrators. Regular gigs developed a following that sometimes included Charlie Harper and Rat Scabies, but then drummer Jason Dick and bassist Phil Hope left London to go to university. The band was back to the two original members Howard and Conrad. A brief period followed with Cyd Real (Dalston Vampires, Blue Screaming) on bass but no format was found to re-invigorate the band. Trends in music were going towards electronic pop / new romantic, while a paisley revival quickly became absorbed into the mainstream, much later exemplified by Dr and Medics' one-hit-wonder cover of Norman Greenbaum's "Spirit in the Sky". Incidentally, at an Alice's gig, said Dr was once almost brained by a piece of flying Stratocaster, during Mzytplk's tribute to Jeff Beck's guitar splintering version of Stroll On from the film Blow Up. Having been weaned on punk, it was not in Mxytplk's remit to ally itself to the Alice's crowd, or "Jeremies". The band even covered Frank Zappa's early anti-hippy diatribe "Flower Punk" as an angry statement against the new twee revivalists.
Post - Mxyztplk, Howard & Conrad formed a folk-punk duo called Grimon & Carbunkle. They played a series of college gigs and other events, including Michael Sassen's Extravaganza. Conrad went on to join Juke Box Fury (with Cyd) who did punky fuzzbox covers. Howard then fronted Adolph Bidet And His Bosch Wash, (with Bob Metrebian and members of Treatment) a brass and guitar cacophony, combining the styles of Captain Beefheart with the Bonzo Dog Doo Dah Band. Then with Mxyztplk MC, Alan Dein, formed Jud Suss, a satirical east European agit-prop band, with Bob (now on balalaika and banjo). Conrad featured on early, sadly, lost Jud Suss recordings, then guitar duties were taken on by Michael. They appeared at Club Dog - a club founded by Bob and Michael - this went on to become Megadog, where Howard also DJed.
After University, bassist Phil Hope went on to work for Dave Stewart in music publishing, and had had hit records including "Snappiness" with his band BBG and hip hop artist JC001. He still works in the music industry for the Cutting Edge Group. Howard still works in record distribution, occasionally DJs and releases the odd record. Conrad has written music for films and theatre and still plays and writes songs, with a new CD Winter Sun currently available. Jason is successfully involved in architecture and is still drumming.
Conrad Blakemore & Howard Williams, September 2013.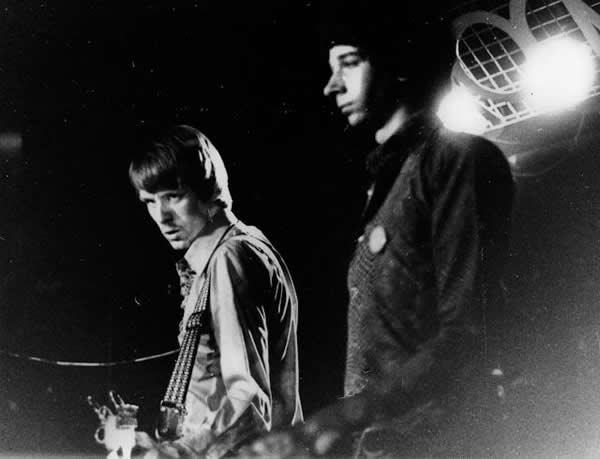 Conrad & Howard live at the 'Rock Garden', London 1981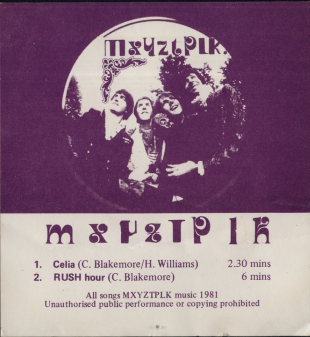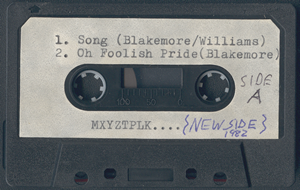 Above is a very rare original 2 track tape that the band used to sell at gigs but this copy which was sent to the "Bridge House" venue in Canning Town, London to see if they could secure some gigs there actually has two "NEW" tracks recorded on side 2 of the tape.
Brilliant UK Neo-Psychedelic Band from the early 80s.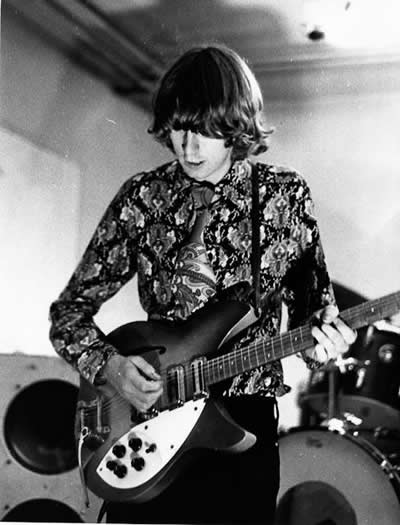 Conrad Blakemoor
©Detour Records