"MYSTERY PLANE"

London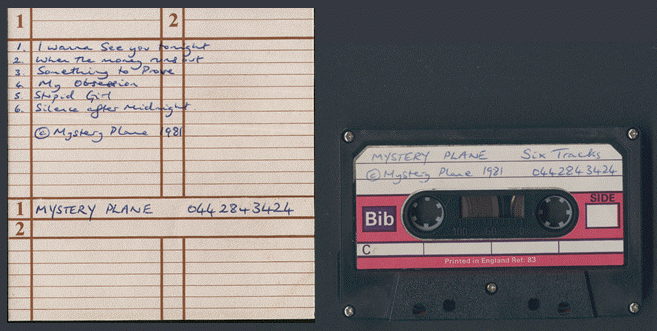 The above six track demo tape was sent into the 'Bridge House' in Canning Town, London in 1981 to see if the band could secure some gigs there.
A very obscure Minimal Synth combo who hailed from London who recorded six demo tracks in 1981.
I WANNA SEE YOU TONIGHT
WHEN THE MONEY RUNS OUT
SOMETHING TO PROVE
MY OBSESSION
STUPID GIRL
SILENCE AFTER MIDNIGHT
Their only vinyl out put was to have two tracks on the "Color Supplement" compilation album that was released in 1988. The tracks featured were "Snakebite", "Burning Desire" & "Crazy Bombs".
©Detour Records