Bradford
| | |
| --- | --- |
| Dave Wilcox - Vocals | Darren Keighley - Guitar |
| Tony Fox (aka Foxy) - Drums | Rik Leith (aka Pox) - Bass |
Out of the ashes of Bradford's first Punk Band "The Negatives" came "The Negativz"
Below are the sleeve notes from the "Mental Case" album that has just been released that features original recordings from this band that were lost in time ...until now.....
REMEMBERING DAVE WILCOX
I'm shopping in Bradford. It's the mid-1980s. I'm with Gaynor. Two kids and more than twenty years later, we'll still be together and I'll be writing about this memory… about how it's raining and we're in front of W.H. Smith's when a wasted punk sails into view. He's all spiked hair and post-Pistols chic. Cloaked incongruously in a transparent yellow Pac-a-mac, he weaves his way towards us through the Saturday crowd of shoppers. High in the saddle of his swaying cycle, he's a lurid splash of colour, a parrot perched precariously above the plain-clothed pedestrian flock. Compared to him, we're as dull as pigeons. Having graduated from glue to heroin, he hovers half-in/half-out of our world.
He hails me: "Hi, Nick!" "Hi, Dave! Good to see you! How goes it?" He talks excitedly about a new band he's forming. I ask what it's called. "Six Feet Under", he tells me. I laugh and say: "Cool name… especially as most people thought that's where you'd be by now!" He grins thinly back: "Exactly!" There are shadows round his sharp eyes like bruises and, if it wasn't for the billowing plastic mac, he'd seem thinner than his bike.
A couple of minutes later, we watch him zig-zag off through the throng – one of those rare and extraordinary individuals whom no-one fails to notice. Everyone watches him go… and so they should. There goes the man who's produced some of the most exciting music ever to come out of Bradford.
That was the last time I saw him. Soon after this, he moved north to escape his peers and wage his own long war with his addictions. Doing a gig in the north-east a few years ago, I was approached by a woman who said: "So you're from Bradford… did you ever know someone called Dave Wilcox?" Instantly, there I was picturing a human parrot, a bike, remembered gigs in gloomy clubs, a Dickensian Artful Dodger hunched over a microphone, his mouth spitting punk'n'personal rage. "He's living with my family," she said. I learned he still had problems, but sometimes stayed clean for months. And he was at college, had been for a couple of years. He was doing okay. And couple of weeks later, we briefly exchanged emails. Late last year, I heard he was dead.
The Negatives, Bradford's first punk band, was formed in the summer of 1978, practising at Coda Music on Church Bank. Pete Stobbs played guitar, Tino Palmer drummed, Bob Robinson played bass and Dave sang. After two try-out gigs, one at The Royal Standard, the other in a marquee on Horsforth Playing Fields as part of Metro '78, they did their first proper publicised gig at Chicago Express. Singer-guitarist Kay Russell played support, with me on congas and doing some poems/vocals during her set. Soon after this, Kay and I formed our own band, Ulterior Motives, and did our first gig, again supporting The Negatives, at a Rock Against Racism gig at Queens Hall on 25th May 1979.
During the summer of '79, The Negatives built up a sizeable following among local punx, notably through supports to Aswad at an open-air Rock Against Racism gig, to Stiff Little Fingers at Queens Hall, and to Red Eye at Bradford University. There were other gigs at The Vaults Bar and The Palm Cove Club.
In December '79, their double A-side 7" single, Love Is Not Real c/w Stake Out (now a rare collector's item) was released on Look Records. It was financed by Guy Watson and sold through his Darley Street shop (where Tino worked). The first two hundred copies were numbered (mine's 105) and had hand-written black-n-white covers. The rest of the 1,089 copies pressed were sold in plain white bags. There was a third track recorded at that session (engineered by Dave King and recorded at Look Studios in Huddersfield). That was We're From Bradford which eventually surfaced (alongside both tracks from the single) on a 2003 punk sampler CD, Bored Teenagers Volume 2. The band's final gig was a Lord Mayor's charity gig on 19th January 1980 in The Great Hall, Bradford University when they appeared with The Squids and Shadowfax. Shortly after that, Dave abruptly quit the band, forcing the others to cancel a couple of gigs before resolving to continue as a white reggae-ish trio, Mysterious Footsteps.
A couple of years then elapsed before Dave resurfaced as the singer with The Negativz (there now being a semi-established Sheffield band called The Negatives as well as some same-name US outfits). This new band had Daz (Darren Keighley) on guitar, Foxy (Tony Fox) on drums and Pox (Rik Leith) on bass (replacing Smithy after a few gigs). This was the truly great line-up. They looked good, sounded even better and had some classic songs.
By this time, I was running Twisted Pleasures and Drastic Measures Promo. Co., under which banner I ran gigs and also gave free advice and promotion to several thousand bands. On 20 April 1983, The Negativz supported Urban Dogs at Natural Disasters, the club I ran at Brannigans in Leeds. The Next day, the same bill appeared at Palm Cove (a club I called Gory Details). On 21 December 1983, Natural Disasters (now moved to The Dortmunder Bier Keller) played host to The Negativz Xmas Party which they headlined, supported by Toy Dolls, Icon A.D., Xpozez, Instigators and Criminal Justice. And, at the same venue on 21 April 1984, they headlined the afternoon session of my second all-dayer. Of course, they played many other gigs – but these are the only ones detailed in my files.
This line-up did two cracking recording sessions – one of just three tracks, and one of seven tracks (the latter at Cargo Studios in 1983). This seven-track session is the one known as The Mental Cassette.
Until I went through my files a couple of months ago, I had completely forgotten that I had the master tapes of these sessions together and some excellent colour photos of the band. Why did I have them? Because I was going to release and promote the cassette for them through Twisted Pleasures. The original wording for this release is as it now appears on this CD. The thing was to have been released in 1984, but the band broke up before that happened. The master tapes were actually too old to use. They played well at first by quickly shed dust and clogged up the reel-to-reel machine. Luckily, the cassettes were well-recorded and transferred easily to CD. So, albeit twenty-three years later and courtesy of Matt Webster at Mutiny 2000, here's a compilation of the two recording sessions plus live recordings of other tracks. For those who were there, enjoy the memory! For the rest of you, here's a chance to taste a little of what you missed. Most of all, though, this is for you, Dave… proof of how good you really were! Cheers, mate.
Nick Toczek (March 2007)
The live tracks on the end of this CD are taken from two gigs at Palm Cove in 1982 and one at Queen's Hall in 1983 . The quality is fairly poor as they were taped by me and Kenny Armitage on a small recorder at the back of the room. The Queen's Hall tape was done through the mixing desk and is of a far superior quality but unfortunately only the four tracks I used on the 'We're From Bradford' compilation tape (released in 1983 and featuring The Negativz, Anti-System, Raw, Convulsions, Requiem etc) remain as the cassette of the whole gig was lost, and lies somewhere in posterity's rather large warehouse (Bradford section) next to the fabulous Mental Case t-shirt.
As a result, a some of the songs are duplicated, and classics like 'I'll Only Ever Love Me', 'I Wanna Be', 'World War 3' and The Negz take on 'The House of the Rising Sun' remain only in this rough form. But I think it's better to have these versions than nothing at all, as is the case with the missing epic 'Reviewing The Situation' from the once proposed punk version of Oliver Twist, with Dave as Fagin (of course!).
The last time I saw Dave was in the early '90s. He was standing outside the HMV Shop in Bradford looking drawn and tired but said he was feeling very positive after coming out of a dark period. We talked about past times and future plans. He told me he could hardly remember anyone he'd met in the previous five years... but I bet they remembered him!
Matt Webster (March 2007)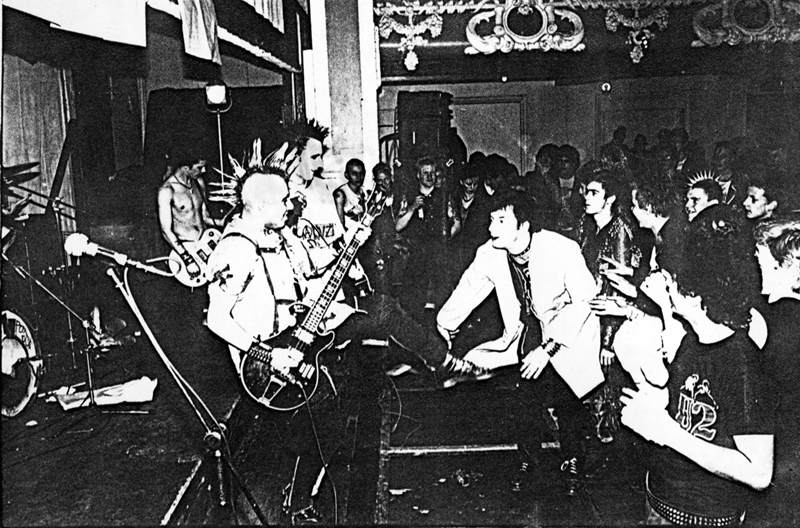 The Negativz live at the 'Queen's Hall', Bradford on Wednesday 29th Jan 1983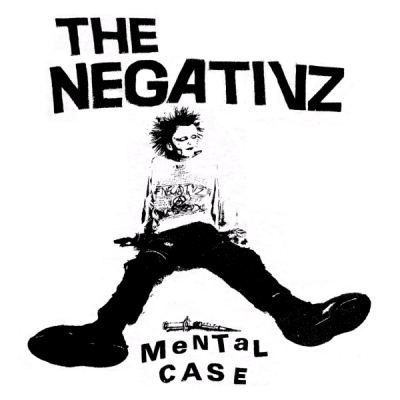 Above is an original T-Shirt design that 'Dave Wilcox' designed and had made up.
| | |
| --- | --- |
| | |
| Above is an original A5 Gig flyer for "Tickles" from Wednesday 30th March 1983. | Above is an original A2 Gig Poster for "Tickles" from Wednesday 2nd November 1983. |
After the demise of the Negativz
Pox and Dave went on to form the psychedelic band 'Swamp Flower' in November 1984, although Dave left soon after.
Dave's last band was 'Six Feet Under' (1986-87) with Foxy on drums and ex-Swamp Flower guitarist Pete Ingham.
Daz and Foxy were reunited in punk band 'Threshold Shift' in 1990.
Thanks to Matt Webster & Nick Toczek for the above sleeve notes and images.
©Detour Records