NO COVER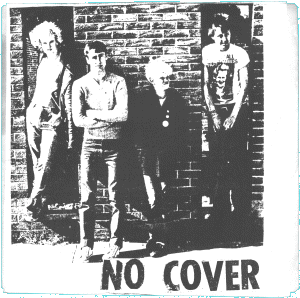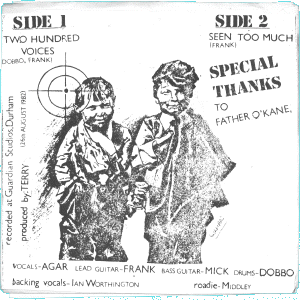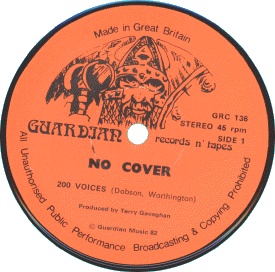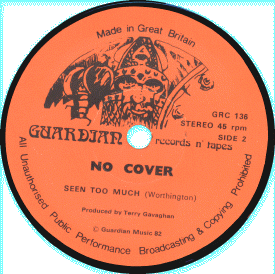 200 Voices / Seen Too Much
Catalogue Number - GRC 136
Label - Guardian Records
Year Of Release - 1982
Quantity Pressed - 500 in total but only approximately 50 copies

or so had this picture sleeve.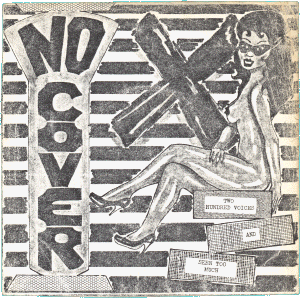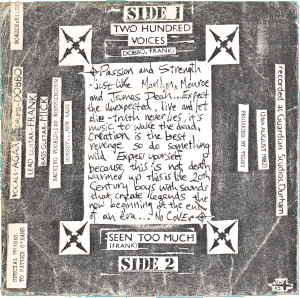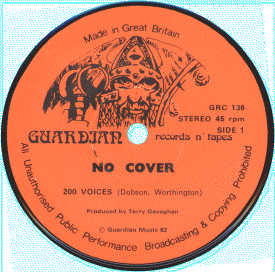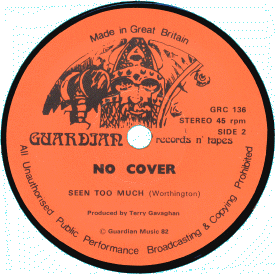 200 Voices / Seen Too Much
Catalogue Number - GRC 136
Label - Guardian Records
Year Of Release - 1982
Quantity Pressed - 500 in total but only approximately 50 copies
or so had this picture sleeve.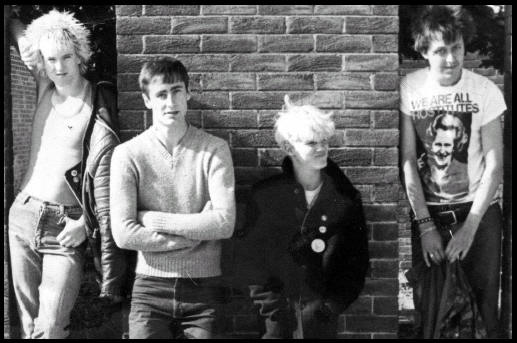 | | | |
| --- | --- | --- |
| Frank "Neville" Worthington - Lead Guitar | | Mark Dobson - Drums |
| Mick Cook - Bass | | Steve "Agar" Pearn - Vocals |
"No Cover" were never a popular band – not even with the few friends we had!
Me and Frank "Neville" were the only ones in the band from start to finish. Steve "Agar" Pearn joined around 1981 – I asked him to join because he liked 'The Television Personalities' and 'Joy Division' – his singing wasn't the best but we could hardly play either so that was okay! The bass player on the single was Mick Cook – he just happened to be around when we went in the studio – I don't think he was ever in the band as such.
Basically the story of the single is this …..
My granddad used to be a bookie and one day he gave me a tip to back "Soba" in the Stewards Cup at Goodwood. When it came in at 18/1 my winnings paid for half a day in a recording studio and the pressing of 500 singles. We couldn't afford sleeves so we made them ourselves – we wanted the sleeve to have a "Television Personalities" look about it (ie cheap homemade shite!). There weren't many photocopiers in those days but Alex Patterson (now in "The Orb") who was then a "Killing Joke" Roadie, had his mum, who was in our area working in an office, run a few copies off for us now and then. We didn't get many sleeves done – there wasn't any need – no one wanted to buy the single. Over half the unsold copies were stored at my mum's house until the 1990's when she threw them all out during a spring clean!
Gigs – we never played anywhere famous or with anyone famous – when we started we couldn't get gigs because we were all too young – by the end we couldn't get gigs because of our reputation……
At that time the only audiences up here were Skinhead / Thrash-Punk – and they hated us!! We used to wind them up and it invariably ended in violence!!! It got to the point that we were scared of going on stage in case we got beat up!!! One gig I remember most was at Peterlee Football Club. This girl asked me out and we ended up living together for 15 years – so it sticks in my mind. That night I found some blue paint before the gig and painted myself with it – it took months to get it off and out of my hair because it was gloss. Fuck knows why she asked me out when I was painted blue – I guess I stuck out!!!
Another gig at Peterlee Football Club saw me bring a Christmas tree on stage – this was in around March!!
I proceeded to set fire to it – the fire got out of control and caught the stage curtains on fire!!!! Another gig saw us turn up at the local pub to play only to find out that "Agar" had been banned from the pub in the past. He had to sing in the Car park with the microphone lead coming in through the toilet window!! People started chanting "Agar Agar Agar …" so the landlord let him in on the condition that he only drank soft drinks!!!!
And that was No Cover – the one thing we took seriously was vandalism. We would paint "No Cover" on a bus shelter in emulsion one night and go back the next day to go over it in gloss!! Musically we were shite but our graffiti stood the test of time – some of it is still there 18 years on! Not that it's anything to boast about …….
Recollections from the drummer

Mark Dobson 2001
A short note from the singer, Agar ….
We were never a true Punk band but believed in the Punk ethos and we are proud to admit that our single was recorded 5 years to the day after the Television Personalities recorded their anthem "Part Time Punks". I would like to give a special thanks to my good friend and roadie for No Cover, Middley!!
Agar

2001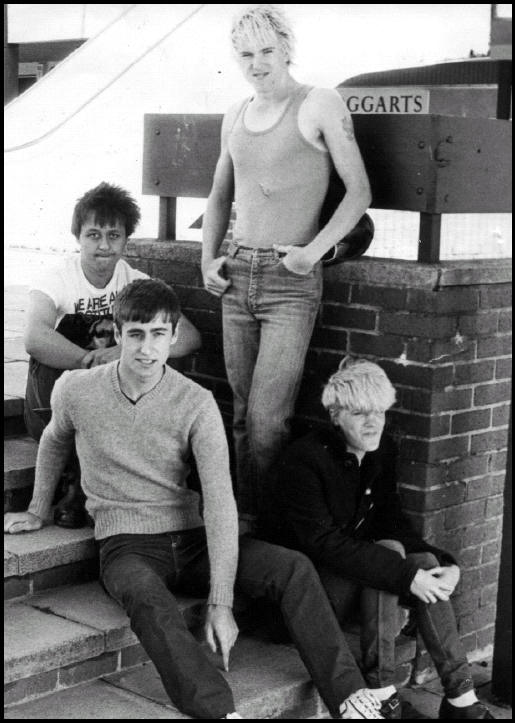 ©Detour Records