The Nobodyz

West Hampstead / Kilburn area of NW London
DAN
STEVE YOUNG (aka MEATHEAD STEVE)
BONE
SOX
ALAN
Another mystery Punk band who were on the London Punk circuit for a short while then just disappeared. After doing some research into this band we have pieced together that Dan may of been 'Dan Gladwell (Lance)' who went on to be in 'Nasty Rox Inc'. There is a Dan in this band but his name is 'Dan Fox'. Another Pseudonym?
Plus two of the other band members went onto form 'M.A.R.R.S.' who had the hit with 'Pump Up The Volume'. One of which could of been 'Meathead Steve' who could of been 'Steve Young'.
Can anyone verify any of the above?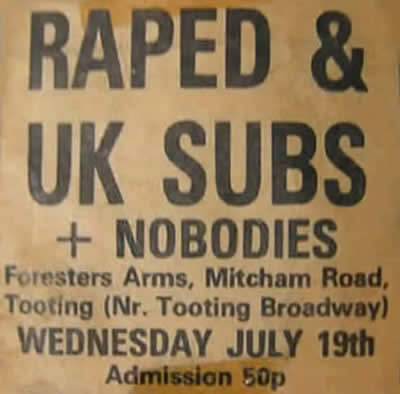 Above is an original gig advert for 'Raped', 'The UK Subs' & 'The Nobodyz' for 'The Foresters Arms', Tooting, London from Wednesday 19th July 1978.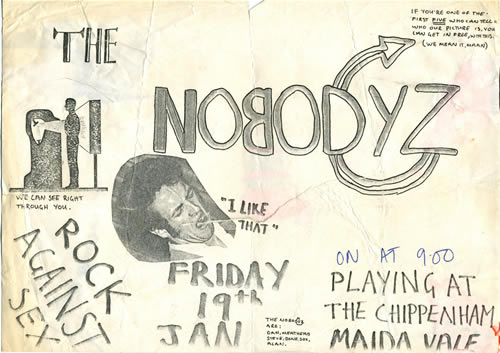 Above is an original gig flyer for 'The Chippenham', Maida Vale, London from Friday 19th January 1979.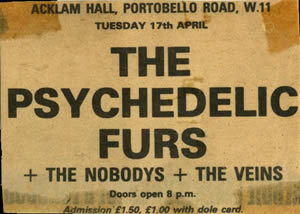 Above is an original gig advert for 'The Psychedelic Furs', The Nobodyz' & 'The Veins' for the "Acklam Hall", London from Tuesday 17th April 1979
Thanks to Mike Clarke
©Detour Records