THE ORANGE CARDIGAN

Upminster, Essex
Paul Markz (aka Paul Guro) - Vocals & Guitar
Niki Berlin (aka Stitch) - Bass
Lee Faust - Drums
Winston Smith (aka Winston Detliev) - Guitar
Roy Marqx - Drums

Steve

Humphries

- Drums
The Orange Cardigan
The band formed in mid-1979 – disbanded mid-1982.
The original members were Paul Markz (aka Paul Guro) – vocals and guitar, Stitch – bass and b/vs, Lee Faust – drums (later drummers being: Roy Marqx and then Stephen Humphries).
Stitch and Lee had previously been together in a band called The Outsider (with Steve Willis on guitar and Kevin Masters on keyboards). They played five gigs in all, splitting after an eventful night at the Chancellor Hall Chelmsford on 20th May 1979 supporting Modern English.
The Orange Cardigan (originally Essex based) started as a 3-piece when Paul Marks answered an advert in a local paper placed by Stitch and Lee. The boys gelled together immediately and after a month of rehearsals played their first gig on the 16th July 1979 at the Zero Six in Southend-On-Sea.
They later drafted in Win Smith to play guitar, allowing Paul to focus more fully on his vocal duties and stage performance. Stitch changed his name to Niki Berlin and the majority of the band moved to London, to better assault the world!
They played numerous gigs around the London and Essex scenes and gathered quite a substantial following in their first year. Playing at venues such as: The Marquee, The Rock Garden, The Bridge House, Acklam Hall, The Music Machine, The Pied Bull, The London Musicians Collective, Clarendon Ballroom and The Greyhound. And supporting such bands as: The Birthday Party, Classics Nouveaux, The Spectres (Glenn Matlock's band), The Pet Shop Boys, The Lemon Kittens, DAF, Tenpole Tudor, Martian Dance, Naked Lunch, Everything But The Girl, Zounds and UK Decay.
After supporting The Birthday Party at The Africa Centre in 1980 the band were approached by Pete Kent and signed to Situation 2 Records (an off-shoot of 4AD Records). They recorded two tracks for a projected single which was never released sadly.
The band continued to play many more noteworthy gigs and had other record label interest from: Do It, Cherry Red, Fresh and Rough Trade, but to no avail.
After disbanding in '82 the musicians went on to play in various other bands including: Seventh Séance, The Tender Trap, Marc Almond's band, Angels in Aspic, Sticky Like Candy, The Lightning Call, T.Rextasy and The Hyenas.
Notable Band Songs
Don't Turn Off My Life Machine
Thieves In The Night
Absolutely No Co-Ordination
You're A Spy
A Case Of Poisoning
Elevator Raper
The Electricutioners Assistant
I Love You But I Think I Could Kill You For A Bribe
Living In A Haunted House
Bullets
No Romance in China
She Fell In Love With An Astronaut
Newscaster
Shut Your Mouth I Want To Kiss You
I Only Come Alive After Dark
Drugs
Notable Gig Listings
Thursday 15th Jan 1981 : Marquee Club, London w/ Martian
Saturday 24th Jan 1981 : Crocs, Rayleigh, Essex w/ Martian Dance
Sunday 23rd Aug 1981 : Africa Centre, London w/ The Birthday Party
Wednesday 9th Sep 1981 : The Pits, London w/ Naked Lunch
Above is the original 3-Track Demo tape that features "Don't Turn Off My Life Machine", "Your A Spy" & "Thieves In The Night" that were recorded at the "Speedway Studios" on 17/08/79 and was sent into the "Bridge House" pub in Canning Town, London to try and secure some gigs there.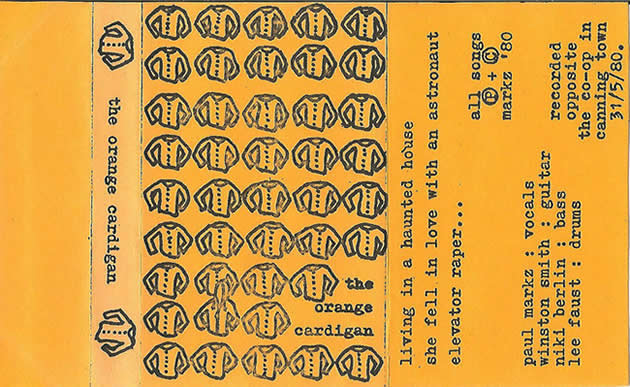 Above is the original second 3-Track Demo tape that the band recorded and features "Living In A Haunted House", "She Fell In Love With An Astronaut" & "Elevator Raper" that were recorded at the "Opposite The Co-Op" in Canning Town, London on 31/05/80.
Thanks to Mike Clarke, David Pay, Paul Marks & Niki Berlin
©Detour Records