The Passion Killers

York
The Passion Killers #1
January '77 - September '77
Steve Durkin - Lead Vocals
Paul Carroll - Guitar & Vocals
Chris Brown - Bass
Geoff Hardaker - Drums
The Passion Killers #2
October '77 - July '78
Steve Durkin - Lead Vocals
Alan Riggs - Guitar
Paul Carroll - Bass & Vocals
David Burley - Drums
KISS AND TELL


The Passion Killers Story - Where When Who & How


The main artery running through The Passion Killers' history is main songwriter Paul Carroll. It is fitting therefore that the story is taken up by him.

"I was born August 1957 in Naburn Hospital, my parents lived at Selby at the time. I had a brother seven years older than me and my first recollections of getting into music were through him. He would leave his 'Beatles Monthly' magazines lying around which I would read. I also remember singing the words to 'Help' on the way to school.

My early teen years were spent listening to T-Rex, Dylan and the Rolling Stones. I was never into the progressive or heavy rock of that era.
However I was pretty open-minded and recall enjoying bands like Osibisa for instance.

When I was about 16 a group of us would go into the Lord Nelson pub in Walmgate, York. This was a well-known place where under 18s could get served.

One night a mate of mine, Chris Brown and myself got drunk and talked about starting a band, though neither of us could play. The next day Chris and I went into Woolworths, he bought an 'audition' electric guitar and I bought a bass. We'd practice in my room then go into the Lord Nelson and make out we were in a band."

Jeff Hardaker, one of the group of friends in the Nelson, had been in a car accident and received a payout so he was persuaded to take up the drums. With Chris ending up on bass and Paul on guitar and vocals they began to practice in Jeff's mother's garage at 56 Whitestone Drive, York.

Like everybody's first rehearsals they were pretty shambolic, but at the same time exciting. Now they were in a 'proper' band! Songs covered during those early sessions were as diverse as Elkie Brooks' 'Pearl's a Singer' and the Stones' 'Midnight Rambler'.

One of their friends that would come along and watch them rehearse was Roger Young. He had been in the Scouts with Jeff years earlier, when Jeff had been a drummer in the troop band. Having already promoted a couple of punk nights in local clubs, it wasn't long before he was invited to become their manager.

Punk was making a big impression, though there weren't that many records out in late '76. After rehearsals everybody would sit in Jeff's house playing whatever of this new music they could get their hands on. The Ramones, Eddie & the Hot Rods, The Boys was pretty much it. Then The Clash's first album came out . Everybody got it, anyone could do this.

Paul started to compose songs with a punk attitude, one of the first being 'Piece of the Action'. The songs presented to the band were excellent but it was felt an out and out front man was required. Long-time friend in the Nelson, Steve Durkin said he would give it a go.
Steve was a larger-than-life character with no inhibitions. He fitted in perfectly. With the band a four-piece and starting to come up with original material, they needed a name that reflected both the times and the music they were creating. It was Steve who came up with The Passion Killers in early 1977.

Their residency at the garage was eventually ended and they had to find somewhere else to rehearse. Once again the Lord Nelson provided. Through a regular in the pub they had got to know about a farm in Church Fenton. There they could leave their equipment and practise as often as they liked. Housed in the barn of this farm full of hippies, The Passion Killers spent the summer of '77

Things were going great, Paul Carroll was beginning to become quite a prolific songwriter. The band drafted in Paul Gell as a second guitar player for a short while. Then one Sunday afternoon the police came a knockin'. Neighbours had complained about the noise and one of North Yorkshire's finest was dispatched to quell the disturbance! As it was the officer was fine and even slightly embarrassed at having to say "Turn it down". Something and nothing but the hippies, their dope hanging from the rafters of the barn, panicked. Fearing a full scale bust next time, The Passion Killers were asked to leave.

Luckily a concert room above the Lowther Hotel had recently been vacated by fellow York band Cyanide. The Passion Killers took up rehearsing there, for a couple of months at least. Paul Gell had dropped out and they reverted to a four-piece. Once again matters caught up with them. They were kicked out of the Lowther. Too many beer glasses were getting smashed! With the Sex Pistols problems at the time very much in mind, Steve's favourite saying became "The Pistols can't play and we can't practise".

By then the backbone of The Passion Killers' live set had been written. Songs like 'Power & Heat', 'Bromide Victim' and 'All We Need'. All dealing with life's frustrations and the boundaries perpetually imposed on young people. Life had always been a struggle against the jackboot of authority, least now their anger could be vented in their music and lyrics. The Passion Killers had begun to play gigs locally and it wasn't long before word of mouth preceded them. Slowly they built up a hardcore following.Support that in the subsequent years were to cite The Passion Killers as the reason many bands were spawned.

Their last gig with the original line-up was part of the 'Northlands Burning' event supporting Penetration at the Assembly Rooms, York. Their whole approach was to be one with their audience. All in it together. This was epitomised as they made their appearance that night. When it was time to go on they came out of the pub next door, walked through the front entrance of the Assembly Rooms and took to the stage from out of the large crowd. There were no back stage doors, dressing rooms or grand introductions for The Passion Killers. When they got on that stage, they meant business! They went down a storm. The city had taken them to heart, now it seemed like they were ready for the next step.

Despite the success they were experiencing, increasingly Steve & Paul found themselves a band apart from Chris & Jeff, who had never fully embraced the punk ethos. The Passion Killers split. Jeff Hardaker would emerge a year later, a much improved player with local outfit Sema 4.

Meanwhile, Steve & Paul recruited guitarist Alan Riggs. A call went out for a drummer and David Burley from Burn near Selby got the job. Paul reverted to bass. Rehearsals began in earnest once again in a local hostelry, things were tighter, the band never looked or sounded better. Paul was writing new material such as 'Choose You' and 'Get Your Hands Offa Me'. They worked hard, the gigs became wider afield and interest was stirred wherever they went.

Their songs, such as 'Blame It On The Young', 'Kids From Suburbia' and 'Hate To Belong', rapidly became anthems of their day. The now well known gig at The Hop took place in February 1978. Although only a portion of the live set was recorded on tape, it does gives something of the power and heat of The Passion Killers in their prime. This, without doubt was the definitive incarnation of The Passion Killers. With David and Paul's solid, driving rhythm section, Alan's chopping guitar style and Steve's exuberant lead vocal, they were delivering performances and writing material that their audiences could believe in. They were going from strength to strength. A week of London dates were lined up.

Once again misfortune struck. Denied use of their rehearsal room once more, proved to be one time too many. Petty personality differences that were ignored before became magnified. Alan felt like he couldn't work with David. Finally David, of the two, was thought to be the most dispensable and was sacked. That, as it turned out was pretty much the final nail in the coffin of The Passion Killers. By July 1978, the band had broken up.

Despite the break-up Alan's wish to get into the studio "So we can remember how good we were", never came to fruition. So the most influential band to come out of York during that thriving scene of the late 70s never saw the inside of a recording studio. Fortunate now that the 'Dirty Talking' tapes have resurfaced. The Passion Killers can now excite a new and larger audience.

What became of the various members following the demise of The Passion Killers?

Alan Riggs & Steve Durkin joined The Deadbeats and cut "Choose You" as a single. Something was lost in adaptation and it never matched the magic of The Passion Killers' version. However, it has appeared on several compilation albums through the years. Riggsy (known as "Killer" from his PK days) joined arty-fem favourites Delta 5, toured the U.S., releasing several singles and in 1981 an album "See The Whirl".

Paul Carroll was enlisted into Cyanide, touring with the UK Subs before joining The Pullovers with whom he released a single in 1980. A solo album was demoed in 1982 but never released.

David Burley whose finest hour was captured on the 'Dirty Talking' tape has never been heard of since.

Jeff Hardaker became drummer in mod band Sema 4 releasing several indie classics.

Chris Brown's musical career began and ended with The Passion Killers.

Paul Gell played in several other bands before calling it a day.

http://www.thepassionkillers.piczo.com


Steve Durkin the lead vocalist & Roger Young the manager in a photo booth in 1977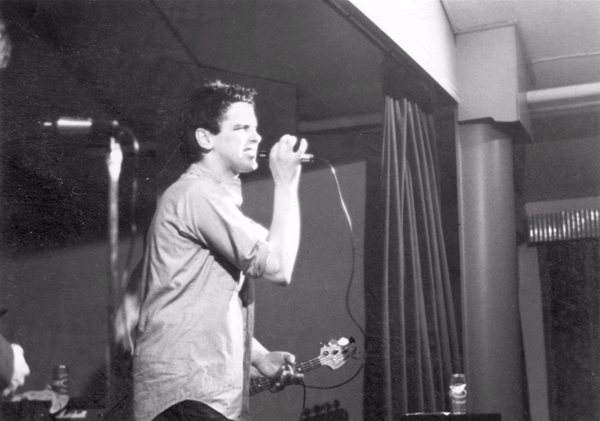 Steve Durkin, March 1978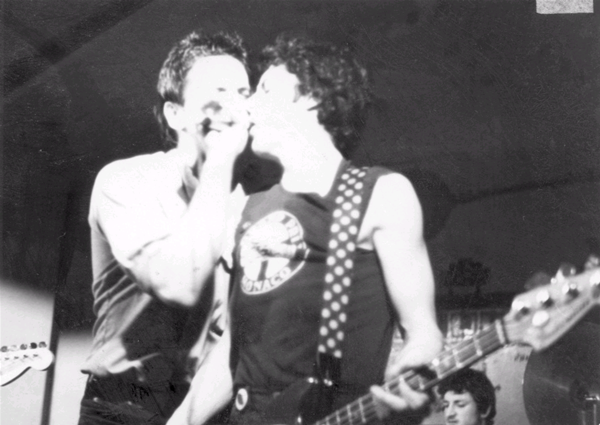 Steve & Paul - March 1978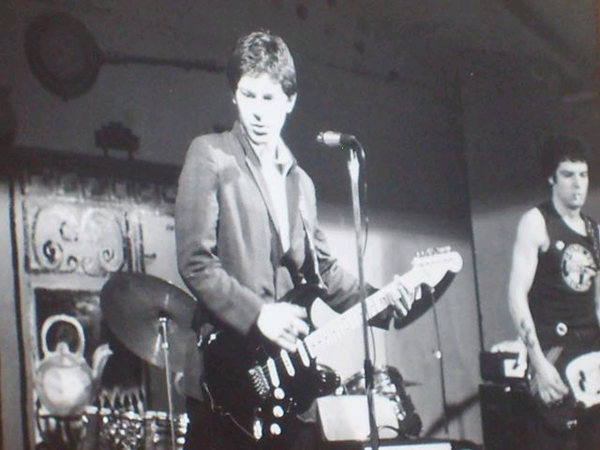 Alan Rigs & Paul Carroll - March 1978
Alan Riggs

Steve Durkin
Paul Carroll
Paul Carroll
Steve Dukin
Rehearsals, Church Fenton - Summer '77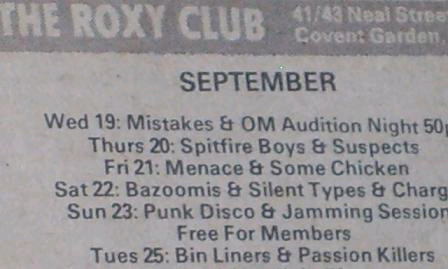 Roxy Gig date that the band never made from Tuesday 25th September 1977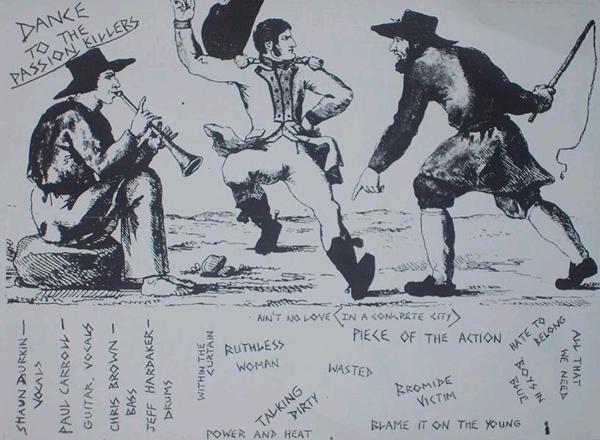 Above is an original A4 Promotional Flyer from 1977 Note: Steve went through a brief period of wanting to be known by his middle name, Shaun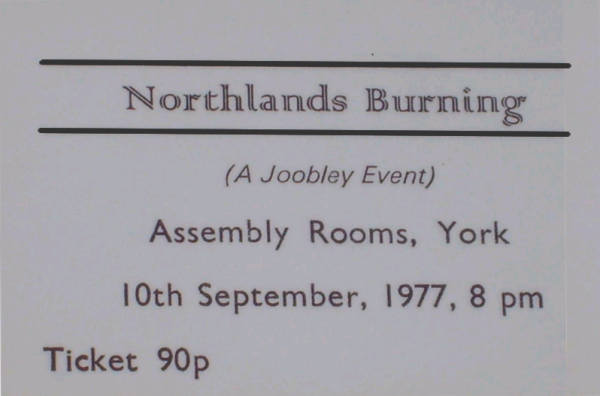 Ticket from when The Passion Killers supported Penetration at the 'Assembly Rooms', York on Saturday 10th September 1977
Pete Ruane (Road Crew)
Steve Dukin (Vocalist)
Roger Young (Manager)
Chris Brown
Steve Durkin
Geoff Hardaker
Paul Carroll
September 1977
Thanks to Roger Young
©Detour Records