QUALITY DRIVEL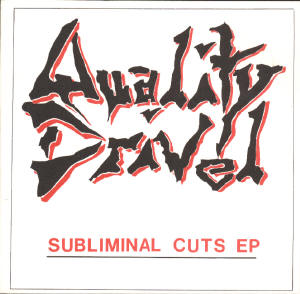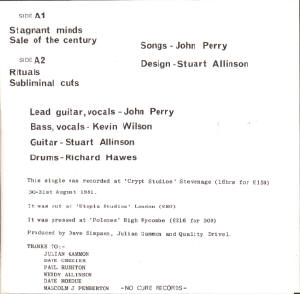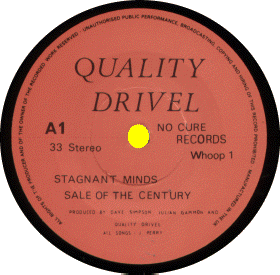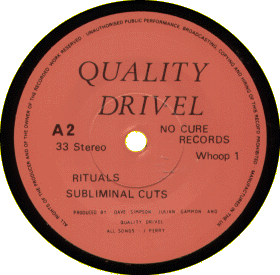 Stagnant Minds / Sale Of The Century / Rituals / Subliminal Cuts
Catalogue Number - Whoop 1
Label - No Cure Records
Year Of Release - 1981
Quantity Pressed - 1000
STUART ALLINSON

KEVIN WILSON

RICHARD HAWES
Quality Drivel was a Punk / New Wave band formed in early 1980 by 'John Perry' & 'Torsten Brose', two sixth-form classmates at Oxfordshire's Abingdon School, from which 'Radiohead' would spring seven years later.
John took lead vocals, Torsten guitar and roping in John's childhood friend 'Kevin Wilson' on Bass. Another schoolmate 'Richard Hawes' was drafted in on Drums. The band began learning their instruments from scratch and practising together at school.
Within three months they were playing small gigs and had a regular practice venue... an ineptly-soundproofed shed in 'Hawes' parent's large garden on the outskirts of Oxford.
Their first demo, the eight-song 'Made For Sharing' EP was recorded at an eight-track studio near Bicester, Oxfordshire, in September 1980.
By the summer of 1981 the band had a decent-sized local following and was playing regular gigs at village and school halls. 'Brose' then left, having grown increasingly frustrated with the band's move away from four-chord Punk and into more intricate New Wave. 'Perry' took up guitar duties with great relish and recruited school friend 'Stuart Allinson' as co-guitarist. Before long they had recorded four of 'Perry's songs over a weekend at a studio in Stevenage, Herts , which became known as the 'Subliminal Cuts' EP, after it's fourth track. Two of these tracks can be heard on the 'Bored Teenagers volume 3' compilation album. It was never a true representation of the band's sound, the guitars being too low in the mix and the overall feel too light and commercial.
Shortly afterwards, after a series of less-than-successful gigs, it was agreed that 'Allinson' should leave the band but remain it's sound engineer-cum-manager. As a three-piece, with 'Perry' on guitar and vocals, 'Wilson' on Bass and backing vocals and 'Hawes' on Drums, the band played a handful of well-received gigs during 1982, including two at Oxford's famous 'Jericho Tavern', and got closer to the guitar -driven Pop-Punk sound they had always aimed at. They recorded a two-track demo 'True Blue' and 'No Choices', which in hindsight was probably their best effort. The band split in the summer of 1982, as 'Perry' and 'Hawes' went on to further education.
Stuart Allinson

2003
| | |
| --- | --- |
| | |
| JOHN PERRY | KEVIN WILSON |
JOHN PERRY

STUART ALLINSON

©Detour Records