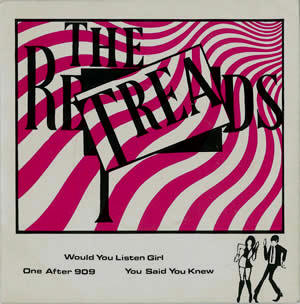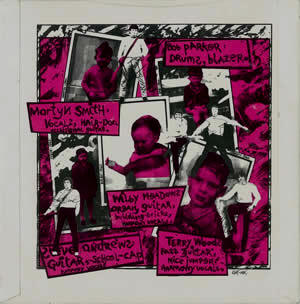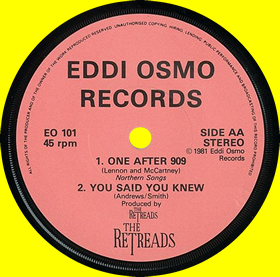 Would You Listen Girl / One After 909 / You Said You Knew
Catalogue Number - EO 101
Label - Eddi Osmo Records
Year Of Release - 1981
Quantity Pressed - 1000
Below is the Insert / Mini Poster that came with the record.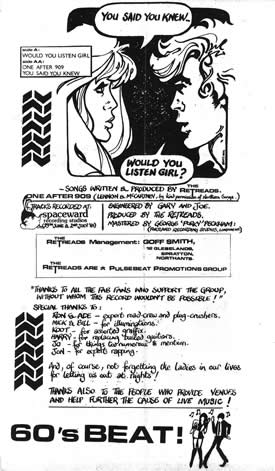 Martyn:
I can't remember when or where the idea to form The Retreads came from.
Myself and Steve were school friends who had played together in a succession of bands from the age of 14 (Steve Martyn's Equator, Morrocan Roll, Cougar Groove), Wilby was with the "Q-men", Terry was introduced to us by the legendary Stuart Loakes and Kevin was a friend of Wilby's.
What is fact, was our mutual love of The Beatles. One night the five of us got together in a disused chapel in Wilby near Wellingborough and stood around the Beatles song book. The mission was to start at page one and attempt each song, if we couldn't get it right by the bottom of the page then we would "move on to the next" by the end of the first night 30 songs were in the bag (we weren't messing about, this was Rock'n'Roll!). About two months later we were gigging. Who was brave enough to put us on first I also can't remember but it was obviously pretty positive as we had soon kitted ourselves out with Beatles shirts, Winklepicker shoes and Rickenbacker guitar and proceeded to resurrect the sound of the sixties for Northamptonshire.
There were so many gigs in such a short space of time that it's now all a bit of a blur. The highlights were always The Romany and the Blisworth Hotel in Northampton and of course the big one at the legendary Rainbow. Blisworth was always amazingly hot (see review) and the Hotel would be surrounded by scooters, it was like stepping back in time indoors. Big numbers of the night when everyone went crazy were "My Generation" and "Stepping Stone". At the Rainbow my main memory was the huge audience (the number increases in my memory by a thousand every year. I'm up to 33,500 now!) and coming on stage without a soundcheck.
The stage was enormous bigger than most gigs, Bob was so far behind on his drum riser that I could hardly see him let alone hear the count-ins!
After the first "Hallo London" I was nearly deaf from the volume of the foldback, awesome....then two quick circuits of the stage to show them that we meant business and then back to the microphone to sing, utterly breathless, after covering about two hundred metres!
I also still have nightmares about Steve's Rickenbacker with a its strange amount of frets causing some interesting key changes! Bobs automatically revolving Tom-Tom's on his Autotune drum set. Always having too wait for Terry's hair to dry before we could set out for a gig and Wilby's continually lengthening "Wide mouthed frog" joke....ah happy days, I wouldn't have missed them for the world!
Bob:
If my memory is correct, we played the Band Club in Rushden and they had to turn away several Coach loads of fans and I am sure that when we played our last night at the Windmill Club in Rushden we pulled in around 700.
The Blisworth Gigs were always good, the Rainbow was obviously special, but one gig that stands out for me was at the Romany in Northampton, we were back stage waiting to come on and all you could here was stamping, clapping and cheering, Retreads, Retreads, Retreads! and when we took to the stage it was packed to the rafters, after woods we were selling copies of our single to ordinary fans and The Retreads Scooter Club, it was an amazing night.
Terry:
The Scooter/ Mod club that used to meet at the Romany in Northampton named the club after the band. I remember driving around town and seeing guys on scooters with 'Retreads' on the back of there Parkas. This was the reason that we made the sew on badges.
Wilby:
One night (I think Raunds or one of the East Northants clubs) the crowd was whipped to a frenzy. We were on a floor level stage and after encores some bloke ran across the stage (pissed). He tripped over Steve's guitar lead and pulled his black stereo Rickenbacker off the stand and the guitar crashed to the floor with the neck breaking clean in half !! Steve was mortified as we all were. Ron and Adrian pasted the poor kid !! Anyway Steve had it repaired and we all marvelled at the miraculous work the Luthier had done. We couldn't see the join at all. We didn't realise until much later that all he did was order a new neck as a spare part !!!
We played at the Morris Man one night in Northampton. I went outside for a quick fag and saw some bloke walk out with a guitar. I thought he'd just played along with us. Then I realised it was my bloody guitar. He was a big bloke as well so I said "excuse me that's my guitar". He replied "it's f**king not" and squared up to me. So I stared at him and then quickly snatched it back and ran inside. I was shocked. Ron and Adi went after him !!!!