RUN 229

Shotten, North Wales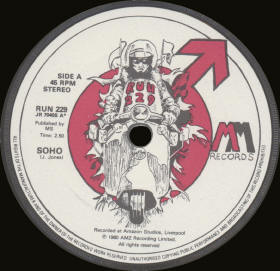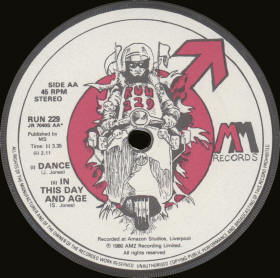 Soho / Dance / In This Day And Age
Catalogue Number - JR 7040S
Label - MM Records
Year Of Release - 1980
Quantity Pressed - 1000 (Confirmed)
(The original artwork on the label was designed by Colin Thompson)
MARK ALLEN - VOCALS
JOHN TALLON JONES - GUITAR
STEPHEN ETON JONES - GUITAR
NICK CARR - BASS
RAY BIBBY - DRUMS
The band was formed out of a mismatch of other bands in the post punk 'New Wave' era. Founder member Ray Bibby (drums) wanted to put together a Mod Band like his idols The Who. He started looking in the spring on 1979 and brought in Singer Mark Allen from an old Hippy Rock band called 'Hybrid'. Steve Jones on Lead guitar fresh from playing with himself in front of his bedroom mirror. Nick Carr who had just started playing bass in between rolling spliffs and finally John Tallon Jones Guitarist and songwriter also from 'Hybrid'.
Everybody assumes that the band got it's name off the number plate of their van. The band told it differently. Ray decided on the name after a piss-up and made the rest of the band search around for the number Plate.
RUN 229 began their career in the beer and spirits deposit of the 'Central' pub in Shotton. Ray negotiated a deal with the landlord for a few months rehearsal in return for a free gig. The pub had a reputation for drug dealing and this eventually led to the suicide of the Landlord. The band practiced using broom handles for mike stands and a AC30 power amp as the PA system. It was in these early days that they developed an individual sound mainly because of the diverse influences at work. Nick was well into dub reggae and his bass playing combined strangely with Ray's rock influenced drumming. Steve Jones with his flying V copy played with heavy fuzz box lead while John Tallon Jones used a more subtle clean reverb sound, and played electric violin.. Add to this Marks Operatic vocals and you have an incredible original sound for the late 70's. To call RUN 229 simple a Mod band is to do them an injustice; they were so much more. Perhaps too much for the period. While the rest of the mod bands where singing about 'being in love with there best friend's girl'. RUN 229 where exploring the darker side of growing up and their songs were full of irony and dealt with teenage insecurity, sexual inactivity and just generally being pissed off with the world. You will never find a love song in their set; not a straight one anyway because there was nothing obvious about this Band.
After briefly being signed to 'Baal Records' (a subsidiary of Pye) The band were managed by "Mickey Mifsud", who brought out their first single on the 'MM Record label' and found most of the gigs including a TV appearance on Granada Televisions 'What's on'. Granada TV also filmed the live gig at the Theatre Clwyd but it was never shown. 'Mickey Mifsud' had other interests in a London Band called Bad Manners and also had connections with 70's Band 'Audience' who featured a young 'Howard Werth' who would eventually move to America and release a single in his own right on the legendary 'Dangerhouse' label.
The Band played their first gig on a Sunday night at the 'Airport Hotel' in Speak near Flintshire. The following weekend they did their payback free gig at the Central Hotel in Shotton. Many more gigs followed during the next 2 years as the Band built up a large scooter club following with many of their fans unable to come into the pubs they played in because they were under age. The band played There first Gigs in London in The Bridge house in Canning Town and the 101 club in Clapham and supported or were supported by just about every Mod band at the time though not Secret Affair. The Theatre Clwyd in North Wales gave a lot of their young teenage fans an opportunity to see them for the first time and other similar type venues followed; most memorable with the Fast Cars from Manchester and Small Hours from London.
The bands debut single, 'Soho' was recorded in 'Amazon Studios' in Liverpool in 1980. Plans for another single 'Emily' fell through and for many years most of the recorded material has been stored. Now it has been re-mastered and released as a CD.
Below is an original Scooter patch from the local club who followed the band around.
NORTHERN ACES SCOOTER CLUB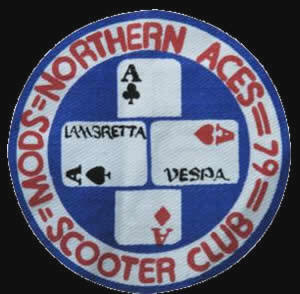 THE NORTHERN ACES SCOOTER CLUB.
Trivia
If you have the record 'J.D.' by 'The Akrylykz', on their front cover there is a queue outside the '101 Club' which was in Clapham and in the background their is a notice board that lists forth coming gigs and you can see 'Run 229' listed as a support act to 'The Lambrettas'!!
John Tallon Jones
NIck Carr
Steve Jones
Ray Bibby
Mark Allen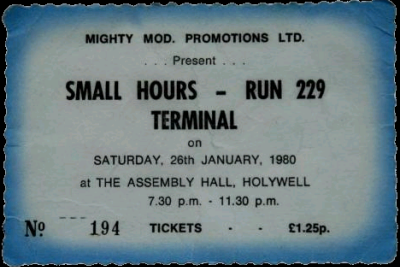 Above is an original gig ticket from the "Assembly Hall", Holywell, Flintshire, North Wales for Saturday 26th January 1980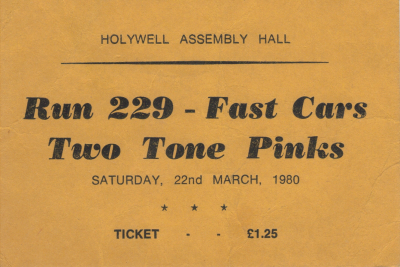 Above is an original gig ticket from the "Assembly Hall", Holywell, Flintshire, North Wales for Saturday 22nd March 1980
Thanks to Stuart Murray of Fast Cars for one of the tickets.
A special thanks to Ray Bibby for allowing us to use his write up and photos.
©Detour Records