THE SCOOP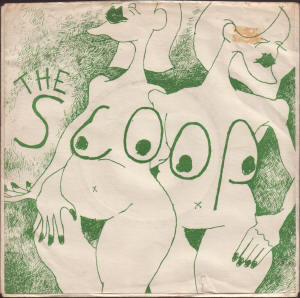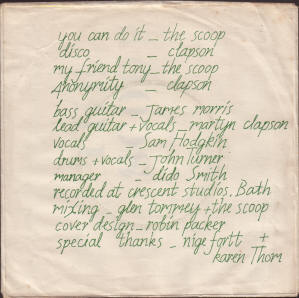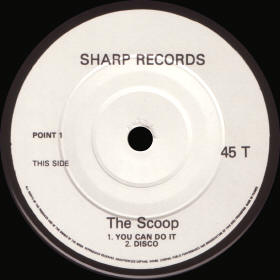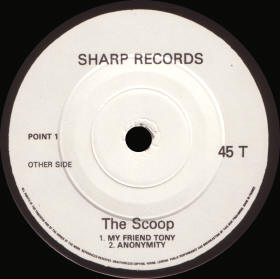 You Can Do It / Disco / My Friend Tony / Anonymity
Catalogue Number - POINT 1
Label - Sharp Records
Year Of Release - 1979
Quantity Pressed - 500
| | |
| --- | --- |
| SAM HODGKIN - Vocals | JAMES MORRIS - Bass |
| MARTYN CLAPSON - Lead Guitar / Vocals | JOHN TURNER - Drums / Vocals |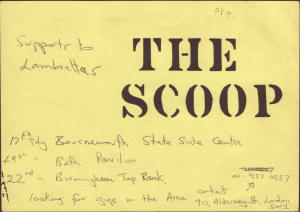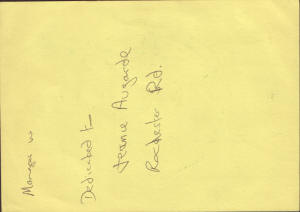 Above is an insert that came with my copy of the record. It tells you that the band are on tour with 'The Lambrettas' and lists the dates and venues.
A very rare and obscure UK release from this London based band. Caught in-between the Punk and Mod scenes, they never fulfilled their true potential. However, they did play on the same bill as a lot of the Mod Revival bands that were gigging at the time. They even went on a short tour of the UK with 'The Lambrettas'.
In 1980 when the band split, they splintered into two different bands. Sam Hodgkin & Martyn Clapson along with Trudi Baptiste, Ian Cleverly & Stuart Kennedy formed 'King Trigger' and John Turner joined 'Dance Chapter' just as they released their second single on the '4AD' Label by replacing 'Jonnie Lowrence' in 1981. The strange thing is that the debut release by 'Dance Chapter' before John Turner was actually in the band was called 'Anonymity'. Was this the same track that appeared on 'John Turners' first record by 'The Scoop' or was it just a bizarre coincidence?
| | | |
| --- | --- | --- |
| The above gig advert for "Ronnie Scott's" on Tuesday 11th March 1980 appeared in 'Melody Maker' on 8th March 1980. | | The above gig advert for "Ronnie Scott's" on Wednesday 18th June 1980 appeared in 'Melody Maker' on 14th June 1980. |
©Detour Records