We regret to inform you that after one month of putting this web page together with 'Steve Gibson' of the band he sadly died suddenly on the 12th of July 2006 at 10 a.m.
First Single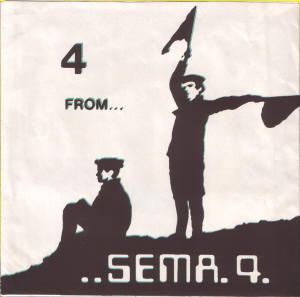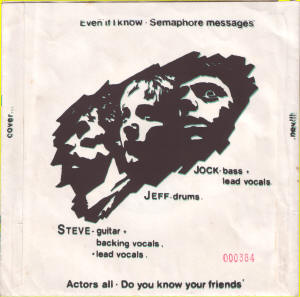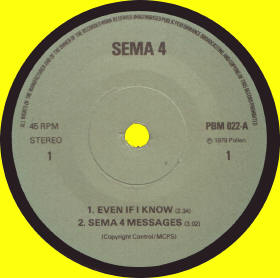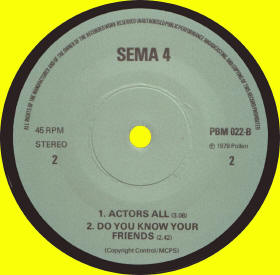 Even If I Know / Sema 4 Messages / Actors All / Do You Know Your Friends
Catalogue Number - PMB 022
Label - Pollen Records
Year Of Release - 1979
Quantity Pressed - 500
Below is the insert that came with all the copies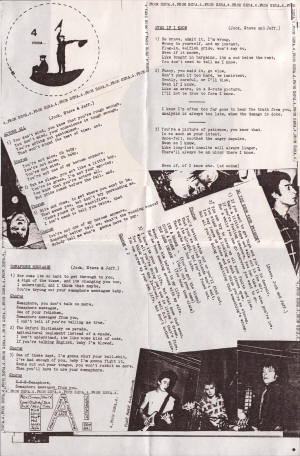 Only 500 copies were pressed of the debut release and each copy was hand numbered by an ink stamp. The actual picture sleeve was screen printed and were all Black and White but had a few different florescent colours as shading. The above copy is florescent green shading but I have also seen red, pink and purple. The actual insert is one sided and a little bit longer than A4 and were stapled to the inner sleeve that slipped inside the actual picture sleeve.
Second Single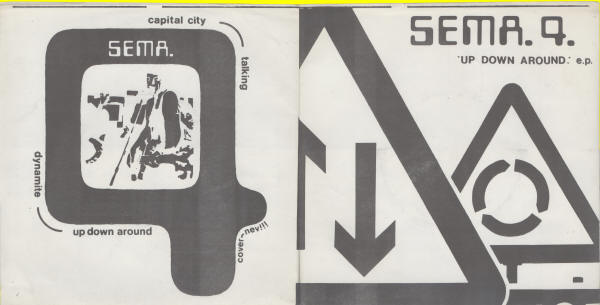 | | |
| --- | --- |
| Back Of Sleeve | Front Of Sleeve |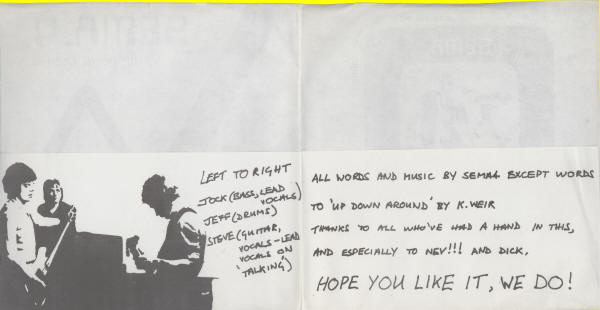 | | |
| --- | --- |
| Inside Of Front Of Sleeve | Inside Of Back Of Sleeve |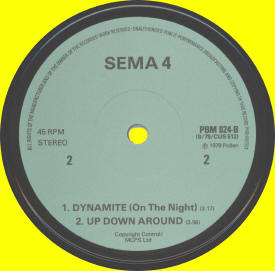 Capital City / Talking / Dynamite (On The Night) / Up Down Around
Catalogue Number - PMB 024 (S/79/CUS 512)
Label - Pollen Records
Year Of Release - 1979
Quantity Pressed - 1000
1000 copies were pressed of the second release and all came with a wrap around sleeve which were all photo copied on a A3 piece of paper then folded like above and similar to what the 'Good Vibrations' picture sleeves came like.
The Aborted Debut Single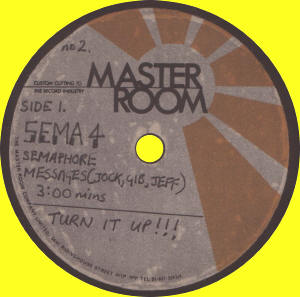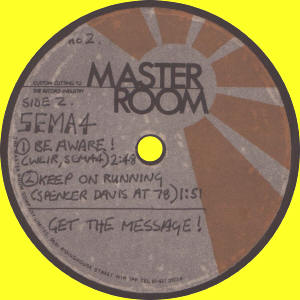 Semaphore Messages / Be Aware! / Keep On Running
Catalogue Number - N/A
Label - Master Room
Year Of Recording - 1978
Quantity Pressed - 6
The above 3-Track acetate was intended to of been the debut release but was shelved in favour of the 4-Track which was released!


SEMA 4
The Story Goes.....


Formed in the late '70's by Steve Gibson & David (Jock) Marston; they were an offspring of 2 bands............

Jock & Steve had both been in a "6th form band" called 'Stratford Canning' with 2 other members Dave (Fawlty) Sollitt and Mick Gregg. This was the epitome of being bored and we practised and played anywhere and everywhere during our 6th form years....................never achieving anything - original punks I guess.

Then the York scene took off with bands like Cyanide, The Jermz etc.......... and Jock was a former member of 'Cyanide' who had considerable success nationwide.

However Jock decided that he had to make a decision about his future and quit 'Cyanide' to form 'SEMA 4' with Steve & Geoff Hardaker, just gigging around the local area.

'SEMA 4' then took the York scene by storm and released 2 EP's which were both limited editions, numbered, signed etc.... which were received really well, and are now in real demand.

Their songs, written & produced by the band were short catchy Punky / Mod type with a "Jam" feel to them.

The band split due to musical differences and Jock went on to be part of "The Pullovers" with Dave Astley, the singing taxidermist and "Our 15 Minutes".

Unfortunately after the band split, Jock was tragically killed in a car accident, hence the "In Memory of ............." final versions of SEMA 4 stuff released by Detour Records on both LP Vinyl & CD, including all their recorded, two unreleased studio tracks and some live stuff never before released.
STEVE GIBSON

2006


Out of the same mould as "Sema 4"......Check out Steve's son's band "Ratio 3"
©Detour Records