London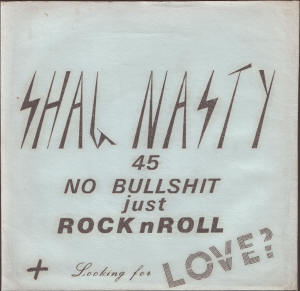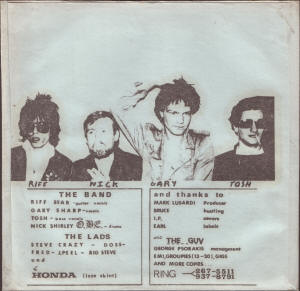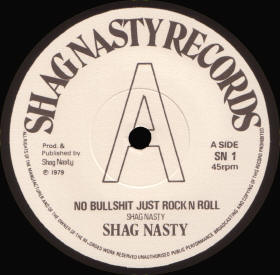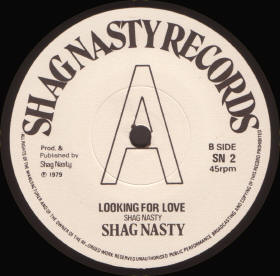 No Bullshit Just Rock 'N' Roll / Looking For Love
Catalogue Number - SN 1 / SN 2
Label - Shag Nasty Records
Year Of Release - 1979
Quantity Pressed - 1000
A very rare and obscure London based Punk Band who's only release was this great self financed single.
The band started in early 1977 after a generous donation from long standing friend 'Joe Strummer' who gave 'Rif'f' & 'Gary' £500 from his advance from "CBS" Records. They quickly got a band together which included Paul 'B. P.' Hurding who was the bands original drummer. They gig constantly around their manor with the likes of 'Menace', Skrewdriver' & 'X-Ray Spex' which included the 'Man in the Moon' & the 'Hope & Anchor'. After a few months, Paul Hurding decided to leave and joined the up and coming 'X-Ray Spex'. The search was then on for a new drummer....This was filled by 'Nick Shirley'.
On Sunday 17th July 1977, Shag Nasty & The Clash arrived in Birmingham at lunch time to play the Punk Festival which was being staged at the "Rag Market" under the banner of "Britain's Burning" and had been advertised some three weeks earlier. Other bands that were due to appear were 'The Saints', 'Cherry Vanilla', 'Subway Sect', 'Snatch' etc. The local council had got cold feet two days prior to the event and decided pull the plug!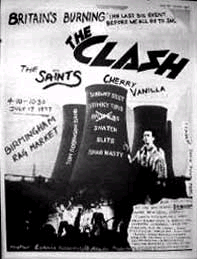 By this time, a large gathering of Punks had started to emerge and the Police turned up in force and made arrests for an unlawful gathering and obstruction.
A last minute ditch attempt was made to save some of the festival and they re-located to "Barbarellas". The band borrowed local metalers "Warhead" instruments and both band played a hurried set in front of a large mass of cheering punks!
Another memorable gig was at the "Rainbow Theatre" in London supporting 'Dillinger' & 'Clint Eastwood' to a packed audience of Reggae fans!

RIFF STAR

GUITAR & VOCALS

NICK SHIRLEY

DRUMS

GARY SHARP

VOCALS

TOSH

BASS & VOCALS
Thanks to 'Nick Shirley' & 'Riff Star'.
Also thanks to Graham of www.blackmarketclash.com for the Clash advert.
©Detour Records