THE SICK THINGS

West London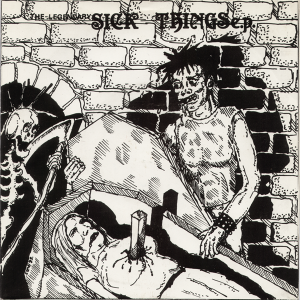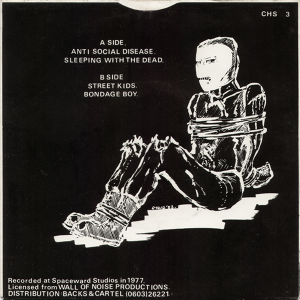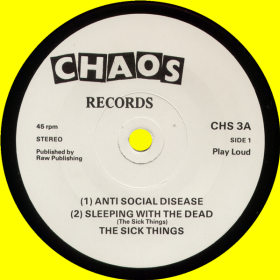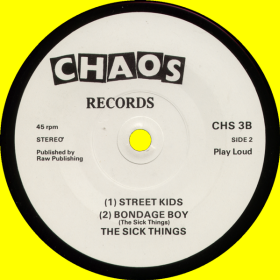 Anti Social Disease / Sleeping With Dead / Street Kids / Bondage Boy
Catalogue Number - CHS 3
Label - Chaos Records
Year Of Release - 1983
Quantity Pressed - ???
| | |
| --- | --- |
| CHARLIE GREEN - VOCALS | ????? - GUITAR |
| ????? - BASS | ????? - DRUMS |
Charlie Green was originally from Marlow, Buckinghamshire.
Named after a track on Alice Cooper's "Billion Dollar Babies" album, this West London Punk outfit blagged their way onto the 1977 "Raw Deal" compilation album after singer Charlie replied to an advert in Melody Maker for unsigned Punk groups to submit their demo Tapes for inclusion on the forthcoming Raw Records project.
Unfortunately The Sick Things did not have a demo tape but Charlie, who was an ace face at the legendary Roxy Club, had the gift of the gab and persuaded the Raw boss to book them studio time at the labels local studio.
On the 29th of September, 1977 at Spaceward Studios in Cambridge The Sick Things recorded four original songs;
Bondage Boy / Kids On The Street / Anti-Social Disease / Sleeping With The Dead.
As a taster, "Bondage Boy" and "Kids On The Street" were released on the aforementioned "Raw Deal" album, two tracks of hammering Punk Rock that led most listeners to think....just who is that girl?....and what is wrong with her?
In order to promote the album, Sick Things live dates were announced for;
21.10.77; Upstairs At The Rainbow, Finsbury Park, London
16.11.77; Polytechnic, Leicester
19.11.77; The Man In The Moon, Chelsea, London
26.11.77; Mr. Georges, Coventry
30.11.77; Clouds, Edinburgh, Scotland
01.12.77; Silver Thread, Paisley, Scotland
As no reviews, tapes or photographs of the band have ever surfaced its unknown if any of these dates actually took place,........unless you were there?
In the summer of 1978 Raw Records announced that Raw 28 in their catalogue would be the four track "Sick Things E.P", but nothing appeared and the label soon folded.
After that nothing more was heard of The Sick Things, leading to legendary status amongst Punk fans.
Finally, five years later in 1983 Chaos Records released the EP (Chaos Records; CHS 3) with the two unused session cuts featuring on the a-side. This soon was out of print and became a collectors item.
Well it just goes to show that you can't keep good Punk Rock down. When the Damaged Goods label started to re-release the Raw Records back catalogue in the early nineties they also reissued The Sick Things EP (DAMGOOD 184), this time in a new picture sleeve and with the songs in a different order.
To this day the musicians who played on The Sick Things recordings remain unknown, however singer Charlie Green would resurface in 1979 fronting the Hard Rock / Punk group, BITCH.
©Detour Records