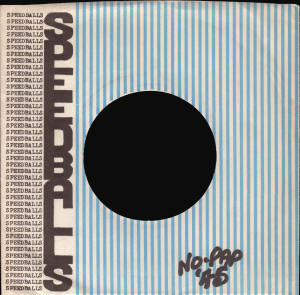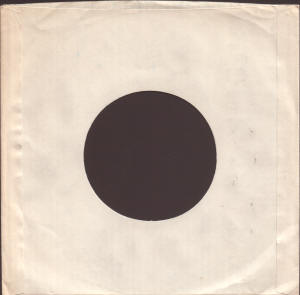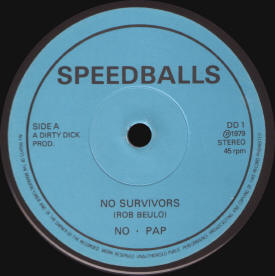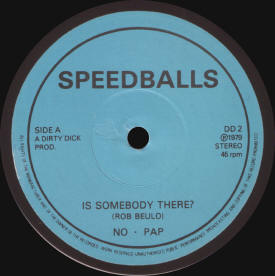 No Survivors / Is Somebody There?
Catalogue Number - DD1 / DD2
Label - No Pap Records
Year Of Release - 1979
Quantity Pressed - 1000
| | | | | |
| --- | --- | --- | --- | --- |
| | | | | |
| Paul Dunne | Guy Pratt | Rob Beulo | Barry Godwin | Dave Dyke |
Line Up #1

Rob Paveley (aka Rob Beulo) - Vocals & Guitar
Barry Godwin - Guitar
Paul Dunne - Bass
Dave Dyke - Drums & Backing Vocals
Line Up #2

Rob Paveley (aka Rob Beulo) - Vocals & Guitar
Guy Pratt - Bass
Dave Dyke - Drums & Backing Vocals
Barry Godwin
Dave Dyke
Paul Dunne
Rob Beulo
'Speedball' came from Southend-On-Sea, Essex and were one of the earliest Mod bands to appear on the London scene. They formed out of the ashes of a Punk band called 'Idiot'.
The group started of life as a four piece, but after a break in at a local music shop the band changed to a three piece which consisted of 'Rob Beulo' on vocals and guitar, 'Dave Dyke' on drums and 'Guy Pratt' on bass. 'Rob Beulo' was the main song writer and brains behind the band.
Speedball were a well respected 79 Mod band and were one of the first groups to have a single out. It was a double A side on 'No Pap Records', both songs were written by Rob Beulo. Sadly there was a cock-up with the sleeve and the majority of them were withdrawn. The label decided to call the band 'Speedballs' instead of just 'Speedball' and down the side of the generic sleeve stated 'Speedballs' and the band weren't happy and asked them to ditch the sleeve with the spelling mistake on. However, a few sleeves did get out and are quite rare.
On the release of the single, the band went about setting up their own tour , known as the "1000 Faces Tour" . The band were stunning live and thei had a good amount of original songs such as "Sixties Girl" , "Boys and Girls" and their own version of the scouts song "Ging Gang Gooly" which they kept in their set from their 'Idiot' days! When ever the band played a gig, they had a bunch of hardcore loyal fans known as "Quadropheniacs Faces" that used to travel around watching them. This bunch of loyal Speedball fans appeared on the front cover of the 'Observer' Sunday supplement on their Scooters in September 1979.
'Idiot' formed in their home town of Southend in early 1977 while studying for their "A" levels. The band: Rob Paveley - Vocal/Guitar; Dave Dyke - Drums; Barry Godwin - Guitar; Paul "Blue" Dunne - Bass. They played all the local
Punk gigs for the next couple of years always to sell out crowds.
Rob wrote all the songs & was well known in Southend as a very gifted singer-songwriter. Their songs at the time included Ging Gang Gooly; Don't you know love; Ambrose; Boy's & Girls; No Survivors & Is somebody there. All to feature in their Speedball set list later on.
They recorded 2 tracks to be released as a single late 1978 (No Survivors & Is somebody there?) for a local record shop owner. The single was eventually released in '79 as Speedballs (the extra "s" being a printing mistake. Also there were some with a picture sleeve - very rare tho'!) after their name change & move into Mod. They were followed around by a scooter club - the
Quadrophonics - who had formed in Feb '78 & had descended from the Sharks SC formed in 1973. The Quadrophonics had their own Soul club "Barons" at the Elms in Leigh (Southend suburb) where DJ's Chad, Del & Dick Coombes played
alongside local bands Speedball, The Leepers, No.6 etc.
Idiot changed their name to Speedball during the delay in the release of the single early '79. They were still a 4 piece until Paul & Barry were arrested for breaking into a local music store (Sound Sensation) to nick some guitars. Idiot/Speedball were well known for never owning their own amps & guitars!
After they were sent to Borstal for a few months Rob, now Rob Beulo, & Dave held auditions at Alaska studios, Waterloo for a bass player. Guy Pratt came in & got the gig straight away. He lived just up the road from Alaska & was the son of Mike Pratt who was the Randall in "Randall & Hopkirk"!
Speedball were easily the most original of all the '79 Mod bands, Rob's songwriting was very strong. They never covered the usual '60's stuff but their covers did included "First time" by The Boys & "Come back & shake me" by Clodagh Rodgers
Speedball split in 1980 after Dave Dyke moved to Sweden to be with his parents who lived there, Rob tried out with other bands before going back to college. He moved to London before emigrating I believe to Australia or NZ. Guy was in various other bands before joining Icehouse who at the time were very big internationally. He went on to play with ex Duran Duran stars in Power Station, Van Morrison & has been the bass player in Pink Floyd for the last 10 or 12 years or so.
Idiot have the track 'Ging Gang Gooly' on an album called "Southend Rock" on Sonet records.
George

(Ex member of the 'Sharks SC' & 'Quadrophonics SC')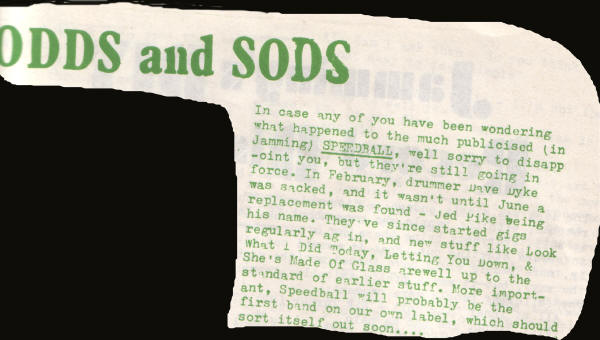 The above snippet was taken from "Jamming" issue 10 from 1980
Above is an original advert that appeared in the music press for the bands debut single
A special thanks goes out to 'Steven Pegrum' of the 'Southend Punk web site for the use of some of the above photos.
©Detour Records