THE STUDIOZ

EDINBURGH
Portuguese Stock Copy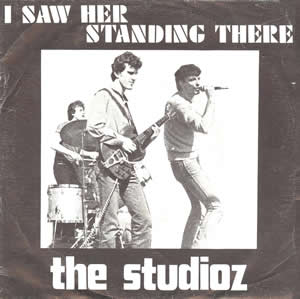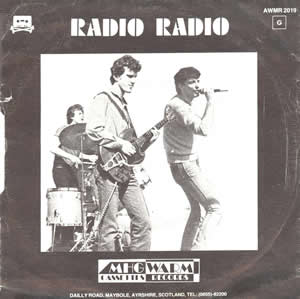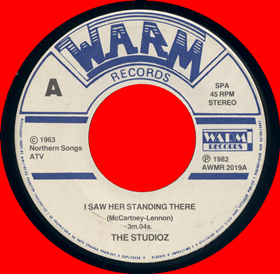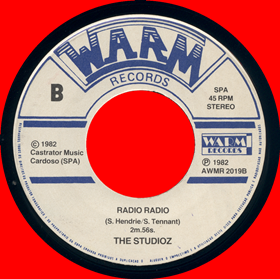 I Saw Her Standing There / Radio Radio
Catalogue Number - AWMR 2019
Label - Warm Records
Year Of Release - 1982
Portuguese Promo Copy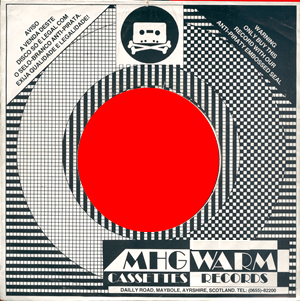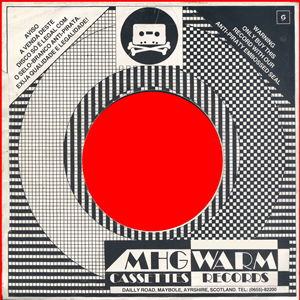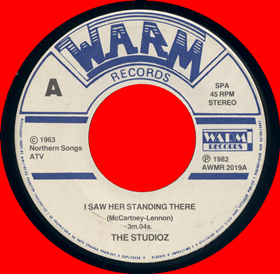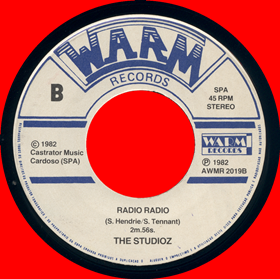 I Saw Her Standing There / Radio Radio
Catalogue Number - AWMR 2019
Label - Warm Records
Year Of Release - 1982
| | |
| --- | --- |
| Sammy Speirs - Vocals / Keyboards | Scott Hendrie - Guitar |
| Wullie Robinson - Guitar | Stuart Tennant - Drummer |
The Studioz were born late 1980 in Edinburgh Scotland when Stuart Tennant (drummer) got a few muso friends together to do a few demo's in the studio.
Band members - Scott Hendrie, Wullie Robinson on Guitars with Sammy Speirs vocals & keyboards.
The studio sessions resulted in Social Security, Rock and Roll Syndrome, Its up to U.
The songs created some record company interest and it was planned to release a cassingle.
Whilst the cassingle was produced it was never released, however it did get airplay on local radio.
Stuart, Scott and Sammy decided to do their own thing for a while, then got back together to cover
the Beatles "I saw her standing there" late 1981 this eventuated in the single release with Scott and Stuart contibuting with "Radio Radio' on the B side.
The single was released in Portugal through 'Warm' Records and was planned to be released in the UK.
The band performed in February 1982 in the Algarve (festival) live radio and again at 'RTP' television in Lisbon.
There was some interest shown in B side "Radio Radio' becoming the A side and some other band wanted to cover the song, however nothing as far as we know followed.
The band recorded a follow up track another Beatles song 'She's a Woman' on Warm Records released as a cassingle including "I saw her standing there" and "Radio Radio",
In 1984 Stuart and Scott colaborated on two Power Pop / New Wave songs "Sending Signals" and "Silicon Country" which record companies showed some interest "close but no cigar".
Check out the bands retrospective compilation "Time For The Beat" release on 'Neon' Records.

All songs recorded on 24 track analogue 2 inch tape at R.E.L Studios Edinburgh Scotland

and produced by Stuart Tennant.
Thanks to Bernd Granz
©Detour Records