"Suspects"

Tooting, London
Barry Farmer - Vocals & Bass
Terry Felstead - Guitar
Pete Davis - Drums
In the summer of 1977 when South London r'n'b tykes The Marauders split in half Richard Anderson and Charlie Harper formed the "UK Subs", whilst Barry Farmer and Terry Felstead put together "Suspects".
Suspects played more raunchy punk rock in the vein of the Sex Pistols and Johnny Thunders Heartbreakers according to reports and are known by many by the track "Nothing To Declare" which appeared on the "Live At The Vortex" album.
Line up's were like a revolving door and in their year of being on the circuit many passed through it, Pete Davis (UK Subs), with Andy Riff on guitar (Rottin' Klitz / The Dark) and in 1978 a singer called Johnny.
So, what happened next? By all accounts Barry and Terry reformed The Marauders for unfinished business in Tooting, pulling in former members of The Dazzlers, Rob Milne (aka Bobby Harper) and Steve Slack along for the ride.
15.07.77; THE CASTLE, TOOTING, LONDON (supporting UK SUBS)
05.09.77; VORTEX, SOHO, LONDON (supporting SIOUXSIE & THE BANSHEES, THE OUTSIDERS & THE VERDICTS)
11.10.77; VORTEX, SOHO, LONDON ("Live At The Vortex" LP recording)
20.10.77; ROXY CLUB, LONDON WC2
29.07.78; THE PAVILION, MATLOCK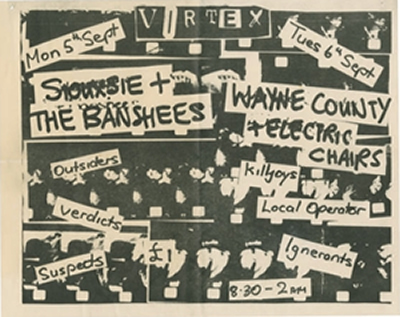 Above is an original A5 Flyer from the 'Vortex', London that advertises Monday 5th September 1977 with 'Siouxsie & The Banshees', 'The Outsiders', 'The Verdicts' & 'The Suspects'. Tuesday 6th September with 'Wayne County & The Electric Chairs', 'The Killjoys', 'Local Operator' & 'The Ignerents'.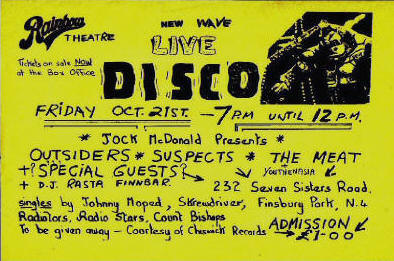 Above is an original gig flyer for the 'Rainbow' from Friday 21st October 1977 for "The Outsiders", The Suspects", "The Meat" & "Youthenasia".
©Detour Records