SWANK

London
| | |
| --- | --- |
| GARY GRANT (aka GARY OLSEN) - VOCALS | FAEBHEAN KWEST - GUITAR |
| NIGEL MOORE - BASS | CHRIS BASHFORD - DRUMS |
Formed in London in February, 1977 after the arrival of ex-Lurkers bassist Nigel Moore, "Swank" were another short lived punk group sadly destined to never rise above support act status.
Notable gigs included supporting Adam and The Ants at the Man In The Moon pub in Kings Road, a slot with Chelsea at the Vortex and being first on with Siouxsie and the Banshees at the Roxy Club during the summer of 1977.
In their six month existence others members would come and go, but the above line up featured names that would become well known on both stage and screen.
When the band folded in the Winter of '77, Nigel & Glenn Garzke joined another Roxy club outfit "French Lesson".
Faebhean went on to form one of the best punk acts of the era, "Raped".
Chris went on to play drums with what many consider to be the classic line up of "Chelsea" in 1978.
Their peroxide spiked lead singer, Gary, was notorious for having the number "26" tattooed on his arm and always stated that he would kill himself if he wasn't famous by that age.
But his persistence of finding fame paid off, In 1979 he played Rory Storm in the film "The Birth Of The Beatles", followed by parts in the films "The Wall" and "Party, Party" during the early eighties, and after appearing in the "Comic Strip" TV series he took on the roll of PC Dave Litten in ITV's "The Bill". This in turn led to eight years playing the part of Ben Porter, (alongside the fabulous Belinda Lang), in the hugely successful "2 Point 4 Children" BBC TV comedy.
The series ground to a halt in 1999 after Gary was diagnosed with cancer and he sadly passed away in September, 2000 at the age of 42.
Roundhouse, Highbury, London.14.07.77
Electric Circus, Manchester; 17.07.77
Roxy Club, London 21.07.77
Marquee Club, London 26.07.77
Man In The Moon, Chelsea, London 31.07.77
Railway Hotel, Putney, London 02.08.77
Vortex, London, 29.08.77
Southside Club, Hampstead 05.09.77
Southside Club, Hampstead 26.09.77
Marquee Club, London 25.11.77
Upstairs At Ronnie Scott's, London 14/12/77

Gary Olsen in 1986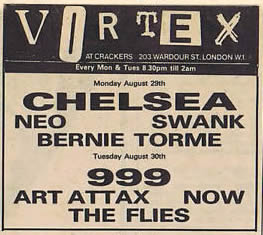 Above is the gig advert from Monday 29th August 1977 for 'The Vortex', London.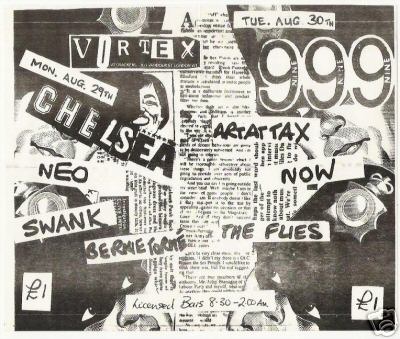 Above is an original 25.5cm x 20.5cm flyer for gigs at the Vortex on Monday 29th and Tuesday 30th of August 1977. The Monday features appearances from Chelsea, Neo, Swank and Bernie Torme. The Tuesday had 999, Art Attax, Now and The Flies.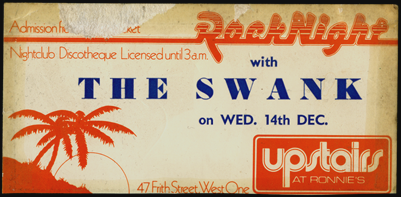 Above is an original Gig Ticket for "Upstairs at Ronnie Scott's", London from Wednesday 14th December 1977.
JOE PUBLIC

2007
Thanks to Joe Public, Nigel Moore, Ivor Drumstick & Glenn Garzke
©Detour Records