SWINGFIRE

London
| | |
| --- | --- |
| Paul Quigley - Vocals | Laurie Watt - Guitar |
| Mick Paul - Bass | Dave Raeburn - Drums |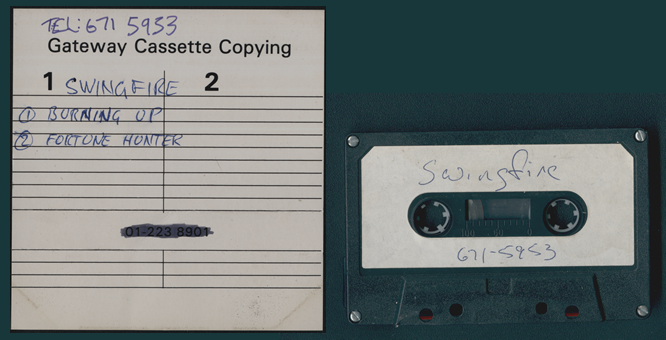 The above 2-Track Demo Tape was sent into the 'Bridge House' in Canning Town, London to see if they could secure a few gigs there.
Swingfire was one of a raft of hungry, powerful and driven heavy rock bands based in England during the early 1980s. Hailing from London, the band's heyday was between 1981-1982.
Formed by Canadian guitarist Laurie Watt, the band was joined by drummer Dave Raeburn (later of The Hoax, Larry Miller Band), bassist Mick Paul (formerly of Killer Whales), and lead vocalist Paul Quigley, (later of Hell's Belles http://www.hellsbelles.co.uk).
Swingfire rehearsing at Terminal Studios in Elephant and Castle, South London throughout this time, honing their live set. After a series of warm-up dates at venues around the South East, as diverse as the famous Ruskin Arms in East Ham, as well as dates at universities and colleges, the band went on to lay down their only recorded output at Gateway Studios, London, recoding a four track demo, comprising the backing tracks to 'Burnin' Up', 'Fortune Hunter', 'Invisible Love', and 'King of the Parlour Stars'. Lead guitar overdubs for the tracks were then recorded by Laurie at Denmark Street studios in central London, with Quigley contributing Hammond organ to 'Invisible Love'.
After a round of further gigs at venues such as the Bridge House, Canning Town and others, drummer Dave Raeburn and bassist Mick Paul were poached by American guitarist Gregg Parker to join his newly-forming Gregg Parker Band. The band folded shortly thereafter.
Paul Quigley

25th September 2011
©Detour Records